Critique for my own education
---
A while back I posted pictures of this horse (my daughter's lesson horse) but they were all with him in tack. Recently I took some pictures of him on the ground. I hope these are better pictures. What I'm looking for is help for me to understand equine conformation. He's a little porky, but he's got the most amazing disposition. He's like a giant labrador. Right now I have no intention of buying a horse for her for a while, but if he did ever come up for sale, I'd have to think hard on this one. These pictures are after his winter fuzzies have grown in. He's pretty fluffy right now. He's 14.2 hh, and 17 years old.
Please help me learn. If there is something less than desirable, please explain it, or provide a picture of a horse that has that trait. I want to learn as much as I can because someday we'll be buying a horse and I want to be prepared. (I'm an over thinker).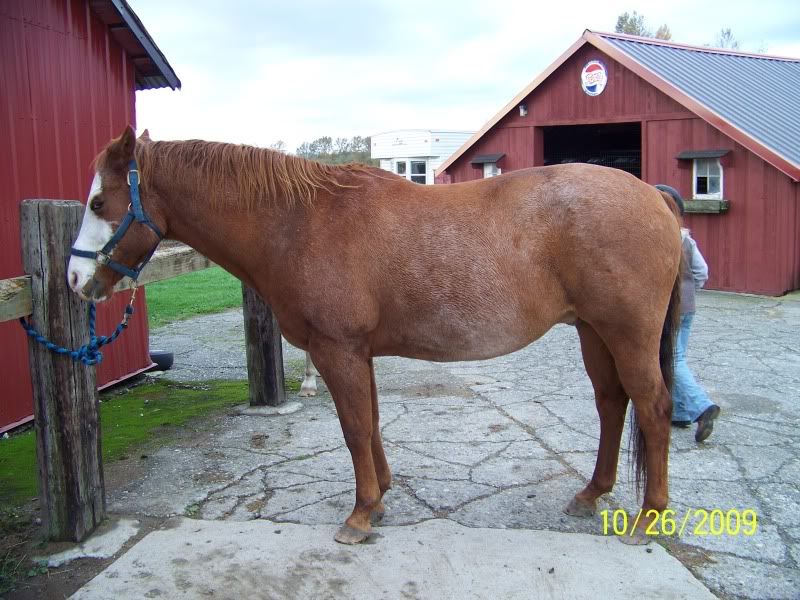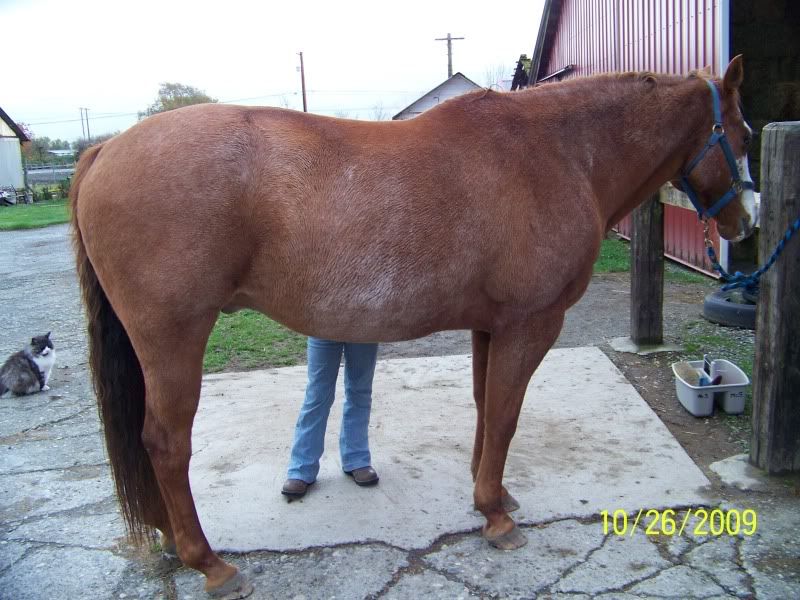 Trotting: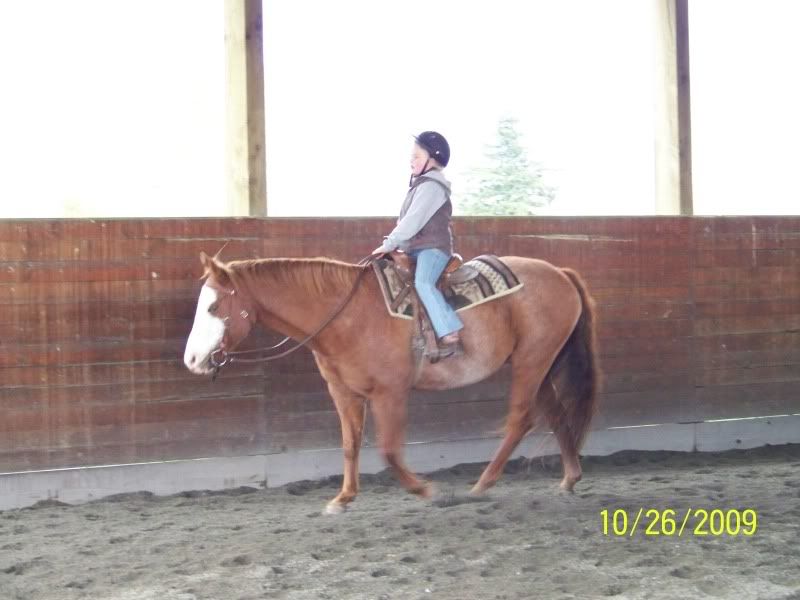 Loping: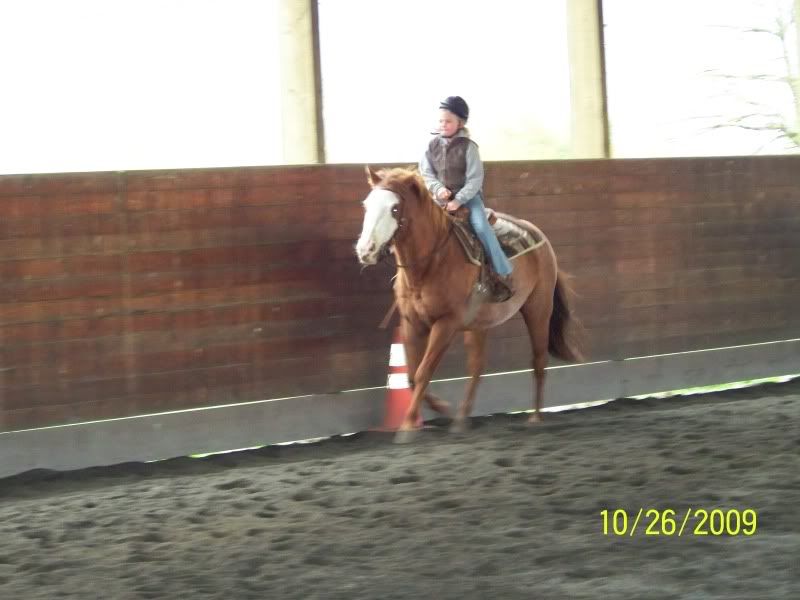 Then a personality picture.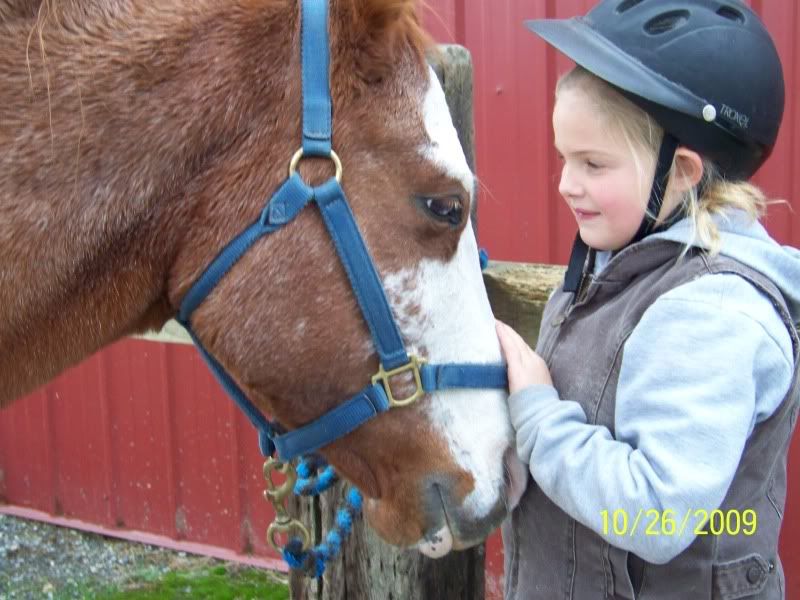 So again, I post pictures of this horse because I know him. I can go out there next week and have my hands all over him. I do not own him, and the purpose of this post is for me to learn.
Ok... be prepared to do some reading.. lol.. i am going to start at the head and work my way back...
Head
: A broad forehead means increased sinus capacity which means more room for air exchange through the air passages. Plus more facial muscles that help open muscles for air flow. Also large eyes, proportionate ears, large nostrils, good width between the jaws, and a smooth joining of the head to neck. (A wide jaw is four fingers between the jaw bones).
Neck
: The crest in the neck should be convex or arched. It should have proportional development of all muscles. It should appear as if its flowing into the back
Chest
: When the horse is standing square the width between the front legs is relatively narrow. A narrow breast often represents general thickness and development of the shoulder. A narrow breast is often seen in Gaited horses, Saddlebreds, Paso Finos and Tennessee Walkers.
First one is correct
Shoulder
: The shoulder blade (measured from the top of the withers to the point of shoulder, should lie in an upright postion, as it follows the scapular spine. A straight shoulder often accompanies low withers. An upright horse shoulder conformation is best for gaited or park showing, parade horses, and activities requiring a quick burst of speed, like roping or Quarter Horse racing. Other horses have an laid-back or sloping shoulder. The horse has an oblique angle of shoulder (measured from the top of the withers to the point of shoulder) with the withers set well behind the elbow. Often accompanies a deep chest and high withers. A sloping shoulder is common. It mostly affects jumping, racing, cutting, reining, polo, eventing, and dressage.
The first image is the correct one
Hock
: This backward-pointing knee is actually the anatomical equivalent of a human ankle. You can see this if you look at yourself sideways in a mirror, and bend all joints of your leg, resting your big toe on the floor. Your horse stands on one toe (concealed in the hoof); your foot is the lower leg or "cannon bone" and your backward pointing heel is like the horse's hock. Your horse's true "knee" is the stifle joint, which points forward just like yours. From the rear, a good hock appears rectangular, bony, and large enough for the size and weight of the horse, without lumps or swelling to either side. It should be distinctly wider than the cannon below, rather than wedge-shaped (narrowing downward). From the side, it appears clean, bony, with no lumps above or below it.
First one is correct
---
*As Long As We Are Together, We Are One And We Are Safe*
he sure is porky! i love thick horses! he looks good to me but im no expert on confo.
---
its horse show time in tennessee!!!!!!!
what im not paranoid!!! ....whos asking???
proud to be a southerner!!!
Quote:
he sure is porky! i love thick horses! he looks good to me but im no expert on confo.
When he was kept in the barn he was a hard keeper and really ribby, so she put him out in the pasture or in the winter in the hay field after 2 cuts. Now he packs on the pounds. She doesn't bring him hay all the time because he doesn't need it. He may be coming back to the barn for a few weeks to thin out a little.