he needs some more muscle in that butt :)
---
:: Karley ::
Tucker WB/TB- 11 yr
Speedy QH/TB- 22 yr
nothing wrong with it, just a feature some horses have. And his isn't very pronounced compared to some horses like this: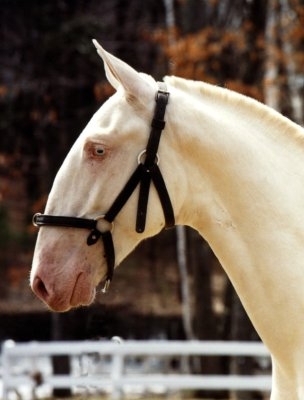 I too dont mind a roman nose. I have one myself. My only crit is that he might need a bit of conditioning? It could just be the time of year or a gloomy day on which you took the pix, He would be awesome with a bit more shine on his coat.

Very nice horse.
As far as QH conformation- he's a bit off in some points. He has a very weak hip and a very straight shoulder. His neck is too short and throat latch is pretty unrefined. While he dosen't have a total QH head, he does look like a very sweet boy. His front legs don't look too bad but his hind legs are pretty straight. I disagree with the cow hocked comment as it is very hard to determine if a horse is cow hocked unless there is a hind end shot. He's probably not going to win any halter classes but he does seem like a good and sweet boy.
No critique from me I think he's handsome! I love his colour!
thank you everyone! i agree that he needs muscle tone, the backyard barn i keep him at doesnt have anywhere good to ride, (the grounds uneven and has holes and stuff) so i usually ride in the other horses paddock but i cantwhen its muddy and its like alllllwwwaaayyyyyssss muddy. and me and him just had an accadent recently (he was fine except for some cuts, but i went to the ER). so hes gotten time offf. im actually looking for an decently priced barn with an indoor (so i can excersize him more) in the middlesex MA area. any ideas?