critique my riding (beginner)
---
Hello everyone, This is the first time I have decided to start a thread. I thought I would post some photos of me riding during my 5th lesson with my new trainer. I have ridden before but mainly just trail rides and not very much and I had not ridden for about 18months (except one or two 2hour trail rides) before starting lessons, now I'm taking proper dressage and jumping lessons and loving it!.
I know I need to keep my heels down (and I am improving with that a lot, only got yelled at four times instead of a hundred in my last lesson lol) and need to close my fingers on the reins. What else do you guys think.
the horse is unfortunately not mine, he belongs to my instructor. His name is Sox and is 14.2 hands. He is a school master. These photos are from two weeks ago. Last week I got him to collect up properly for the first time. I was so excited!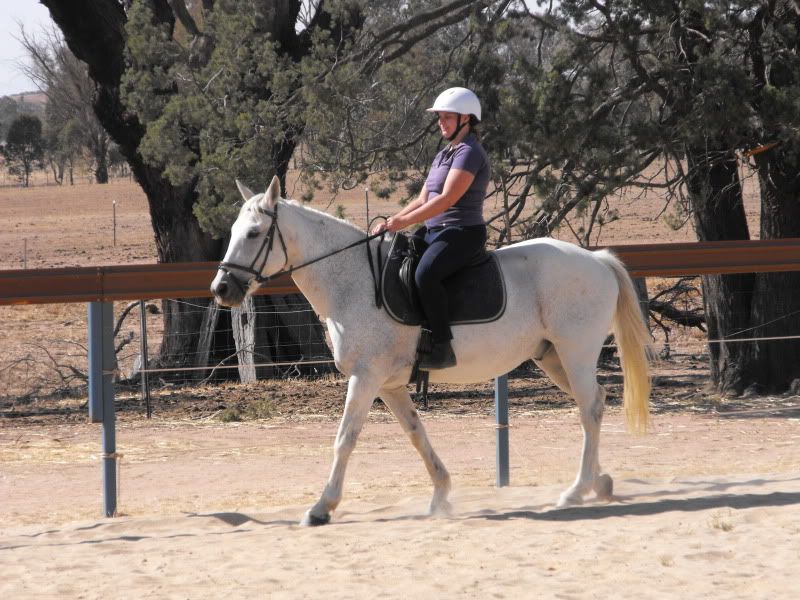 This lats one is just because I love how we have the same expression of concentration on our faces
---
Boxer
Diligent, loyal, strong
Cute horse
What is see is:
You need to keep your legs under you
heals down
toes us
sit up straight
shoulders back
loosen up your reins ... you shouldnt hold onto your horses mouth and keep the reins so tight unless your posting or halfseating
other then that you look good.
---
Bailey's Mountain
6 year old tb
Also remember to keep your elbows by your sides, they are a bit far forward. Cute horse:)
---
"If you don't like dressage it's because you don't understand it."
I agree with the above two posters. The thing that stuck out to me was your elbows. Make sure you bend them and keep them at your sides. Also "hug" your horse with your legs around his barrel (stomach). Keep those heels down and try not too sit so far back on your bottom. It gives you the appearance of a 'chair seat'.
I also think that you need to find a new saddle to ride in. That one is way too small for you...

Best of luck too you and your new trainer! Your horse is very cute! :)
Are the reins a little twisted? I'd could be the pictures, but make sure that your reins are straight. I'd also like to see a little longer rein, so you can take your elbows back to your sides. You are reaching too far forward because the reins are too short. Other than what the others have said, you look great! I love your trainers horse too, he's gorgeous.
Thankyou for all your comments everyone. I am really loving my lessons and I really want to learn everything I can. I can see what you mean about my elbows, I will work on that. The saddle looks a bit small in some of the photos but it doesn't feel too small when I ride, in a couple I was sitting a bit too far back so that could be why it looks like that. Also I have a big bum lol! I'm working on that too! since I started riding I've been losing about 1 kilo a week (2 pounds) but I still have about 5 or 6 kilos to lose before I'll be at my happy weight lol. Yes Sox is gorgeous, and he is such a sweet gentle horse who loves cuddles. At the end of a ride he will put his head down and nuzzle into me while I pat his head.
---
Boxer
Diligent, loyal, strong
also in those photos my stirrups were one hole too short making me cramp up. I now ride one hole lower. I will post update pics in a couple of wks to show my progress
---
Boxer
Diligent, loyal, strong
You look like you're having tons of fun!! Remember to keep those shoulders back and square.
---
Every ride, good or bad, teaches you something new.

I think your leg position is GREAT! Most people who havent had a lot of lessons tend to sit very chair seated and your leg positioning is wonderful. Your foot is a little too far forward in the stirrup, needs to be on the ball and then push your weight in your heels but be careful your leg doenst move forward. I think you look GREAT for someone that really hasnt had a ton of lessons. Be sure not to use the reigns as a crutch, looks like you may use them for balance a little but keep up the good work! Cute horse by the way.
---
"Be a best friend, tell the truth, and overuse I love you
Go to work, do your best, don't outsmart your common sense
Never let your prayin knees get lazy
And love like crazy"
I agree with everyone else, just thought I'd mention that in the trotting pictures you're on the wrong diagonal. You should be rising when the outside leg goes forward, but you probably know that.

You look good!
:]
---
I give myself very good advice, But I very seldom follow it
---
Last edited by Gillian; 03-22-2009 at

11:39 AM

.