Critique my riding, please!
---
Hello! Please critique my riding from my lesson earlier this morning. I'm riding a purebred Arabian, 16hh tall, named Kemmel (pronouced like Camel, but with stress on the -mel). I don't own him, but I hope to maybe next year.
I haven't done much jumping at all; I just started last fall, and I think I've only had about 4 jumping lessons in my life. Kemmel isn't a jumper, but he loves it, so we're having fun learning together. He hasn't refused a single jump EVER, which is a huge confidence booster for me.
I'd love to hear what I'm doing wrong so I can work on it next lesson.
Thanks!
Cantering: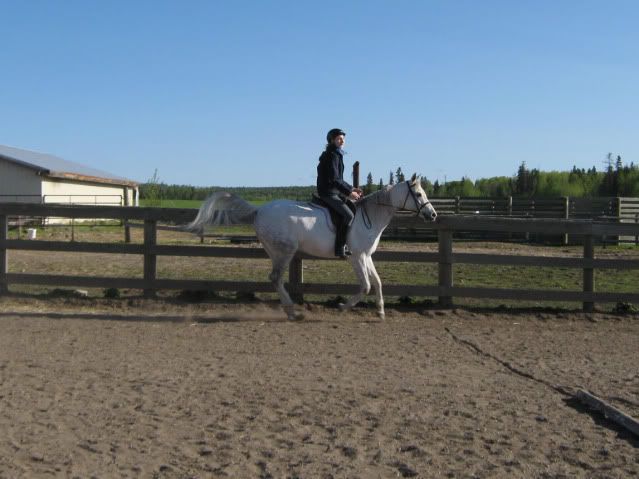 Little cross-rail: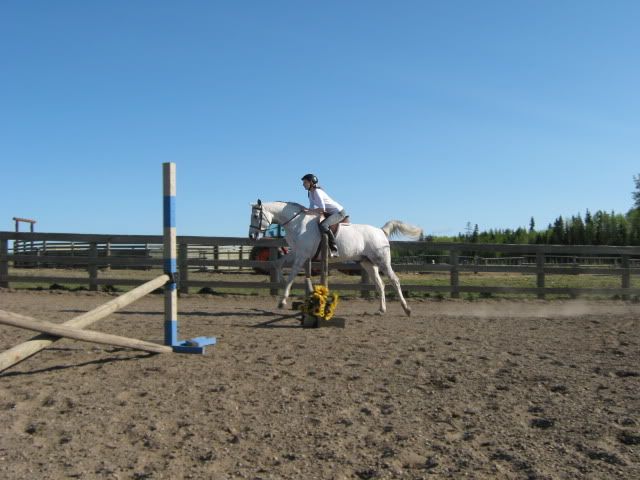 Here's the video link:
---
Last edited by azarni; 05-30-2009 at

10:23 PM

.
in the video, it seems as though you are leaning forward a bit to much when just trotting. and you are getting a little ahead of yourself when going into the jump, when you go into two-point, you should let your horses motion bump you out of the saddle, and just lightly come out of the saddle. Also you seem just a little stiff. When posting, just relax your upper body, and really sink into your heels.

Other then just a few little things, you and your possibly-to-be-horse look awesome!
---
When God Made Horses, He Painted The Good Ones.
"All I pay my psychiatrist is the cost of feed and hay, and he'll listen to me any day."

Thanks, Jillyann. I'm naturally a very nervous and unconfident rider, so that's probably why I'm so stiff. I've been trying to work on that, but I'm still pretty nervous in the saddle.
yeah, you're way to far forward. you need to either get in two point or sit down and lean back more until you're actually at the jump... not post while in two-point.
---
No problem, and i know what you mean. When im on a horse that i know is very unpredictable, i get very uneasy as well. just the way i am.
---
When God Made Horses, He Painted The Good Ones.
"All I pay my psychiatrist is the cost of feed and hay, and he'll listen to me any day."

Green Broke
Join Date: May 2009
Location: Winnipeg, Manitoba, Canada
Posts: 4,510
• Horses:
2
Awwww, he's a cutie! It's always nice when we find those horses who seem to just enjoy what we're asking them to do, even if we're not quite sure!

I'd work a lot more on your two point - I find that as you're coming over the jump, your lower leg is swinging and causing you to fall back into the saddle as he lands, which is bumping his back and could cause him to start going sour with jumping.

I really think the best way for beginners to learn jumping is to just ride the entire jump in two point. Instead of trying to "figure out" when to enter a true two point and getting in your horses way for your efforts, just pick up your two point position a good several strides from the jump and STAY in two point - that means for a few strides after the jump as well. You won't anticipate it as much, you'll free up your horse, and it'll help for you to start feeling the movements without worrying so much about what you're doing.

Just make sure you log a LOT of flat time in two point. Get that lower leg stable, make sure that it's something you're able to easily accomplish while still being able to control your horse (you should be able to still use the reins without becoming unbalanced and falling out of two point).

You guys make a great team though and you look good! Just let him move a little more forward to the jumps! Best of luck!
---
Quote:
I hope God tells her to smash her computer with a sledgehammer.
Thanks MacabreMikolaj. I'll definately work on my two-point.
At the end of June, I have a 3-day riding clinic so I'd love any more advice! I have a riding lesson Saturday, and I'll see if I can get a video of me on the flat and I'll definately work on everything I've been told so far.

MIEventer, any advice?