Critique my visit to the ER
---
Okay..here's some background information..I'm 5'7"-5'8" and I weighed probably around 150 lbs. at the time. So there's a little girl that I know and she and I decided to go ride a couple of her horses together. She had just gotten these horses and there were both great! Except for the pony whom she rode was a little bullheaded if you weren't stern with him..He was being very fussy and didn't want to do what the little girl asked so I volunteered to get on him for a minute to try to help because she was a beginner..I took off his saddle because it was a 13 or 14" and I ride in a 15 or 16"....he was doing fine, but there round pen was way too little for me to do any cantering or anything on him, so I'd take him to right before the first turn in the trail and then canter him back...he was doing just fine, so I decided to take him one last time and then give him back to the girl. Guess who tripped in a "dip" in the ground...
Here's pictures from hospital to a week later in chronological order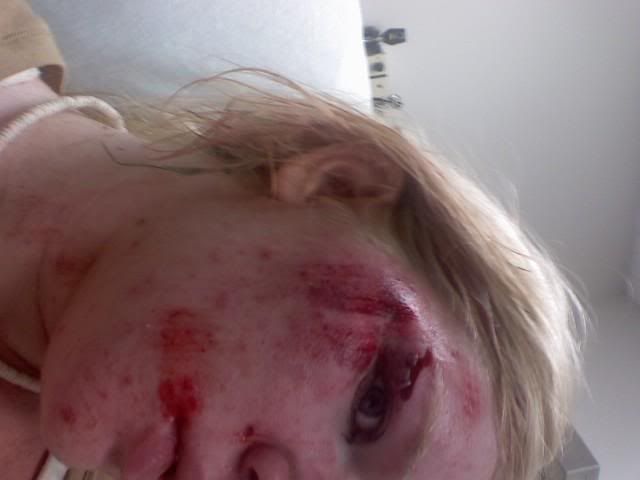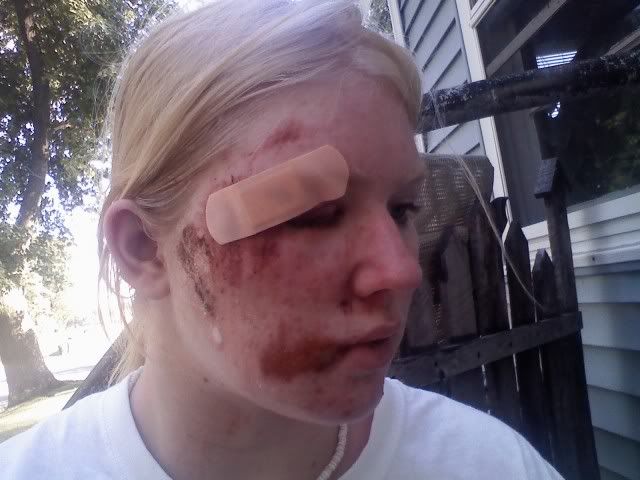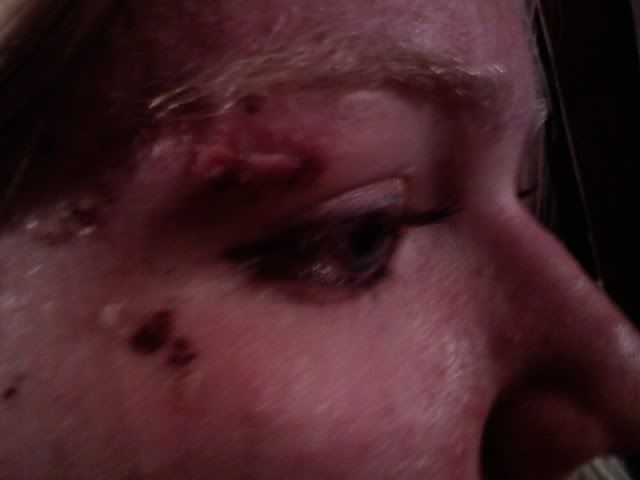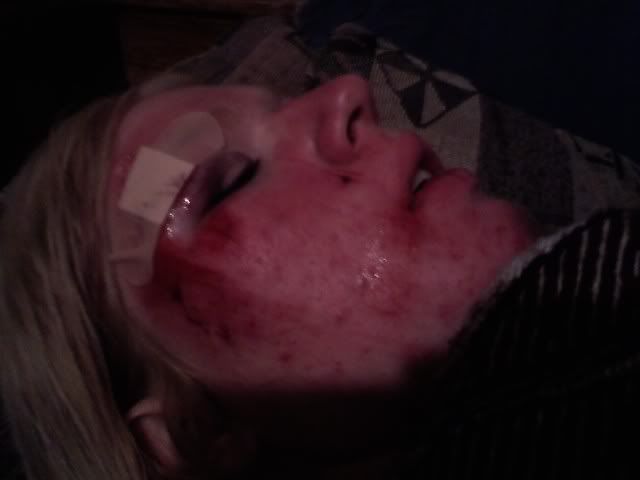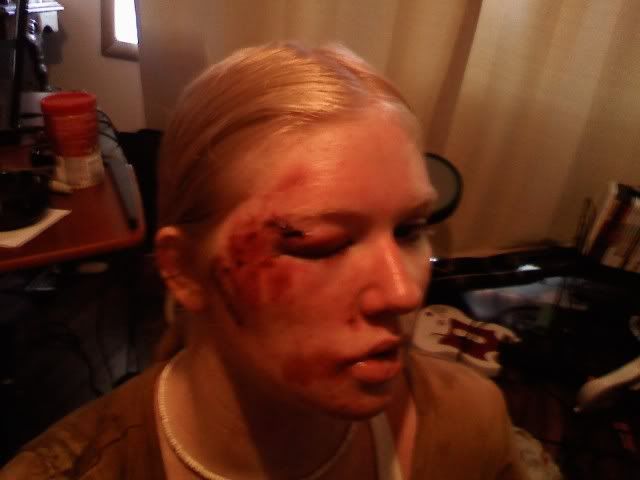 My eye was swollen shut and I had stitches inside and out of my head. But I was begging not to go to the hospital. This happened on a Tuesday and I was determined to race in the contesting day that Sunday, and race I did..but on my own horse.
Oh, and here's the little pony I was riding on..his name is Lightning and I would estimate him to be somewhere in the 13-13.2 hh at the most range.
He's the bay one...and the girl holding the lead rope probably isn't even 5' tall.
The horse in front of him is no bigger than 15.1hh
Ouch. =[ I once got attacked by a tree. My horse and I are cantering along this trail we always canter along. We walked up it, turned around and cantered back. Well apparently, I didn't notice the branch that sat face level, because as I was cantering back, I was all a sudden not moving forward anymore. I didn't fall off, just thrown onto my horses butt behind the saddle. My wonderful mare stopped before I flew off. I had a big scrape on my cheek and a black eye for a few days, but that was it. I guess I was pretty durn lucky, huh? I hope you recover well, and avoid any permanent damage. =]
---
"Great spirits have always encountered violent opposition from mediocre minds."

I think I have to go vomit now...

My goodness, I am glad that it wasn't any worse than what it was!
---
Sorry I couldn't look at all your photos. I have a weak stomach for that sort of thing
What exactly happened? The horse fell and you got drug on your face or what?
---

"Until one has loved an animal, part of one's soul remains unawakened..."
- Anatole France
Oh man. I forgot to mention that was June 2008..Here's me now:
All healed up with minimal scarring..My hair is covering the scar and I also have this weird thing in my mouth where my lip is connected to my gums where it was cut and didn't heal properly.
I was just thinking of when it happened and thought I'd share.
THe pony tripped and since he was at a dead canter[he's a barrel pony, if that gives you any idea] I lost my seat and went flying over his head and my glasses cut into me + I got some 'road rash'...but the pony just kind of stopped and looked at me like "what are you doing down there?" and stayed by me until my sister came running ans he took off to go eat some grass...Lucky for me, the people whose house I was at just happned to own an ambulance service and be an Advanced EMT and Paramedic.
Ahh, well obviously you managed to recover well. And hey, at least you have a story for your scar and whatnot. Someone will point one of my scars out to me and ask how I got it and I'll be all, "Um... I have no idea that was even there...." Haha.

And oh durn, your glasses did that? That makes me want to ride in contacts! I'd like to think mine would break, or fly off.
---
"Great spirits have always encountered violent opposition from mediocre minds."

---
Last edited by riccil0ve; 08-05-2009 at

06:54 PM

.
Lol..like your tree story, I was riding a very tall horse with a speedy canter and somebody said something to me so I was saying somethign and not paying attention because the horse was very trustworthy. The horse was a little to obedient and wouldn't turn unless I told him to, so into the tree he went. Everything was fine until my face met a big tree branch..haha..they cut down the tree after that :(
LOL - attacked by a tree. I know the feeling, I get attacked by inanimate objects all the time.

Counters are always waiting to pounce on me, and even corners - whether they be counter corners, corners on walls - doesn't matter...they are all out to get me. Sometimes doors like to strike and attack.

One time, I was walking in a parking lot, minding my own business - when this red car decided to get in my way. Stupid car.
---