Critique needed, please.
---
I'd like some feedback on my 16 year old mare. She's currently just used for trail riding and the occasional barrels. Her previous owner used her for 4-H and jumping. Since she didn't come with papers, we're not 100% sure of what exactly she is, but we've been told that her bloodlines have Arabian, Friesian, Welsh Cob, as well as Mustang. Also, I know that she is overweight. I haven't been able to work her for the past year because I've had severe injuries and I'm the one who usually works the horses. Now that I'm well enough to start working with them again, I have been.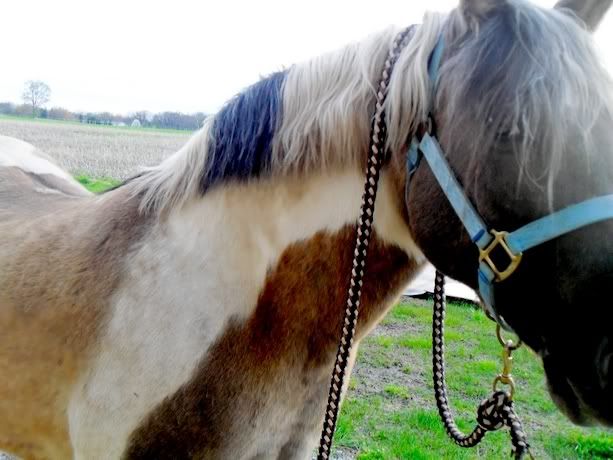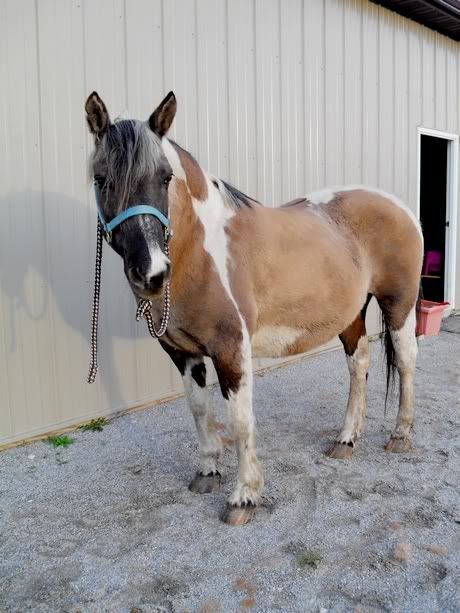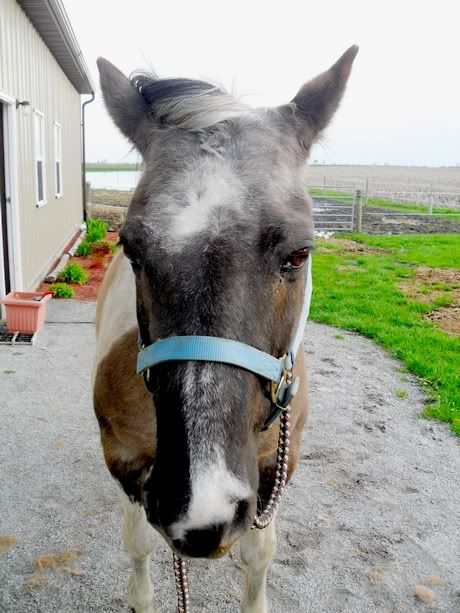 And also, I would like to know your thoughts on one of the geldings we have. He is my aunt's horse, however I'm the one who takes care of him. She's scared of him, to put it simply. He's a lot to handle, he acts like a young stallion. Even though he's a 10 year old gelding. So hence why I use the chain, without it he acts like a complete ass. When it's on, he's a gentlemen. A sweetheart, even.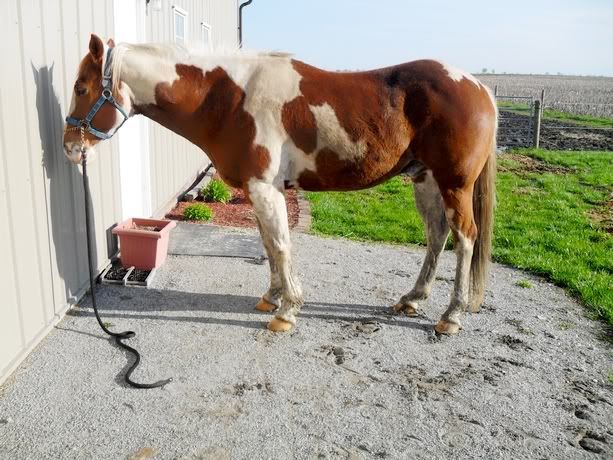 The people who previous owned him abused him badly. He was owned by two brothers, they used to jam the bit into his mouth and jump on him bareback and run him dead, literally until he could no longer even hold himself up. He needs a lot of work, and as soon as it dries up here I'm going to start with him on some ground work.

So please, just tell me your opinions. Go ahead and be as harsh as you want. I'm here to learn and improve, and do whatever I can do to just that.

I see nothing remarkable about either of them, other then a kind eye. :/ They both look to stand under themselves (among other things).
---
If the world was truly a rational place, men would ride sidesaddle.
Well that doesn't surprise me. They're not exactly what you would call show horses. I was looking for conformation critiques, sorry that I didn't specify haha.
I think they are both beautiful and they do have really kind eyes. The first horse [your horse] looks like she is a character and has tons of personality and [your aunties] horse is very stunning, although you could work on cleaning his legs. HAHA :P
I think you are very lucky, they are not showy horses and are not bred to perfection, but that is what makes them special as they are natural horses.
---
Thank you. (: To me, they are beautiful. I know they are not the most gorgeous horses out there, but that's okay with me. Oh yes, my horse has a lot of personality. I haven't seen a horse with her intelligence in a long time. When it's summer, we have the gate to the pasture open. The water trough is in the paddock, so when they have to go through the gate to get a drink. Well last summer, both of our geldings went to get a drink together, (they are hardly EVER separate.) My mare, Princess, trotted up to the gate and pushed it closed with her nose, so she had all the grass to herself in the pasture. Haha, she is so funny.

I planned to give them all a bath yesterday, since it was the first gorgeous day in the past two weeks. It's been raining here nonstop, and they've been out in the mud. I didn't get the chance yesterday, but next nice day, I know what I'll be doing! (:
Oh my goodness look at that stocky little mare! I love a good "brick sh*t house" built horse - and her face is adorable with the markings and the unique colored forelock. Cute, cute, cute!

The first thing to stand out was her short, thick, cresty neck. Some of that can work off with some saddle time but a lot of that is "her". Her front end/chest is almost "too wide" in my opinion (although, as you saw above I think its adorable!) and doesn't match up with her back end. Her back is nice and short, she sure is sturdy, her legs are clean and angles are good. Her neck is set high as is her tail. All in all she looks like a nice trail horse, using her for jumping surprises me that doesn't look like her strong point. Movement wise I bet shes a little pick up truck, not the smoothest but probably has a nice little jog.

I could see the gelding being a smoother ride and moving out a little easier. His neck is thick and set low, he has a appealing/petite head and a kind eye. His throatlatch could be a lot cleaner. His shoulder is a little steep, nice length back, I like his butt. From the picture he appears to stand under himself and be a little cow hocked in the back.
Haha, she is built like a tank. That's one of the many things I love about her. Not much phases her. She is my gorgeous baby.

Her neck was cresty when he first got her and she was of healthy weight. Yes, it is her. We've been told that a lot of it is just common for her breed, whatever she even IS. Her wide chest is one of the first things I noticed about her when I first saw her, and I thought that was unusual. I haven't seen a chest that wide on a horse before her. I'm not all too sure of the previous owner's success in jumping her, but she doesn't strike me as a jump horse either. I just use her for trails and the occasional barrels. She is actually extremely smooth, until you get her into a trot. That is probably the only choppy gait of hers.

Spirit is a very smooth ride. The picture above is out of character for him, as he usually stands like a stud. With his back legs out stretched, but I tried my best to make him stand square in this picture. Unfortunately, it didn't turn out to good.
The mare has more than enough width in her front legs to do reining..... I have been studying on conformation for it and I would be thrilled with her front legs....
---
"Equine-facilitated therapy employs a form of biofeedback for practicing self-awareness, emotional management, and relationship skills that human role-playing exercises and discussion groups cannot begin to access." Linda Kohanov (The Tao of Equus)
Hmm. I don't know too much about reining. I'm more into barrel racing. Does anyone think my mare has good conformation for barrel racing?
lol yeah, she is a chunky monkey but, as you said, she hasn't had a whole lot of work. her weight is very fixable. She is a little cowhocked but not terrible. She has the widest chest I've seen on a horse that stocky lol..and I love stocky horses, I prefer them over a lean horse..(even though I have one of both)..She has a slight sway back but that also could just look worse because she is fat. It will probably look better when she loses some weight and has better muscle. I would work on some topline exercisesto build up her withers..I will say that I'm not the best at conformation though. There are quite a few of people on the forum that could give you better advice..Good Luck!!
---
I am Sparkly Meanie Doodie Head and I approve this message!