Critique Painter and me
---
I keep forgetting the camera, so these will have to do. He was *really* quiet for some reason, If I didn't know better I'd say he was sedated. Normally his head carraige is much better, he actually picks up his feet and doesn't look like he's going to break any second. In turn, I wasn't riding that great because he was such a different horse. Just critique him over the jumps please, not me. I look worse then I've been in years, I kept expecting him to grab the bit and run, and he didn't!
Left (better direction)
Canter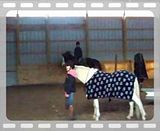 Trot
Right (he's off balanced to the right
)
Canter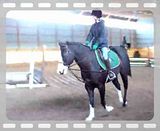 Trot (w/ jump at end)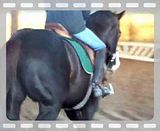 One jump, I sat up waaaaay early, but he looks cute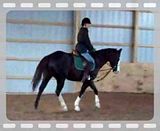 Wow, that's alot of videos, sorry
STUNNING HORSE!!!!!!!

i love his belly white blob and his one non-white leg!!!
Thanks guys!

Any suggestions or critiques?
you tend to forget to put your heels down toes up.
---
Bailey's Mountain
6 year old tb
First thing I noticed is that you don't give with your hands at ALL during the canter. His head bobs forward--well, it is supposed to, only with your hands remaining stationary, he can't move correctly. This makes him 'pivot' around the bit, which is why he has no moment of suspension at the canter(Especially true when riding with draw reins).

At the trot, your hands are nice and quiet. More posting without stirrups with keep your leg more sturdy then it already is.

Not bad, really pretty horse, but would like to see him a bit 'looser', which would require no draw reins, more freedom and following hands at the canter, and some stretching exercises for his trot to make him more supple.
---
Dressage in Jeans
- My blog with dressage tips for happy, relaxed horses, specifically for those who ride dressage in western saddles, no saddles, cowboy boots, or jeans. ;) Also now with cute pygmy goat pictures! :P
Similar Threads
Thread
Thread Starter
Forum
Replies
Last Post
Painter

1dog3cats17rodents

Horse Riding Critique

14

03-15-2008

06:22 PM