Critique, pics from the show
---
Here are some pics from a show a while back. This is Thunder. He was 5 at the time. This was the first time he had ever been in a show or anything like this, and he was very hard to control and skittish that year, but we placed a few times. Tell me what you think about his breed, confo, and all that jazz. Your guess on breed is as good as mine, because when he was sold, it was as a mustang, but I dont think thats true.(sorry for my bad riding, tese were a couple years ago) Feel free to critique any and every thing.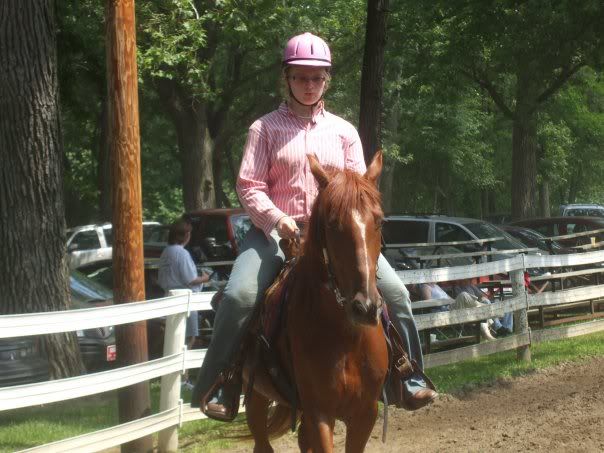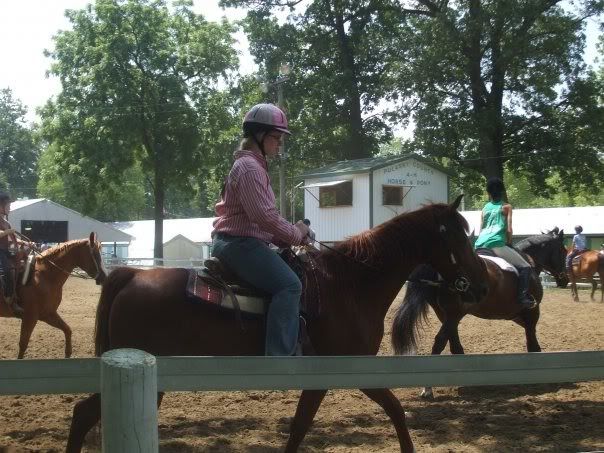 and my favorite:
Anybody have any thoughts?
These are kind of hard to critique since you can't see all of him in any one picture, and I am terrible at that anyway.

I would say maybe that he has some TB in him, possibly a TB x QH cross, though his head reminds me a lot of some of the walkers I have been going to look at.
---
RH Queen O Anywhere "Sydney"
2009 Sugarbush draft
Sorry, I don't know anything about western. :( He is cute though! :)
---
Every ride, good or bad, teaches you something new.

I am thinking definately walker, looking at the size of the head and the hip that he has. Looks like the person on the buckskin is having trouble holding her mount in as well (were ya racing.. lol) I know what its like to have an excitable mount under you in the show ring, it can be frustraiting. Do you still own this horse? How is he doing for you now if you do? He looks in great shape in the pictures so you do well with his up keep. And It looks like you had fun and that is the most important thing anyway... you make a good team..
OK, I have never seen that breed before, cause in Czech Rep. We have so little breeds from America, we have mostly german and Frenh breeds:( But from pictures I saw, he looks to me like little in morgan-type maybe?
Looks like a walker cross maybe. He's definitely cute!
Yes, I still have him, and he has only gotten better from that year, though we mostly do extensive groundword and bareback riding, no more showing..
And I'm very ashamed to say that the girl on the buckskin is my sister...she thinks its necessary to hold up Buttercup's head, i hate it..but shes no longer riding, so I've fixed Buttercup with holding her head lower (or I'm working on it)
I really dont have anything to say about your boy, but he is very cute!!

For you, I would just say look up more!
---
When God Made Horses, He Painted The Good Ones.
"All I pay my psychiatrist is the cost of feed and hay, and he'll listen to me any day."