Critique Please [picture overload]
---
This is Buttercup, a 9 year old [i believe, ive lost track] pony. She is 55 1/2 inches tall, which leaves her 1/2 inch under being a horse. She was trained in barrel racing before we got her, then abused, then trained to show in halter, western, barrels, poles, and now jumping while we've had her. She is fast and loves to run and will go anywhere for anybody, no matter the experience level. We've had young children on her and she does fine, and I've ridden her in both English and Western tack. She's gotten a first place with my sister in one of her western pleasure classes. Along with the critiquing[if you can from these pictures], I'm wondering how much would you be willing to pay for her[we're in Indiana], what breed do you think she is[i call her quarter pony], and what color would you call her[I've heard buckskin or dun] On another note, I apologize for the low picture quality, they were taken on my cell phone. [Keep in mind that in some of these pictures she's on a hill]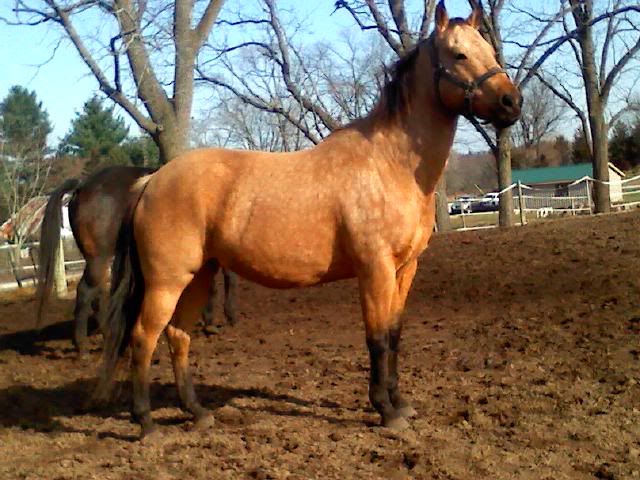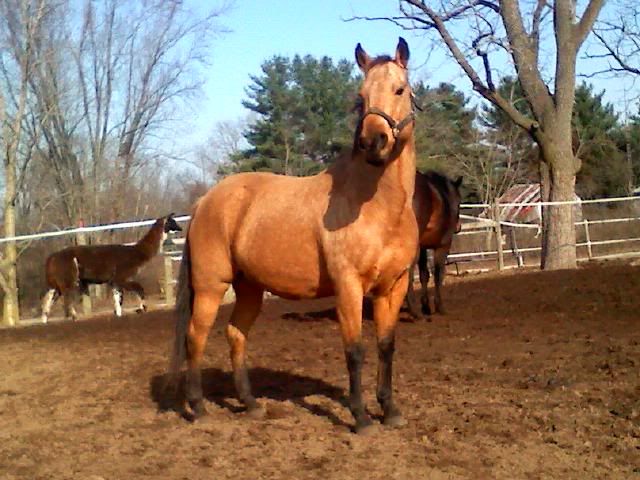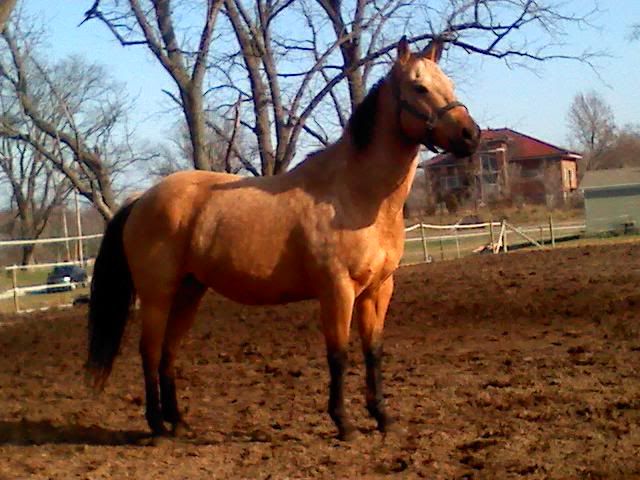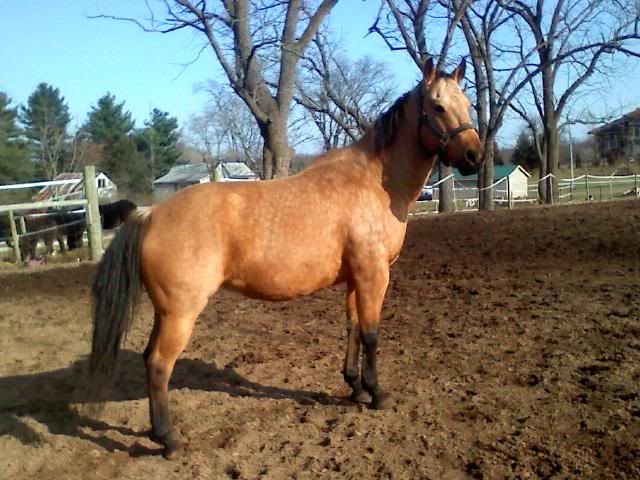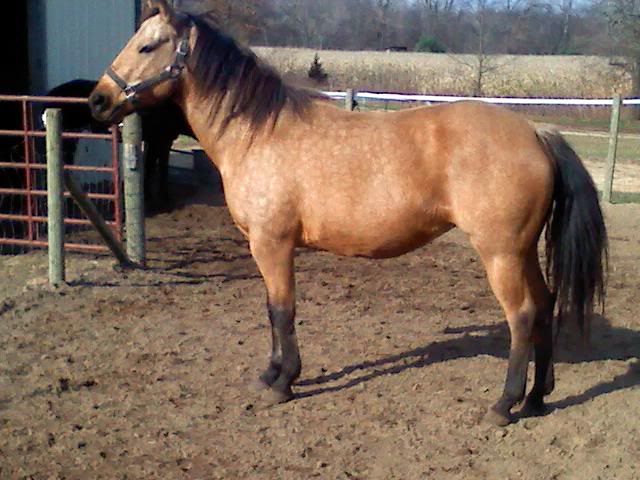 If it tells you how much of an incline shes on, the bay standing by her is probably somewhere close [if not over] 16 hands, and the white llama is over 6 feet tall. Here are some more of her [I'm not riding, my sister is, and she holds her back, so please dont critique her]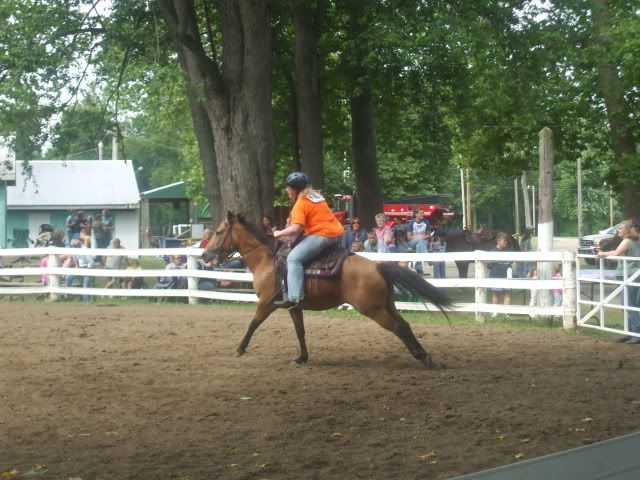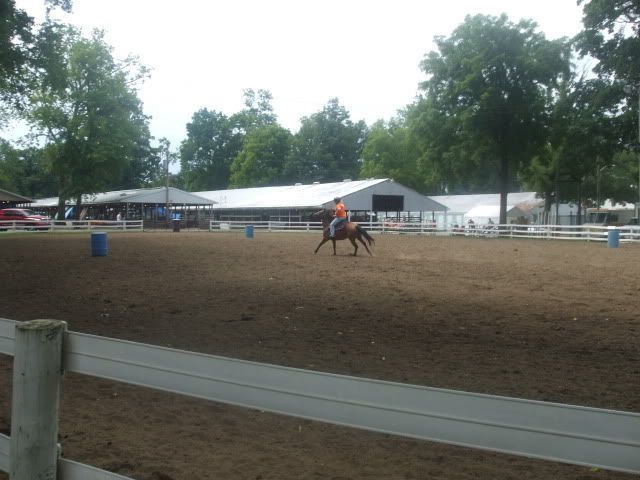 [she fell off right after this picture]
And heres something I did, it's not very good:

---
Last edited by HorseOfCourse; 11-22-2009 at

07:24 PM

.
shes adorable .
---
Lola Luffnangle. <3 Heres to forever!
She's a buckskin and not a dun, she doesn't have a dorsal stripe. :)

She's cute, I'd probably call her a Quarter Pony as well. As far as willing to pay, it's really hard to say without watching a video of what she can do.
---
~~~~~~~~~~~~~~~~~~~~~~~~~~~~~~
Hmm. She's cute, and she's got good leg conformation, but she's got a short, ewe-y neck. That's the only real conformational fault I can see. I think the rest is that she's got her winter fuzzies and is a bit out of shape. As far a price goes, if I was in the market for a pony, and yours did everything you say she does, I might offer 800-1200 dollars, but again, you never know till the buyer sees her in action.
---
Peace, Love, and Ponies of all shapes and sizes.
I was waiting for somebody to say she's out of shape. She's a fatty-pony. lol. She's a very odd pony. Dapples and gets lighter in the winter and loses her dapple and gets lighter in the summer, but as far as her color goes, I sign her up for 4-H as a buckskin because she has no dorsal stripe, though people have questioned me. Also, when we got her I believe we payed somewhere around $375 for her, I cant remember, but she is usually a judge's favorite.

Do you think her neck could be because my sister and other people had to hold her back all the time because she wanted to run and she naturally carries her head high?..or could that not have anything to do with it?
Got to love those fatty ponies:) Yeah, it looks a lot like an excercise ewe neck, as there is quite a bit of muscling on the underside of the neck where she has no business having that much muscle. It would probably do her some good to be reschooled a bit so she was more responsive to half halts and consequently less likely to have someone hanging on her face and contributing to the ewe neck factor.
---
Peace, Love, and Ponies of all shapes and sizes.
I've recently been working with her, so she now carries her head low and will walk. I can actually drop the reins and trust her to not want to take off with me as she used to.
Good. That should really help her out. Next thing you could work on is teaching her to be round and collected, which would straighten out the neck issue (no pun intended) as well as teach her to use her body more efficiently and get the fat pony in shape:)
---
Peace, Love, and Ponies of all shapes and sizes.
Lol. Actually, I got some of the best news today..
My mom is talking about buying and fixing up a house that is right next to [literally..right next to] where my horses are kept [at my aunts house]
So this should improve the horses-and my- abilities.