Critique please. APHA mare
---
This is Awesome Miss Take aka Storm. She's 12 and will be 13 in April. She's APHA and PHBA registered. Here's her pedigree
http://www.allbreedpedigree.com/awesome+miss+take[/url
] . She ran barrels before, after I get her fit and her hooves back in order I plan on barrel racing with her. If you need more info let me know. I don't know anything about her background other than she's run barrels, can track cows, and can throw a rope off of.
And the guy didn't really take care of her. She had mud fever bad which is why her legs look funny. I shaved the hair off so I could treat it.
Sorry about the quality and lack of pics.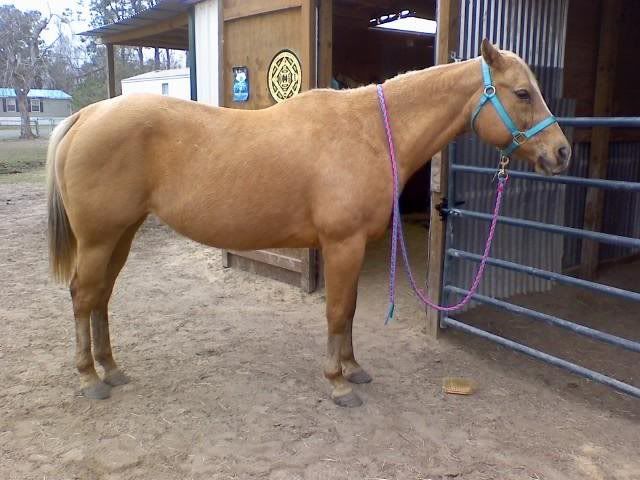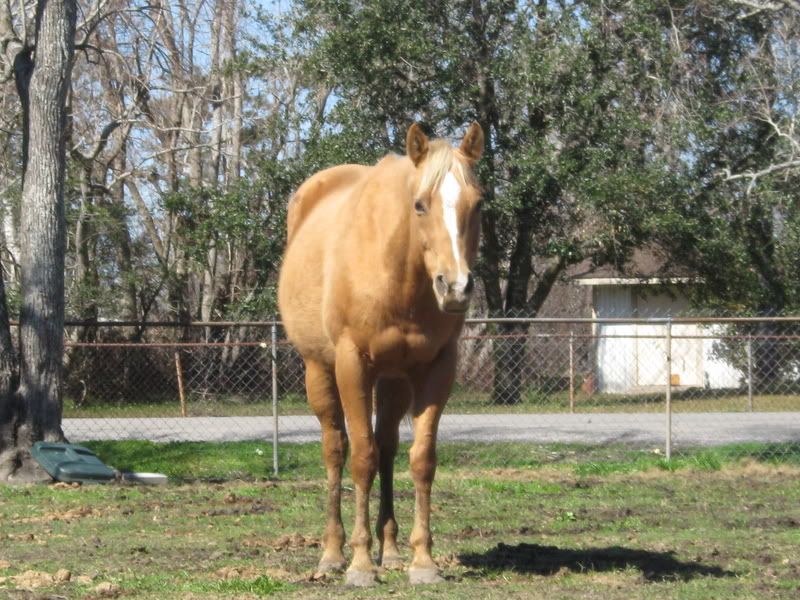 ---
Awesome Miss Take- Storm- 15 yr APHA PHBA Mare
SS Catalena Doll- Claire- 2010 AQHA Filly
I am not much of a critiquer but she sure is a cutie!!
Banned
Join Date: Dec 2008
Location: At my house, or stable, duh!(Michigan)
Posts: 2,479
• Horses:
3
Around her breast plate area, it looks a little wide.

it looks like she is toed aout a WEE bit, but it could just be how she is standing.

i love her cute lil legs':)
Thanks everyone! Anyone else??
---
Awesome Miss Take- Storm- 15 yr APHA PHBA Mare
SS Catalena Doll- Claire- 2010 AQHA Filly
She has a long back and a straight shoulder. As far as her chest goes, she looks like is supposed too, like a quarter horse. I am not sure what a breast plate area is, but okay? Anyway, overall cute horse.
Here's a riding video. It's not much just walking and trotting. No one was home to help so it kinda sucks.

Turn your volume down, it was windy.

---
Awesome Miss Take- Storm- 15 yr APHA PHBA Mare
SS Catalena Doll- Claire- 2010 AQHA Filly
I agree with Morgan in that her feet turn out a little but her chest looks fine. I think she looks balanced and has a good heart girth. The only thing I may add is that your rear cinch is a little tight for my liking.

All in all I like her. She is one that I would consider if I was looking.
---
I'm not arguing with you, I'm just explaining why I'm right.

Nothing sucks more than that moment during an argument when you realize you're wrong.

It's not always what you say but what they hear.

Taking a peak, I would have to say she is nice. I would like to see how she turns out once you fit her. As for her bloodlines, nice seeing that she has Three Bars close on her moms side. Lots of TB on her top side. I am not sure she is stout for barrels but she could do really well in other disciplines without problems from what I see.
---
Dixon's Red Hot Ember
Thanks everyone.

Iridehorses, I thought the back cinch was okay. Her winter woolies make it look tighter than it really is, but I'll definatelly keep that in mind next time I ride though. After I get on her the weight in the saddle pushes down and causes more slack in the back cinch. I was able to fit my hand under the back cinch.

I'm not going to be barrel racing every weekend either. Just every once in a while when things work out with my parents work scheduale and were able to go. It will be just for fun. So no worries on her being pushed hard or anything at all like that.


Thanks again everyone!!!!!
---
Awesome Miss Take- Storm- 15 yr APHA PHBA Mare
SS Catalena Doll- Claire- 2010 AQHA Filly