Critique Please :) (Rescue Mare)
---
Hello guys! Ok so Heidi has packed on at least a little bit of weight and I feel she looks sooo much better already! I wanted to see what you guys think of her conformation? And I just wanted to show her off anyways
She is still way too skinny obviously and has a long way to go, but I am so proud of her already!! We don't know what breed she is...we are guessing TB or TB cross. She is about 16.2 ish? My hubby is 6'4 in the pics (doesn't he look excited LOL!) and I am 5'9 so that gives you a comparison. I know absolutely nothing about TB conformation so it will be pretty cool to learn! I grew up training and showing Saddlebreds and Morgans...so yeah big difference lol.
She toes out a bit in the front it seems to me...but it may just be her being a little tender footed still too, and her feet are at different angles (Animal Services did her...my farrier is starting the fixing process because she hadn't seen a farrier in over a year!) And her back foot was planted funny she is not actually so far apart in the back lol
I hope you like her:) Be as harsh as you want! I love her either way!
PS- excuse the funky shave job! She was still sweating when it got too humid and I felt bad so I shaved her neck & chest, etc to help keep her cool but left the fuzz everywhere else since there is not a whole lot of horse to actually keep her warm!
Here's Heidi!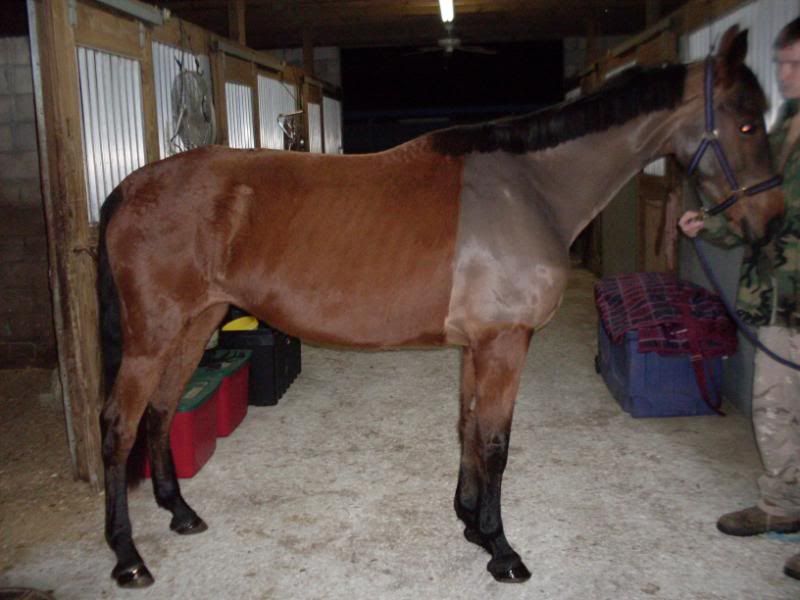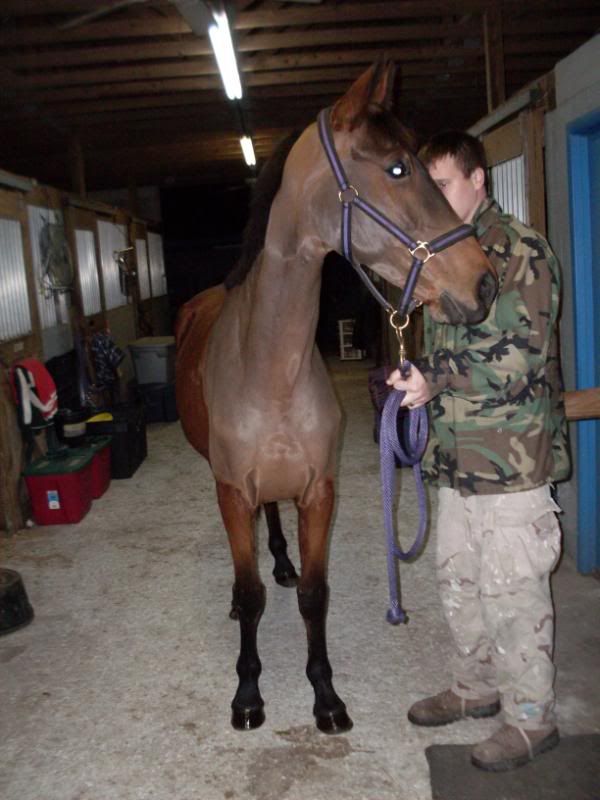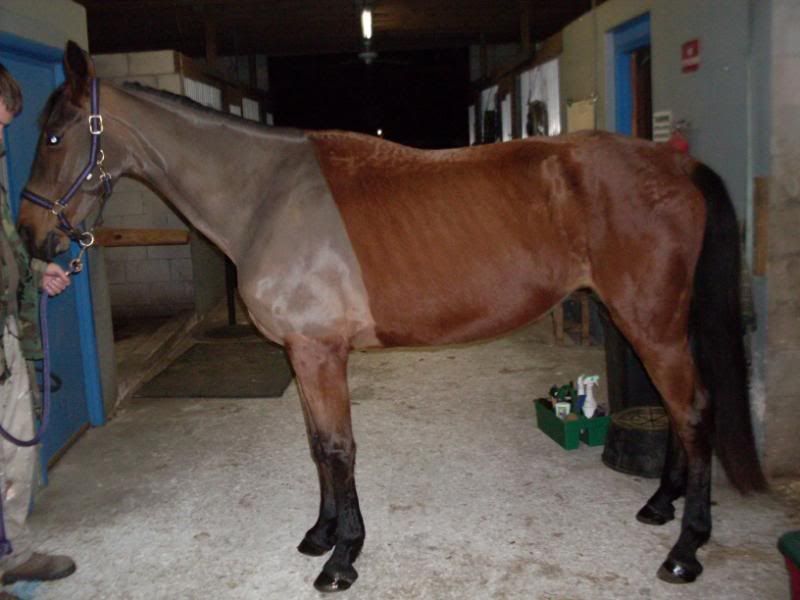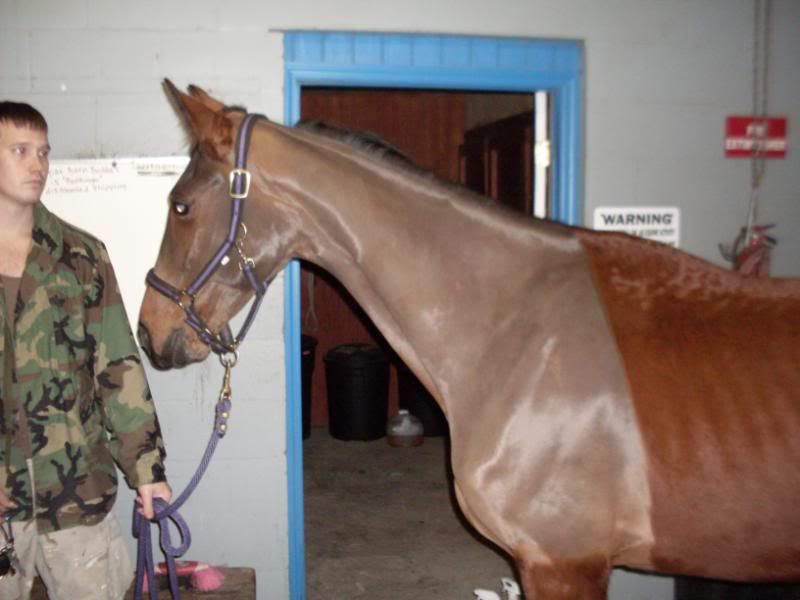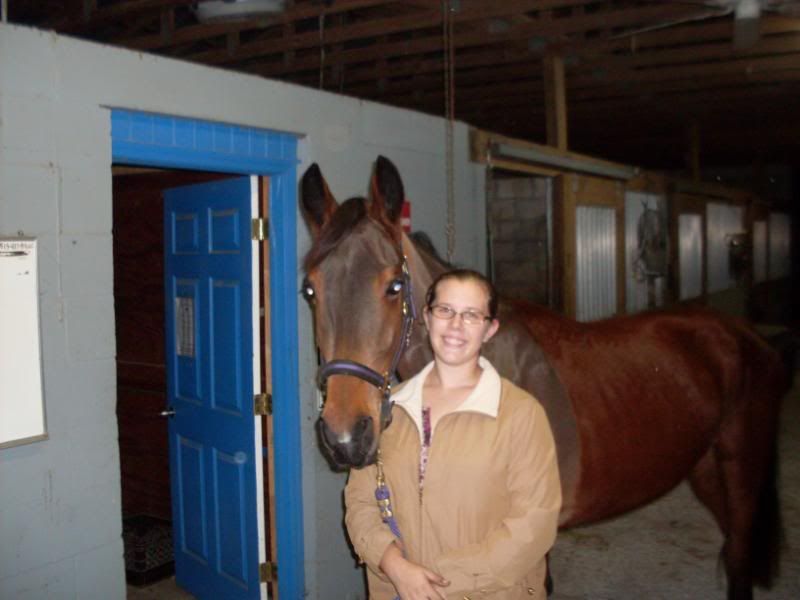 She is gorgeous, reminds me of my boy.
I do see alot of TB in her. She has a nice long neck, but like my boy she is abit more uphill.. Not alot but abit.
(my boy is the same height too ! )
She will look so much more gorgeous when she gets more weight on
She's lovely! Much like the TB I rescued this fall too- skinny, bay, etc. My boy is a smidgeon taller but has the same shark fin as she does! Lucky you can even get your hubby to hold him, mine won't come near (we're working on that). You look so happy with her and she seems to like you too. Please keep posting, I'd love to watch her progress. Sorry that isn't much of a critique, I'm not really the best resource but what a lovely gal!
Well she really isn't too bad of a mare! I really like her! I would definitely guess for her to be a Thoroughbred (Does she have a tattoo under her lip?- It's a good way to check and see if she ever raced or maybe even give you some idea of her pedigree.) She is definitely a cute one for sure! :)

She has a very pretty, feminine face and a very nice neck. Her neck is a little thin, but should be fine once she builds up her topline. Her shoulder is a little straight, but really isn't too bad. She should have a pretty nice reach in her front end through her gaits. (Generally, the less of an shoulder angle you have, the more smooth and more ground covering the stride will be.)

Her front legs are pretty nice, but she does appear to be a little toed out. She also has a longggg back. Again, this will be significantly better to the eye with overall muscling and more groceries. Her back end looks funky, and I think is her weakest area. (And she is standing weird for you too, which doesn't help to see what's really going on! haha) She may be weak in the stifle area, but it's hard to tell since she really just needs to build muscle throughout her entire bum. She also looks to either be a little cowhocked or toed out in her hind-- it's hard to tell based off of the pictures.

Overall, I think that she is a lovely mare. Again with continuing on getting weight and muscle on, a lot of the faults I pointed out won't be such a big deal.

I find rescues to be so rewarding, and it's obvious with the look on her face that you are doing an excellent job! :)
---
"I solemnly swear that I am up to no good"
Official Marestare Addict!
Thanks guys :) Here is a video of her in the pasture...she obviously has no muscle so her canter looks kind of funny lol but she's feeling good :)

I can't figure out how to embed the video...here is the URL


---
Last edited by Underfire05; 12-18-2009 at

09:19 AM

.
She's cute! With more groceries and some work, I think she'll be a really nice horse. She has a lovely trot.
I love how she is built! She's a great looking little horse!
That's a funny clip though...I don't think I've ever seen a clip like that
haha...I don't think it's an official type of clip lol. Those were the areas she was swaeting the worst in...so it's just airconditioning hehe :)