Critique: possible adoption, Paint mare
---
Hello all!
Im "new" to the forum (new to posting, but have been reading religiously for quite awile) & am looking into adopting a 13 year old, 14.2 hd paint mare in the near future. I generally prefer bigger horses but she has a wonderful attitude & is very cowy. She was trained WP and I believe has been jumped a bit. Awile back she shish kababed herself on a fence, hence the large scar on her neck.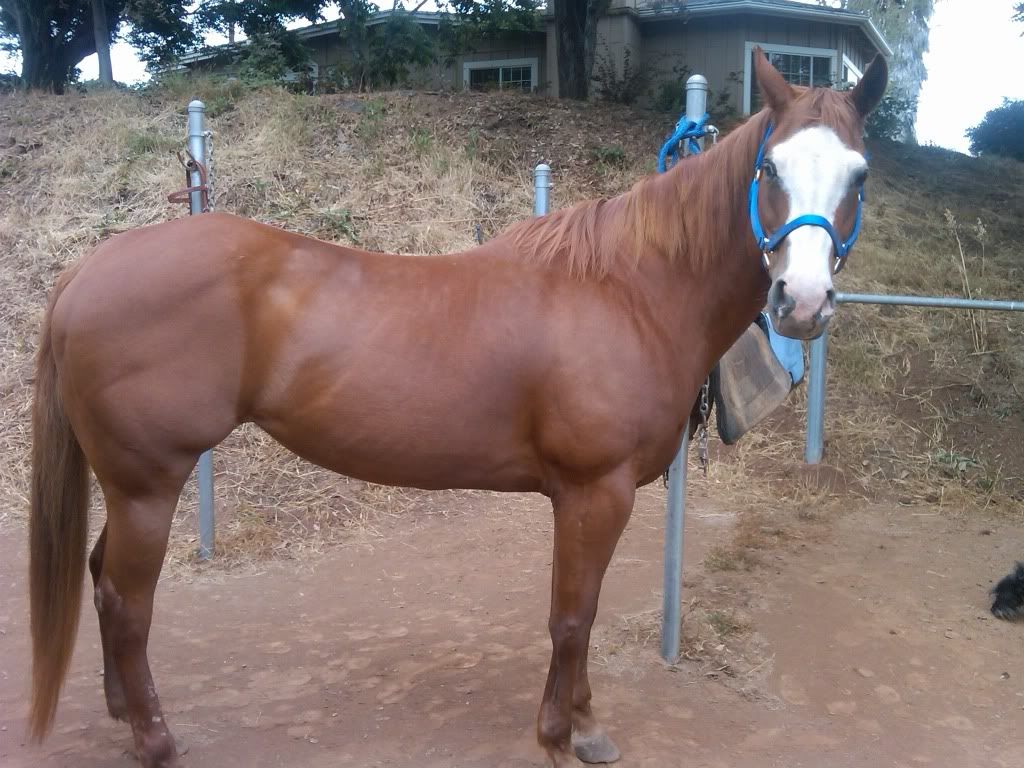 <br>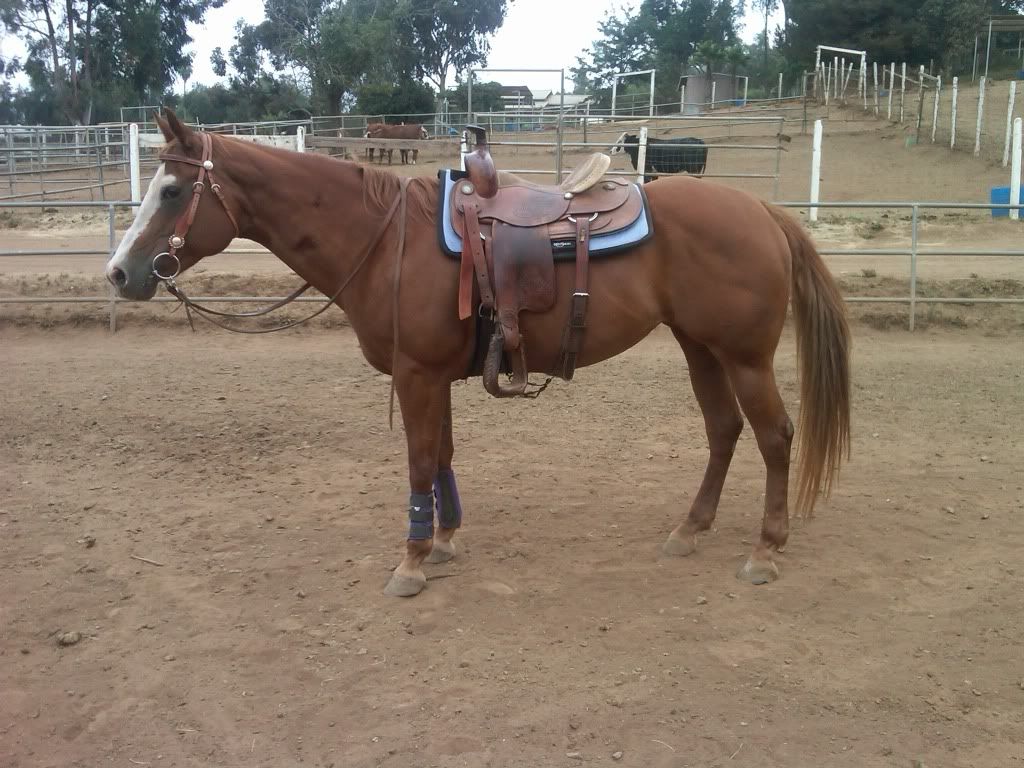 <br>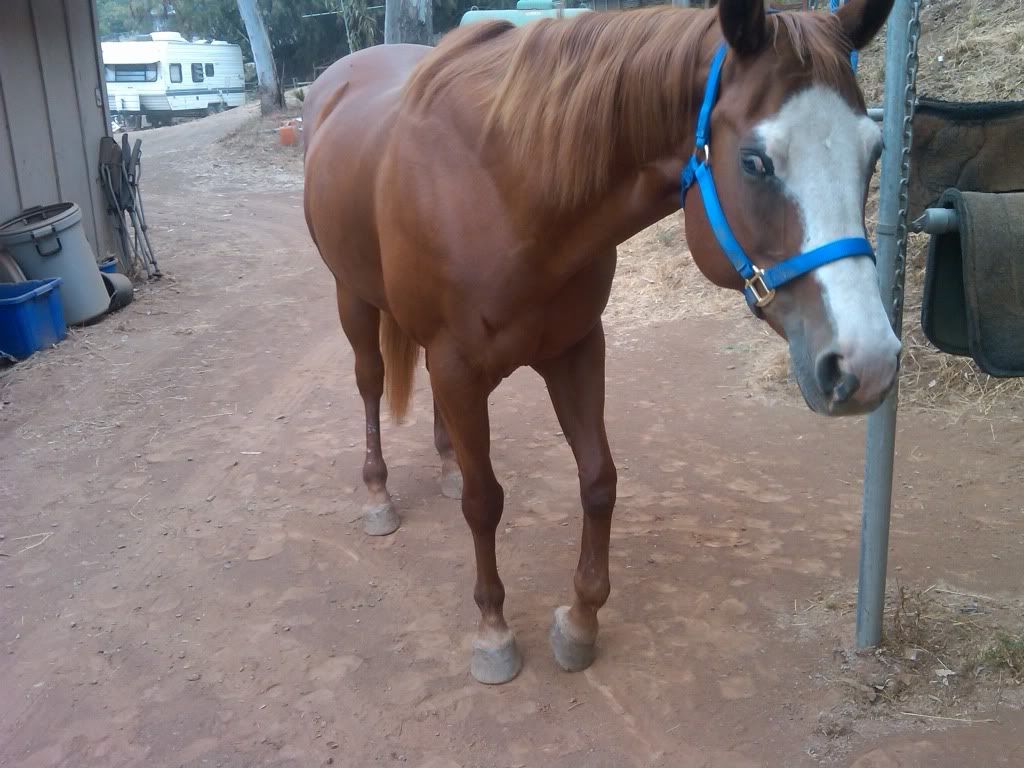 I love everything about her, If she's in good health (she looks to be) I would say yes! Before I got my QH, Gunther, I said the same thing. Now I have the best bond and riding partner ever.

xD She reminds me of Gunther, I guess that's why I love her so. Same color and everything.
the only thing I don't like about her is that her back looks weak, it doesn't seem to have the same amount of muscling as the rest of her. I would be concerned about the potential for back problems, but maybe it is just a muscling isue and she just hasn't been worked properly. She could also be a bit steep in the pasterns but I really don't know enough to be able to judge that properly. Other than that she is really cute!
---
Boxer
Diligent, loyal, strong
She looks like having long body and butt high (although this one could be just pics), but she's very cute.
Green Broke
Join Date: Aug 2009
Location: Vancouver, British Columbia
Posts: 2,808
• Horses:
2
I thought she looked long in the body as well but she is very pretty
The first thing I noticed was her extremely long back, then her fairly weak hind end and straight shoulder.

Her legs look okay, as do the angle of her pasterns. She also has decently sized feet for her body mass, which is a good thing.

Her neck is proportioned well, and she has a nice, kind eye.

I don't know what your plans are for her, but she should make a nice trail horse.
I agree she has a long back, but otherwise I think she's a lovely horse, especially for what one would expect from an "adoption" situation, at least in my area. The long back could be a bit of an issue for cow work as it may affect her agility, but I have known cow horses who are poorly built for it but exceptionally cowy, and that great attitude can really, really make the difference. She's really not too bad, I don't think she's particularly down-hill (just level), and I think her hind-quarters look fine. I'd just be careful about her back as she ages, it does look a bit weak and prone to swaying. I love short cow horses =)
I never even noticed her back was long until I looked at the pictures and then I was like oh my! I think they excentuated it a bit, ill have to have a closer look at her. She is in perfect health, just needs some muscle. She ended up at the rescue because her original owner was getting behind and couldn't afford her so she gave her up before things got bad. The woman who has her now has always planned to give her up in August, didn't really want a horse so much as she wanted to buy things for one it seems. She's ridden her all of a half dozen times. So infuriating. She's now very upset because she thinks she should be able to sell her for atleast 1200(she adopted her for 500 but since she owned her she's obviously worth more..), even though she signed a contract saying she can't sell or give her away, she has to go back to the rescue.
Posted via Mobile Device
I think she looks great. She's not as 'big butted' as some, but has a build similar to our Cinnamon. Also, don't worry about thinking she's too long backed. In my experience the short backed preference in the QH/Paint world was based more on personal preference than performance. Our lead mare is long backed and a great penner and trail horse.
---
On the sixth day, God created the Quarter Horse.
On the seventh day, he Painted the good ones.
I agree with Boxer. Her back end looks weak and she has a long body. But I suppose with some conditioning and muscle toning it may become less prevalent :)
If you're not planning on showing, I think she'd be a great little horse for just about anything. I've always been a great believer of attitude over looks. You could have the best looking horse in the world, but if it's a total maniac with terrible manners then you're not going to enjoy having it, are you?
Good luck with whatever decision you come to!