Critique possible buy 2009 APHA filly
---
I am going to go take a look at this filly and was wanting some input on her. I know you cant really critique a baby but I was wondering if you could also critique her by her parents. I want to do halter and then also longe line and in hand trail. Depending on what she turns out to be like I would want to show her at breed show level probably pinto.
Here she is. She is a 2009 APHA filly and here are a couple pictures of her they dont have any real good pictures but I will have them send some when they respond back to me: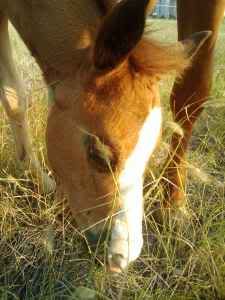 And here is her dam she has 4.5 halter points with limited showing as a yearling: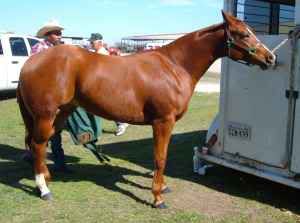 Here is her dam's pedigree:
Pret Te Cool Gal Quarter Horse
Here is her sire: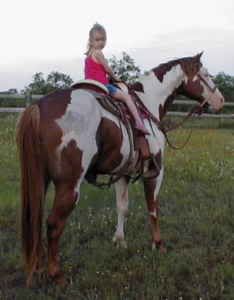 Here is his pedigree:
Sir Noble Knight Paint
The only thing I dont like is her sire isnt proven, but her grandsire is. He hasnt been injured that I know of but I will look into that more. They are asking $550 for the filly. Please tell me what you think!
Personally, I don't like any of them. The baby doesn't inspire that instant "Aww!!!" from me. The mom is still very downhill. I know she is a Quarter Horse, but I still like them to be at least close to even. Dad strikes me as just plain ugly, but it's hard to tell from the angle and the saddle. Of course, he does seem to have that typical QH build that is popular for Halter. I don't know much about Halter, but I figured I'd throw my 2 cents in anyway.

As far as pedigree, both parents have Impressive. Have they been tested for HyPP? That's definitely something to consider, because if baby ends up N/H, she will require special care. If she tests positive, it's possible she could lead a long, productive life, but it's also possible she won't. =|
---
"Great spirits have always encountered violent opposition from mediocre minds."

---
Last edited by riccil0ve; 07-25-2009 at

04:22 PM

.
As far as I know they are both nn but I will ask again to make sure. The picture of her dam was when she was a yearling so I am asking for more pictures of her to see what she looks like now. As for the sire I want to see more pictures of him too and also I want to know if he has had any injury or anything because it doesnt look like he was shown.

Thanks for the critique.
Well if Mom was a yearling in that picture, chances are pretty good she evened out. =]

I'd ask for paperwork on the HyPP. I know it's nice to think people are generally good, but it's better to be safe than sorry.

I'm curious to hear about Dad, though.
---
"Great spirits have always encountered violent opposition from mediocre minds."

Well I think the filly is absolutely gorgeous and just by looking at the Dam I think she could do good in halter. The sire, it is hard to tell his confirmation from that picture but he has a really nice neck and head on him. Also he is very hansome I might add. But yah, if that little filly looks anything like her Dam as a yearling then I think she has some good chances. I think you should give it a try. :) Man, her sire's color pattern sure is striking, very pretty indeed. :) Keep us updated if you plan to get her.

I am also getting to horses at the end of Sept. when they are weaned. 1 colt was born April 25th and the other on the 27th. I am planning on doing halter with them also. The little filly looks just like one colt. Both of mine are also APHA.
---
"Horses Lend Us The Wings We Lack"
Yeah I think I will go take a look at her and see.
I agree on getting some paper work for the hypp cause yea you never know.