Critique Possible Buy Please!
---
I have been shopping for a pretty well trained, large horse that I can compete in hunters with. I am a larger rider so I need a larger horse, and I have looked at a million ads online and none of them were quite right. Then I stumbled on this guy this morning, he seems nice so I would like opinions please!!
Age: 9
Height: 17 hands
Breed: Hanoverian
Sex: Gelding
Asking Price: $4,000
Note From Seller: Ben is a large easy going fellow. He is very attractive. He goes well outside he has little to no spook, he has nice slow gaits. He is very willing to the fences. I have jumped him 2'6" has done a bit at 2'9". He jumps anything that you put in front of him. I see him as a hunt horse, trail horse. Ben will go out for a ride by himself or with others. He is well suited to carry a person the needs a larger horse. He is well worth a call.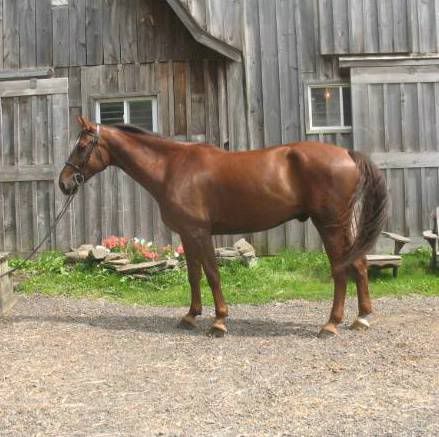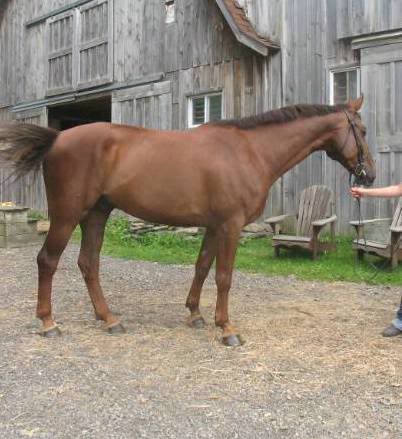 ---
♞ Horse Crazy. ☀ Animal Lover. ☺Jeremy Renner Obsessed. ✇ Photo Taker. ♫ Country Music Listener.
♥ Erotic Romance Reader. ✯ Witch.
He looks like a lot of horse for the money, but I wonder why he's swishing his tail so much? Flies or a sore back? If it is a sore back, he is doing very well inspite of it!
Started
Join Date: Jan 2009
Location: USDF Region 1, USEA Area 2, USEF Zone 3 - Maryland
Posts: 1,903
• Horses:
3
I think it's the way the camera is moving in the beginning, but he looked like a he took a few funny steps in the beginning. Again, could just be the camera. But the fact that most of the video is him cantering around is also fishy to me. I like seeing LOTS of trotting.

If you do anything with him, make sure you get a PPE and maybe do a trial incase they have him on meds - they can get out of his system & if any issues pop up you can adress them.

Other than that, he's cute :)
---
-Melanie
Mom to 3 bays: Beau, Daisy & Cavalina
I'm kind of curious as to why she never sat through his canter? She braced herself the whole time. He looks likes hes got a pretty nice canter. I would also have like to have seen more trotting. That was the biggest issue with Duchess, she doesn't know how to trot for more than a few seconds.

I would definitely take him on a trial, especially for that money.
I smell fishies!
A 9 year old Hanoverian gelding (if it really is a Hanoverian - I don't see a brand) (a) should be jumping way higher than 2'6 and (b) should have at least another 0 on his price.
I suspect lameness problems.
I agree with Anebel, hanoverians normally go for so much more than 4000, deffinitly get a vet check and a trial period with him to make sure theres nothing hidden, like lamness problems or overall health problems. id have a good farrier check his feet too
ive seen quite a few unbranded Hanos go for that price lately depending on their locaiton and there was nothing wrong with them
---
"The horse you get off is not the same as the horse you got on; it is your job as a rider to ensure that as often as possible the change is for the better."
Green Broke
Join Date: Mar 2009
Location: Kansas in the summer, Kentucky most of the time
Posts: 3,028
• Horses:
3
I would go see him. Horses that are less advanced in their training due to issues on the owner's end is often why a horse will go for next to nothing.
---
Look like a SUPERSTAR, Ride like a FOUR STAR, Win like a ROCKSTAR
Eventers: Making BAD Dressage look GOOD!
I like him. I think that the tail swishing is because of the flies, you can see him shake his head in the beginning bc of bugs. He definetly could use some polish on lead changes and transitions... but that stuff is fun to work on. I really like him, and he looks like a sturdy boy with good bones! :) Tell us if you end up trying him out (also i always would get a vet check on a horse, so you should do that regardless)
---
I love Alexis, Bindi and Maggie!
It's abit dodgy, but I'd say maybe give him a try. For that amount they must at least let you take him on a trial or something. See how he goes. Also check for any underlying problems.

NB: If this is a horse dealer you are planning on buying on, it's a NO.
Horse dealers specifically hide faults from the public eye just to get rid of horses.
---
*~ THE HORSE STOPPED WITH A JERK, AND THE JERK FELL OFF -- Jim Culleton ~*
MANURE HAPPENS