Critique These Possible Buys Please!
---
I would love you opinions on these horses! And would also love to know if you think they're worth the asking prices! Thanks
What I'm looking for: A big sturdy horse (im a larger rider at about 250lbs) That is decently trained, solid W/T/C and started over fences, that I can show low/high hunters, Pleasure, Hunter under saddle in the spring, hunter pace and eventually do some low level eventing with!
Colby
Breed: Percheron/Thoroughbred
Sex: Gelding
Height: 17.2 hands
Age: 8
Sellers Comments: Colby is a large guy with a rocking horse canter. He has competed in dressage schooling shows through training level test 4 and has begun lateral work. Last year he learned to jump; this summer he graduated to 2'6" courses and cross country fences. He has a lovely, large but soft jump. I bought Colby as an unbacked three year old and have brought him along under the guidance of professional trainers ever since. Please contact seller for additional photos.
Asking Price: $10,000
Video Link: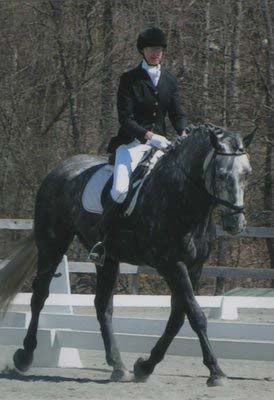 George
Breed: Draft(idk what)/Thoroughbred Cross
Sex: Gelding
Height: 17 hands
Age: 6
Sellers Comments:
'Curious George' is a Draft-Thoroughbred cross field hunter. He is being offered for sale as he's more of a second field horse and the owner wants a first field horse. Good with hounds and other foxhunters, jumps well, clips, loads, no vices. Has hunted with Radnor regularly in 2008-2009. Quiet, 'puppy-dog' personality, good barn manners, very smooth gaits. Will trail ride alone or with other horses.
Asking Price: $7,500
Video Link: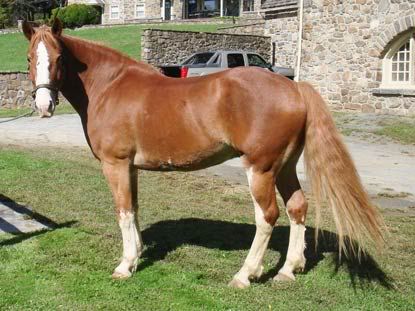 Molly
Breed: Spotted Draft
Sex: Mare
Height: 16.3 hands
Age: 5
Seller Comments: Nice on the trails or in the arena. Beautiful trot, easy to sit canter. Green but smart and willing. Jumps small verticles and xrails. Placed 2nd out of 8 on the flat n her first show. Would make a striking dressage mount or hunt horse.
Asking Price: $7,500
No Video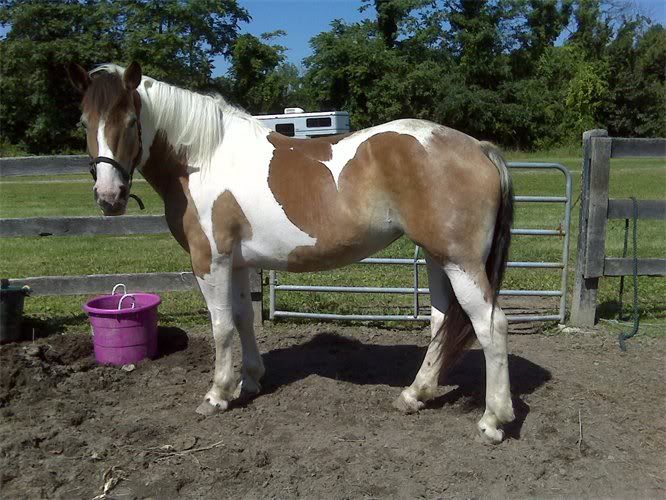 Granite
Breed: Percheron Cross
Sex: Gelding
Height: 18 hands
Age: 10
Seller Comments: Granite is a sweet 18' hand Percheron cross that would be perfect for everyday trail riding hunting and eventing. He has been low level eventing and has some dressage background. Granite has also been shown at local hunter paces with great success and jumps around at 2'9". Recently Granite has been fox hunting with Windy Hollow Hunt and has been the talk of the field! He also went to the New Jersey State Fair and was excellent. With no vices and a loving attitude he would be a tremendous fit in any home! He loads, clips, and leads perfectly. His size makes him perfect for a tall gentleman but his disposition makes him suitable for anyone! Don't miss out on this Mr. Right, they only come by so often!
Asking Price: $10,000 NEG
No Video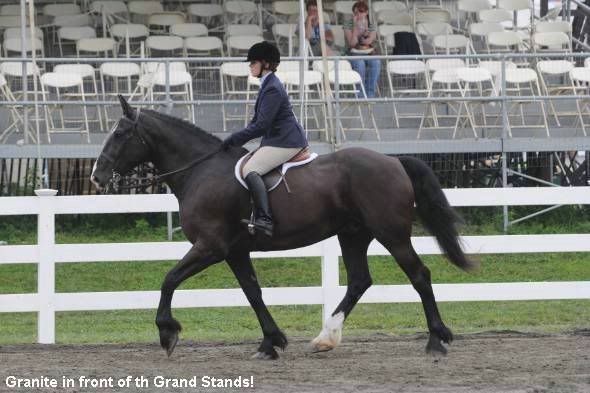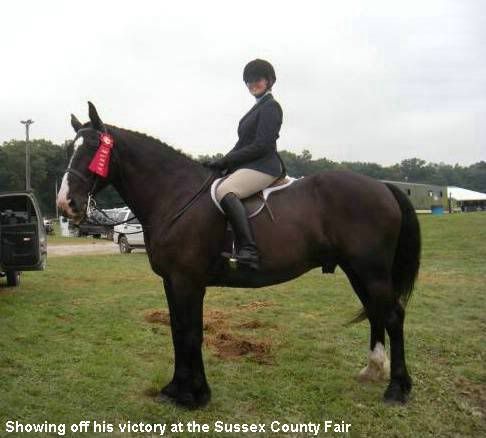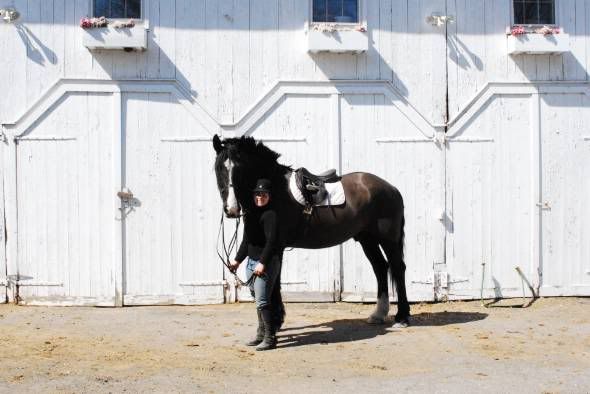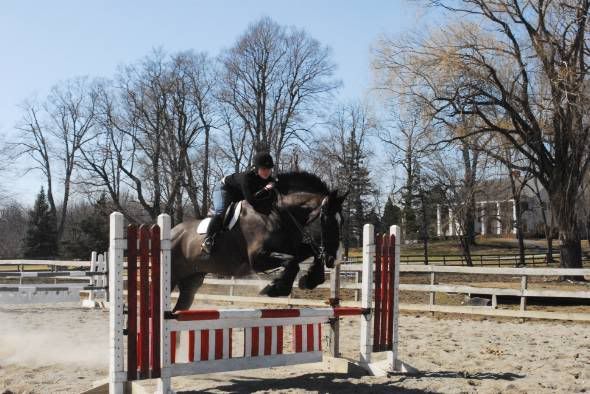 ---
♞ Horse Crazy. ☀ Animal Lover. ☺Jeremy Renner Obsessed. ✇ Photo Taker. ♫ Country Music Listener.
♥ Erotic Romance Reader. ✯ Witch.
---
Last edited by BurningAmber520; 11-02-2009 at

11:16 AM

.
I really like the first horse, it the picture he seems to have dressage potential and looks really pretty, I also like the last horse Granite the pictures show it all his jumping looks nice knees are tucked and he is big! asking price seems alright but try him out first and maybe you can negotiate (sp?) a lower price. George looks ok.. but from the viedo I really think that price is too much for that price I would expect a little more balence from the horse and maybe some better head carrage,

But remember I'm not super experenced just my input
Try all the horse out, you never know you might like one over the other :)
---
<3<3 It's just us together as one <3<3
Banned
Join Date: Jul 2009
Location: In a land far far away, or so I wish.
Posts: 12,825
• Horses: 0
Curios George is either a saint or difficult. It is hard to tell from the video. His rider gets left and yanks his mouth off and he keeps going. He picks up the wrong lead a couple of times in there too.
I really like the 1st one, last one would be my 2nd choice. George is OK, and frankly I don't like the look of the paint and they ask way too much for her.
I love the first horse!! You should get him lol. He is so big and handsome and looks very nice and fun to ride.
---
quarter horses.....simply the best
I really like Granite, and colby. I absolutely love the look of the paint, but she is a bit expensive for a green broke horse. Then again, a spotted draft is quite rare :)
Good luck!
---
He knows when you're
happy
He knows when you're
comfortable
He knows when you're
confident
And he
always
knows when you have carrots.
I just got an email from Colbys owner, hes being moved for the winter and she's taking him off the market :( She said she'll probably put him up for sale again in the spring, ugh!

I like the look of George, Idk if he's the one but im going to go look at him I think!

I love the look of Granite!! And hes close to me! I'm going to see him Saturday morning at 10am!
---
♞ Horse Crazy. ☀ Animal Lover. ☺Jeremy Renner Obsessed. ✇ Photo Taker. ♫ Country Music Listener.
♥ Erotic Romance Reader. ✯ Witch.
well shoot, dang it lol. Make sure to let us no how it goes!!!
---
quarter horses.....simply the best
I like the looks of george and he looks like he is pretty well broke but i think he would need some work though, and im not sure if its the way she rides or what but she almost acts..... aprehensive (not sure if thats the word im looking for lol) when she is riding him, like she is waiting for him to do something naughty. But it migh just be the way she rides. I dont care what breed of horse it is, i would not pay $7500 for a green broke horse absolutly not lol. Grantie sounds nice he would probably be my pick now since you cant get colby lol.
---
quarter horses.....simply the best
Granite is definitely my favourite. What a cute lil bugger! Okay... What a cute BIG bugger!
He looks like a very handsome gentlemen.
And I'm sorry, but I had to laugh at the Spotted draft? $7500 for that? Puh-leese!
Colby is STUNNING to look at! and I love the Sabino markings of George.
But Granite as my vote! :)