Critique Tigrex please!
---
Okay, so I've fallen in love with this 6yo Standardbred gelding, Tigrex. Not sure if he's for sale or not, but I'm thinking of making an offer on him. What do you think of him? Anything stand out to you guys? Sorry for the bad quality, took these on my phone.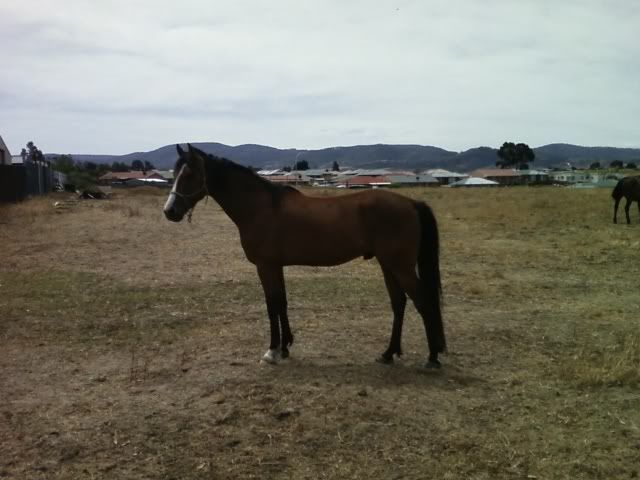 ---
Satin Reign aka "Misty"... my life, my love, my everything.
Aww, he's cute!! He seems to have a pretty good build, but needs a bit more weight and muscle. Nice topline,
adorable
blaze! His front legs look a bit off to me, but I'm not sure why. He's pretty lean for a SB. Very cute though. I'm in love with his face!!
---
"'For I know the plans I have for you,' declares the Lord. 'Plans to prosper you and not to harm you, plans to give you a hope and a future'" ~ Jeremiah 29:11
Trained
Join Date: Sep 2007
Location: Hatton Vale, QLD, Australia
Posts: 5,227
• Horses:
7
the only thing i can pick from the photos is he looks a little camped under in the front and maybe a tad short in the neck. he looks really well put together for a standie though ;)
p.s. i love standies
---
"I whisper but my horse doesnt listen...So I yell!!...He still doesnt listen"
He looks like he has a nice even back, long legs, stands up well, short neck. He's a cutie! I'd like to see more piccies of him!
---
Ride more, worry less.