Critique Velvet :)
---
Last week it was Critique Rio :) now its Critique Velvet :) So.. Velvet is a new horse that I am leasing. She is a registered APHA mare. She is 9 years old and 15.1 hh. She is a sorrel tobiano. She is ridden mostly western but is now in training (sorta) for english to be hopefully a good all around show horse someday. Is For Sale. I dont know much about her past.. but yeah if you need more info just ask :)
ps sorry they are sooo big. but maybe big is good for critiqueing but ohwell it happens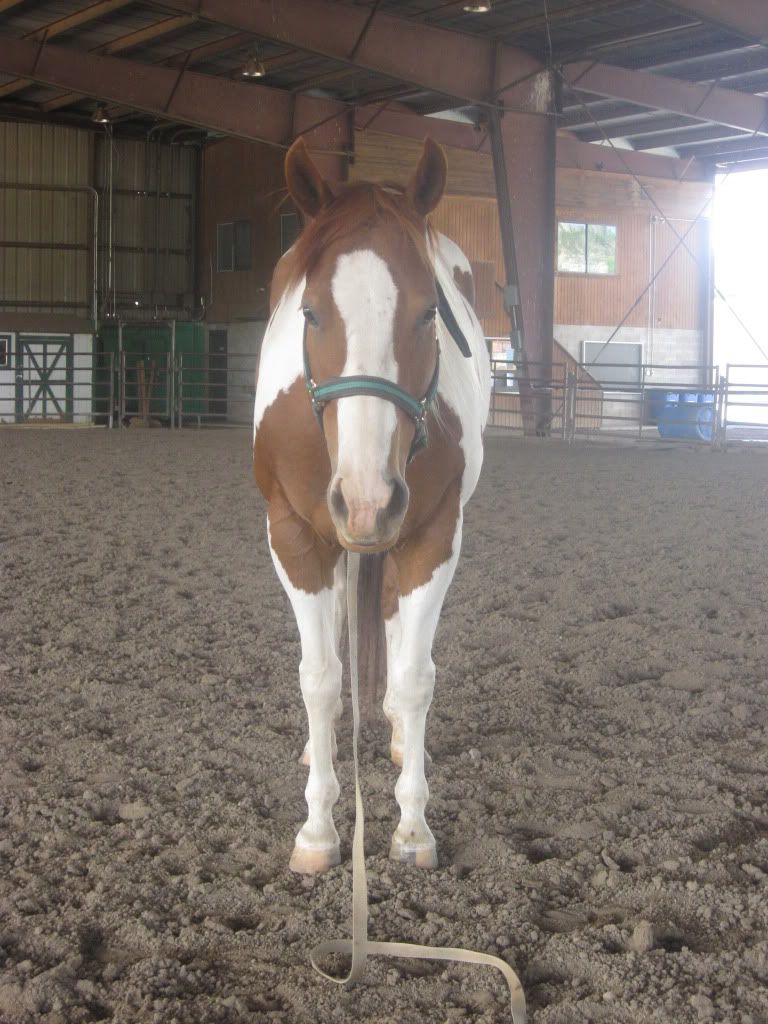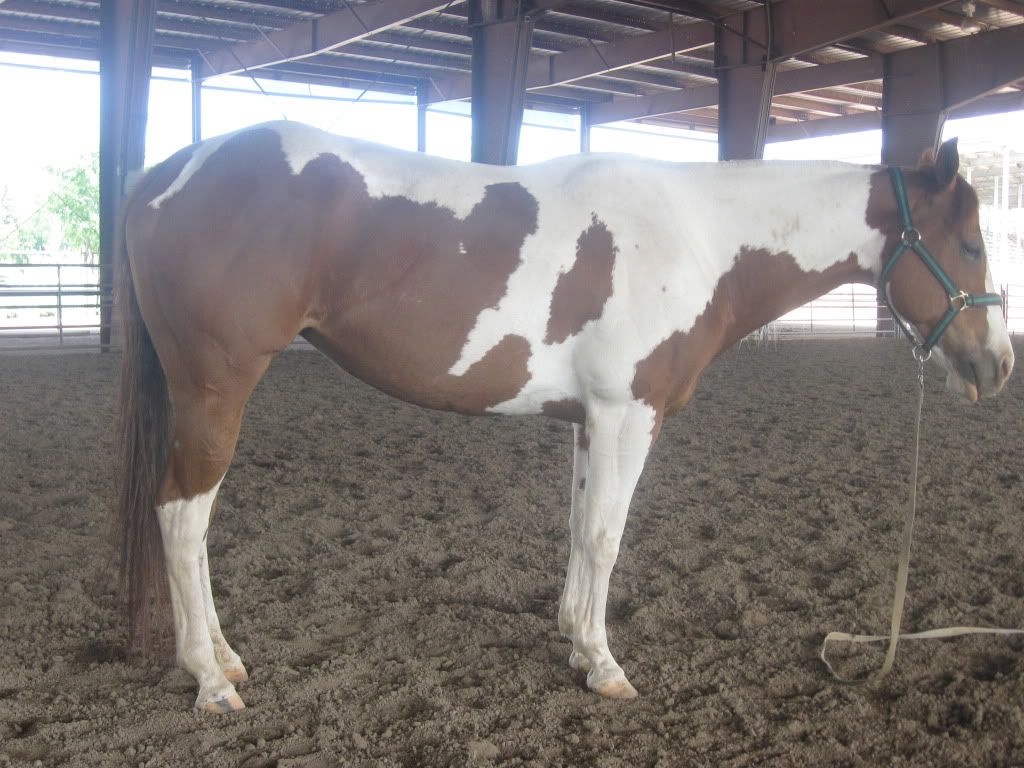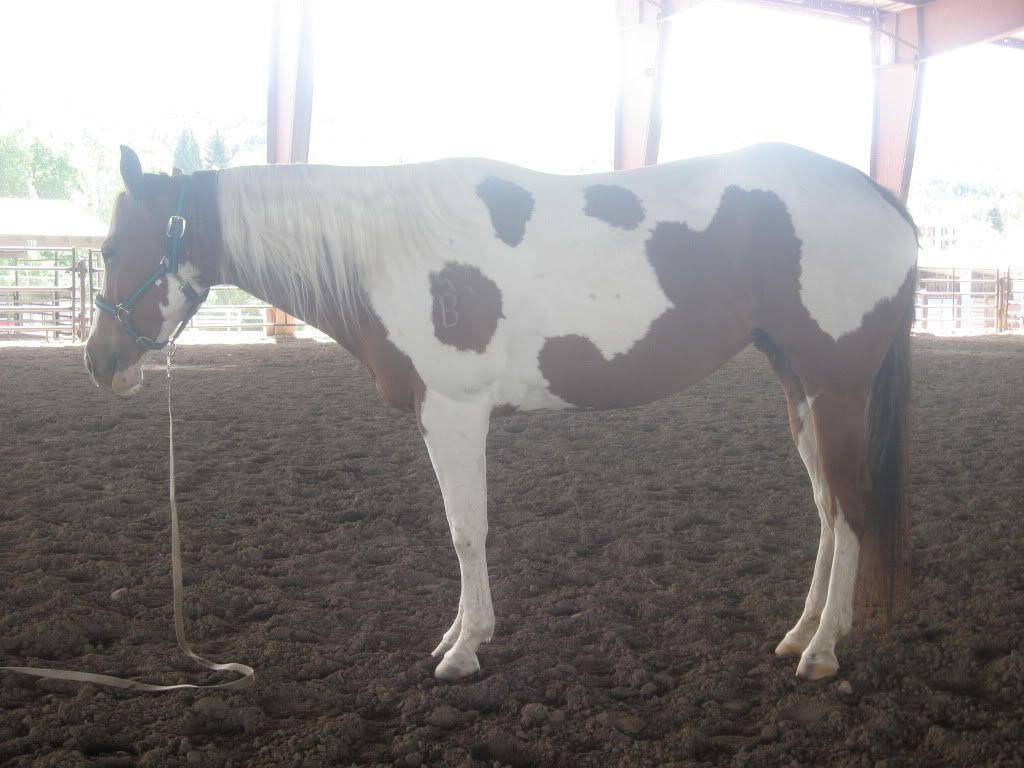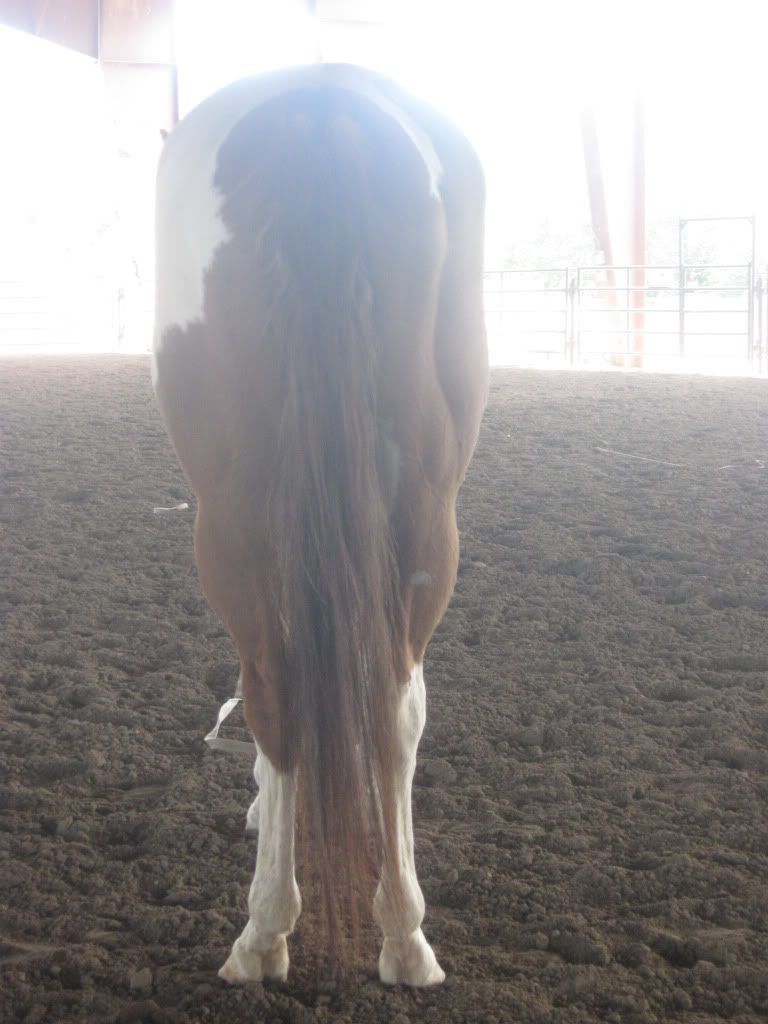 thanks!
---
All it takes is all you got
Wow, there's a lot to like about Velvet. First of all, you and she did a great job with the conformation photos. She is very typey and a pretty girl. Overall, her body balance and porportiona are very good. Very nice and straight/square front end with nice knees , short well angled pasterns and a nice shoulder angle. Her neck is elegant with nice throatlatch. Only her hind end is less than perfect. Her hip is set a ibit far back , with a very short croup or "coupling" .
And her legs are a bit "posty", however, many paints are this way.

Really, she is a very nice looking horse. and I bet she has nice mind, too.

ETA I did notice , also, that she toes out with her hind legs, from the hock downward and is a tiny , tiny bit upright (club footed?) on her left rear. Still, we're talking minor.
She has a lovely short cannon, in fact her whole front leg is pretty good.
I see an extreme amount of butt high, which may work for some disciplines but won't help her in her english career. I also see a touch of roach to her back, but that could be the light playing tricks on my eyes - in any case it is very minor.
I also love her lovely deep girth - more room for heart and lungs
---
Mods, grant me the serenity to see the opinions I cannot change, courage to change the ones that should change, and the wisdom to spot the trolls.
NO, not the light . She does have a touch of roach to her back. I saw it as her hips being set too far back, but you are right.
yeah the lighting isnt very good in some of the photos. that would be the result of my camera and the covered arena. her back legs have always been like that (just a little bit club footed or something like that). What is this 'roach' that you are talking about? Ive never heard of it.
---
All it takes is all you got
A roached back is kind of a "bump" that is convex instead of the usual concave line of the back. YOu can see that just in front of where her pelvis meets her back there is a part of the back the curves ever so slightly upward in a convex arch. It is really minor and is not a concern. She is really a cute girl!
Velvet is a gorgeous paint mare. The only thing I see, (others may have a different opinion) is that her right front hoof looks like it toes out a little bit and her hind end is high up. My horse is the same way though because she has a massive butt on her. Her foot may just look like it toes out bc of the way she is standing but she looks really good otherwise!!! I think she would make a very pretty english horse.

Her face is so sweet looking too. Got yourself a nice girl :)
---
-Fiinx
ok got it (: thanks everyone
---
All it takes is all you got