Critique Western pleasure and English Flat
---
So just downloaded some pics and a short video from the last two shows and thought I would put them up for critique.
I'm not with a trainer right now, just doing my own thing. This is Champs 2 and 3rd show english. I was having a bit of an off day, normally hes not so strung out and willy nilly, but it is what it is.
Tear us apart!
( I am going to upload another video later, photobucket is soooo slow)
http://s1055.photobucket.com/albums/s506/walkjoglope1/
Heres my page, tell me if it works or not!
---
Live to ride. Ride to live.
I only saw two short videos of western and a photo of english. Am I missing something?
Heres some more
. sorry the videos are so short.
---
Live to ride. Ride to live.
On both disciplines you're doing.. I see a lot of you leaning your hand on your horse's side??

Also your lower leg is too far forward for hunters and I think the saddle *may* be a little on the small side.

Your hand when riding western goes from low to high to low, any reason?

Beautiful turn out
---
"Strength is the ability to use a muscle without tension"

Thanks! I dont quite understand what you mean by touching my horse? My hands are pretty close to him but i dont think i touch him.I will pay more attenion. My hand was noving so much because i was trying to get his shoulders up, as you can see i was sort of a lost cause.
Yes my saddle is a wee small, but i sacrificed to get a saddle that fits him, its very comfy though!
Sorry, dont mean to make excuses.
Posted via Mobile Device
---
Live to ride. Ride to live.
You aren't making excuses lol! I'm just curious is all.
It's something I saw in the pictures, not in the videos but I think I'm just going crazy lol.
No english videos?
In this picture (sorry for borrowing from your album)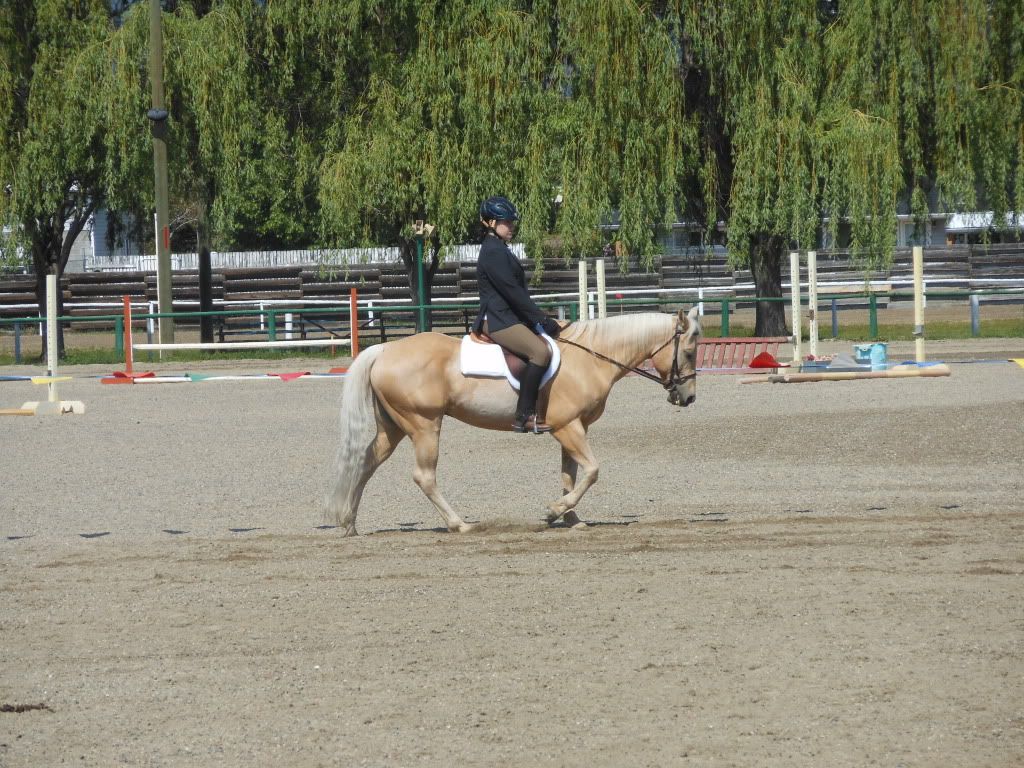 I think your arms aren't really helping your position at all. I would soften at your elbows, bring them back a little and lift your hands so your thumbs are straight up and knuckles pointing forward not down (it's hard to get a feel when your hand isn't level in my experience..)
Lift your chin up, open up your chest more too and that will help look more polished as well as give clearer communication to your horse.
He's also hollow (or she, beautiful horse btw!) His/her neck is show pretty but no engaging of back muscles.. looks like a forced frame.
---
"Strength is the ability to use a muscle without tension"

---
Last edited by Skyseternalangel; 05-29-2012 at

01:08 AM

.
I agree that you need to get your leg more under you in the English saddle. Don't worry - it's a fairly typical that a lot of people who ride western and English have this lower leg problem. I see it a lot at our open shows here. I'd pull your shoulders back a little and sit up tall - pretend you're wearing a pretty necklace and want the world to see it! I think maybe you should also sink a little more weight into your heel. You do it wonderfully in one picture, but in the other, your foot is entirely level.

To get your leg into the proper position, stand straight up in the saddle. Your legs will be forced into the proper position. Then keep them there. Otherwise, work without stirrups is always pretty helpful. :)

I cannot critique any of your western pictures since I am only into English riding.
I'll give it a shot.

In western you are looking down (naughty girl!) and you are leaning just a bit to the inside. I think that's from you looking down. Head up - look ahead. You've also got your hand that is holding the rein off to one side of the horn which makes your outside rein a little bit shorter than the inside. Try to put your hand straight in front of you (over the horn) rather than off to the side of it. Your legs need to come back just a bit as well. Over all you look really good, with those minor tweaks, you'll look awesome!

English - Lift your hands up a bit. You've got them in your lap and they almost look like they are resting on the withers. Are your knuckles dirty after you ride? Get your hands up just a bit and spread them out a little. They look like they are almost touching. Put about 6 to 8 inches in between your hands so you have a straighter line to the bit. You might be able to drop your stirrups a hole or two as well so you can shift your legs back some. Again though, just minor tweaks because you look great!
---
"Be a best friend, tell the truth, and overuse I love you
Go to work, do your best, don't outsmart your common sense
Never let your prayin knees get lazy
And love like crazy"
English: in the one pic, body is a bit behind vertical. Try to make sure you're on your seat bones and not on your bottom. For lack of a better way to say it. That can help bring the leg under as well Or get into 2 point and balance there and then sink straight down.