Danni and I...
---
Well here's my new Appy and I...finally got some pics of us riding; I've actually done mostly ground work with him, but have now been focusing on getting some time on him as well. I am treating him like a 'greenie' given his past history. He has had a lot of time to learn how to run through the bit, and just be a naughty unresponsive pushy brat, so I am going slow with him. Today is actually the first time I have actually done trot work with him for more than a lap each direction. So anyway...critique away... The pics are all clickable thumbnails.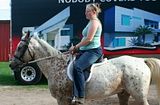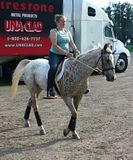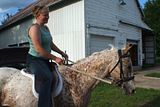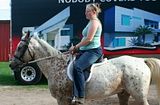 Being feisty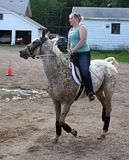 Settling down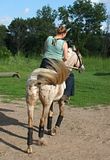 Jumping pics...I did realize later my stirrups were definitely too long, and I will shorten them for jump work next time for sure; Danni was also bored with the height at this point, because we had done a few jump overs already before hubby finally got to taking pics of him going over...he got sloppy in jumping over, hahaha!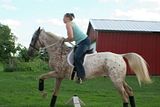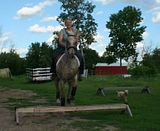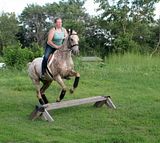 ---
"The ideal horseman has the courage of a lion, the patience of a saint, and the hands of a woman..."
The biggest thing I'm noticing is that he is very tense. I'm happy to hear that you're taking it slow with him.

Try working with him on stretching down. When your walking around, play with your hands a bit and try to get him to lower his head as far as he can still walking. You want him to reach for contact. It will help him relax and it will stretch his back. Most horses loooove this exercise. I start every horse I ride with this and once they get it, they do it automatically.

How are his extensions? He looks a little stiff at the trot but I can't really see. I'm assuming he's short strided?

He looks pretty good over the jumps. He's definately not trying but he is alert and paying attention to you. The last picture looks like his leg is dangling a bit (which can be dangerous) I think that's more the timing of the picture and the low height. very nice work!
Thanks Piper...I have tried the 'jiggling' the reins in order to get him to play with the bit, and thus relax a bit, but he HATES it! Lol! I think he's just a sensitive guy, but he is coming around alot, compared to my first few rides; head up, back totally hollowed, trying to evade any bit, or leg aids...this is a huge improvement for him, and I am proud of him!
---
"The ideal horseman has the courage of a lion, the patience of a saint, and the hands of a woman..."
What kind of bit do you use on him? A martingale could help his head, but lunge him with it on first. Some horses freak out when they realize there is something preventing them from sticking their head in the air.
Actually, I don't think I even own a martingale anymore; i prefer to train without an aid like that...just personal preference, I guess; it's just too easy for it to become a crutch.

I'm not too worried about his head coming down...I know it will the more we work, because it has already; in the fourth pic (on the top row) I had a lot of that position that day, even if it was for just a few strides, atleast I know he's 'getting it'. Sure, I want him to eventually reach down and stretch for the bit more, but it's a start. Like I said, I'm proud of him already...he also definitely seems to prefer the English style more than Western (which I rode him in previously); doesn't bother me! I think he makes a cute lil english horse! Lol! When he gets his head down like in the fourth pic, he strides out alot more, than when it is up in the air, of course.

As far as the bit, it's a sweet iron snaffle.
---
"The ideal horseman has the courage of a lion, the patience of a saint, and the hands of a woman..."
---
Last edited by mom2pride; 06-30-2009 at

04:43 PM

.
I agree with you about the martingale thing. It's like people using spurs and ending up not being able to ride without them.

It's nice to hear that you are willing to ride him in his preference. I see so many horses that prefer one over the other but they are needed in the other discipline so their opinion doesn't matter. With getting his head down, if he does it even for a few strides then it means you are doing everything right. No horse is going to get it in one day and i despise people who think they will. :) Good luck.
Thanks...I know in the end, everything will pay off. Tonight, he was a total brat, even on the ground...geuss he figured he needed to see if he could get away with things again...'extinction bursts' as we call them in the dog training world...where you get the animal going good, and all of a sudden they 'back paddle' in a desperate attempt to try and revert back to where they were 'comfortable'...he didn't win any of his little mischivious plots though...stinker!
---
"The ideal horseman has the courage of a lion, the patience of a saint, and the hands of a woman..."