Denny, 18.02.09, video stills
---
Here are a few vid stills from Feb 18, 2009. This was my first ride in over 2 weeks due to a farrier cutting his feet too short. He is still striding short, but otherwise sound.
Self-critique under the pictures.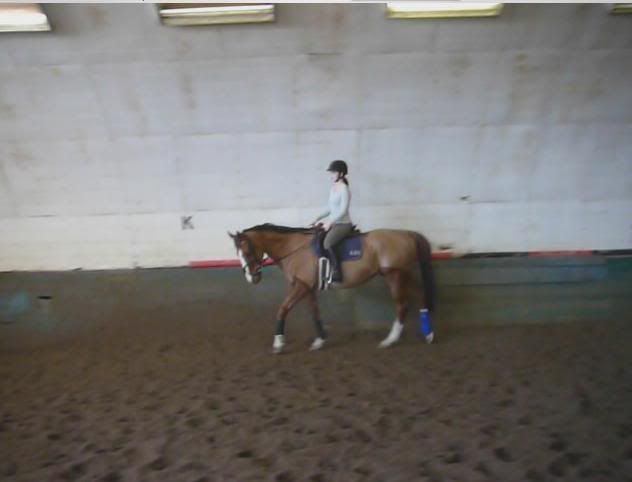 Could step up more. My leg needs to come back a smidge. Reins are long because I was just coming back from a loose rein. Elbows need to be bent.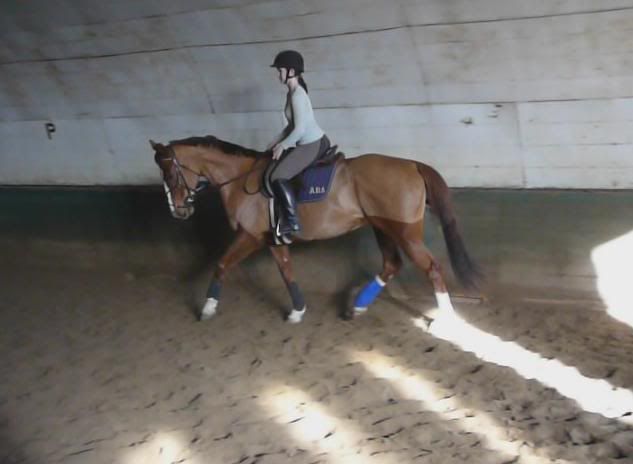 Need to straighten out my back. Shorten rein and bend elbow. Heel down and back a bit. Again, Denny needs to stride out; but, again, he was still a bit tender.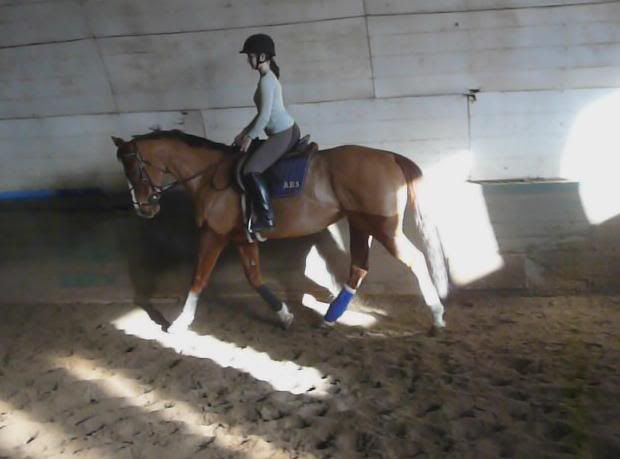 Straighten out my back, elbows bent, wrist straight. Heel down and back.
All of the above. My rein was long because I was coming back from a loose rein.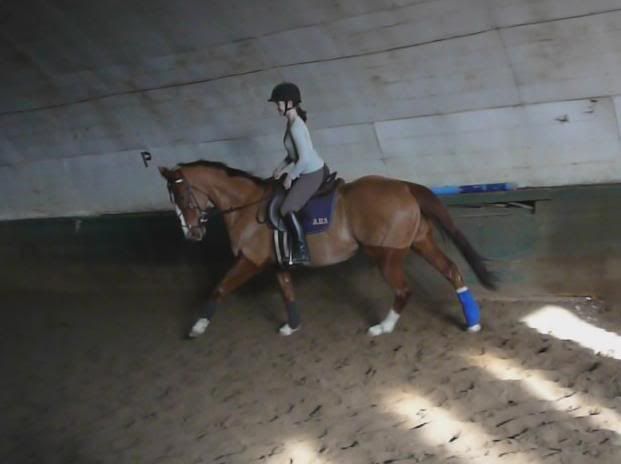 Again, all the above.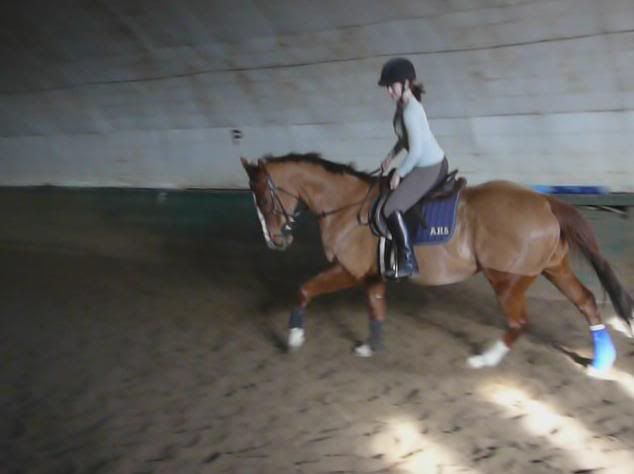 ---
The lovely images above provided by CVLC Photography cvlphotography.com
I think you've pretty much covered it all yourself - the biggest thing I notice is that your back is bent because you're arching too much. you also have that same horrible habit that I do of bending your wrists. its a pain in the arse to break, but try to remember to keep your thumbs up as much as possible :) but you actually have a really nice solid leg and your shoulders still remain back despite the arch to the back
the other thing is that denny is on his forehand quite a bit. try getting him to sit back on his hind end more.
but other than that, i think the two of you look great :)
You really need to get your thumbs on top! Lol. You will have more control that way. Keep reminding yourself to rotate your hands and eventually it will become natural!
---
Every ride, good or bad, teaches you something new.

you've covered most of it.. but your tipped right forwards onto your crotch..roll back onto your seatbones a tad more..

remember even if your asking something with your hands your hands try to keep them relaxed

your stirrups look too short too, i'm not sure if you prefer to ride like that or not, but if you put them down a hole or two it'll help you wrap your legs around him :)
Yeah, lol - you've covered allot of it!

The one thing I noticed in the last picture....is that you are using way to much inside rein for your turn.

Turns come from the outside rein, the outside rein has far much more function than the inside rein. The outside rein aids in rhytm through your seat, the outside rein aids in supporting your horse through your inside leg...and your outside rein controls the turns.

Many, many, many riders turn with their inside rein - it should come from the outside. The outside rein goes on the neck, keeping the outside shoulder under their horse, and the ribs must bend through the inside leg and your inside seat bone - then your body turning of course.

Your horse becomes unbalanced, shoulder pop's, and the face becomes controlled instead of remaining balanced, under themselves and controlled from the back end.

Beautiful horse :) :)
Thank you everyone.
I was trying to keep a half-seat since he's pretty much still off the track... trying to balance him as well.
Regarding the last picture, thank you for mentioning it, I will definitely watch for that in the future; sometimes he likes to push a shoulder around the circle, and doesn't like acknowledging outside aids... haha
---
The lovely images above provided by CVLC Photography cvlphotography.com
I would drop a lot of the contact; no one's mentioned but he's behind the vertical, sucking back, a lot. I would work on long and low and wait until he initiates the contact with you--otherwise, just work at him being relaxed in the jaw. At this point, he is not--it takes extra muscles in the jaw to hold their head behind the vertical. You want the poll to move over the nose, not the nose coming under the poll.
Think of trying to touch the insides of your feet together--that helps keep my toes pointing the way they should. You should also practice stretching your entire leg down with the toe pointed, to help your leg position stretch out.

Overall he looks like a real sweetheart and you look like a very capable rider with those little 'nitpick' problems that seem to crop up when you're not careful. ;)
---
Dressage in Jeans
- My blog with dressage tips for happy, relaxed horses, specifically for those who ride dressage in western saddles, no saddles, cowboy boots, or jeans. ;) Also now with cute pygmy goat pictures! :P
Than you very much, mayfieldk, I will try your suggestions... I will re-post soon with update pics

---
The lovely images above provided by CVLC Photography cvlphotography.com