Dressage clinic pictures, would love input!
---
Had a awesome two day clinic with my wonderful californian trainer this last week. My little pony was a rockstar! Worked on our shoulder fore in waa nd trot, keeping him up and forward. After getting him in front of my keg with good hind end power I was able to sithim down more and he lifted his shoulders up, got light and able to open his stride up into a bigger, with more swing of a trot. It was awesome. It was only his third trip up to the horse park, second time in the large covered arena, so he was what I call a bit of a gummy worm on the long sides (wiggly lol) gotta love the young greenie
For myself iv been really working on my leg postition from hip to heel and keeping my foot pretty straight, since we are using small spurs on him. I'm been doing arm/shoulder stretches to realxe my shoulders better to keepbackand hopefully been riding better in keeping my chest up.*
Iv come along way since my march car accident and it will still be awhile before my body is back into full working condition with no after math pain.
Without further adu....he is what I haves far from the clinic. I'll have more when I get back from my big Europe trip to post as well so keep checking back!
I'm really hoping to get feedback on how we look, how i look. How he looks. How we have maybe improved!?
Thanks
Sam
Clinic pictures: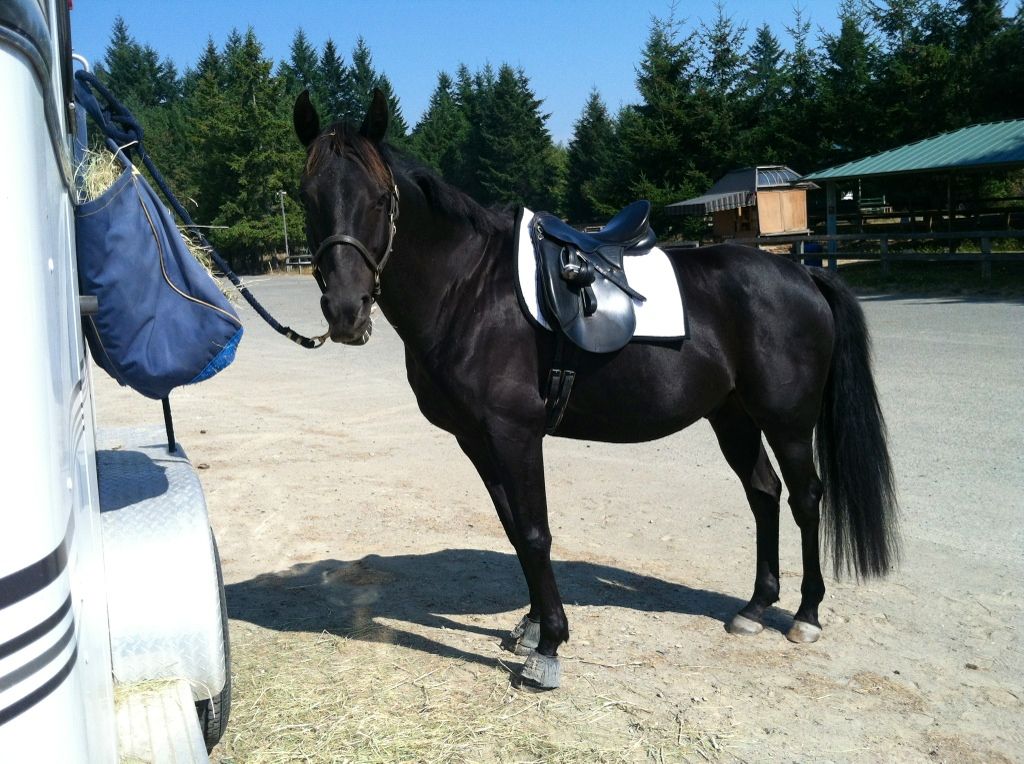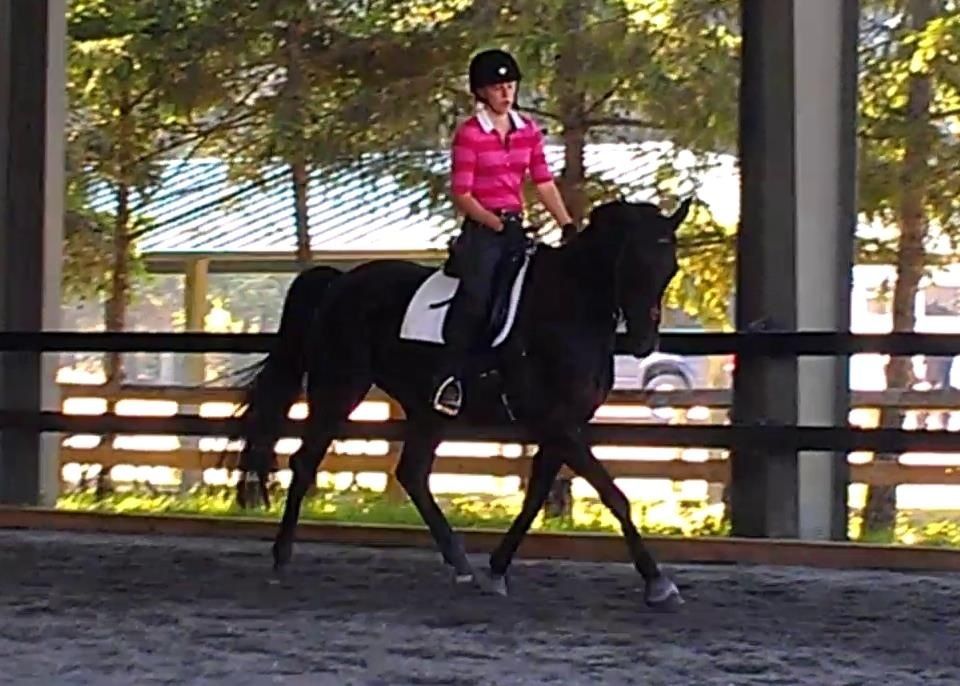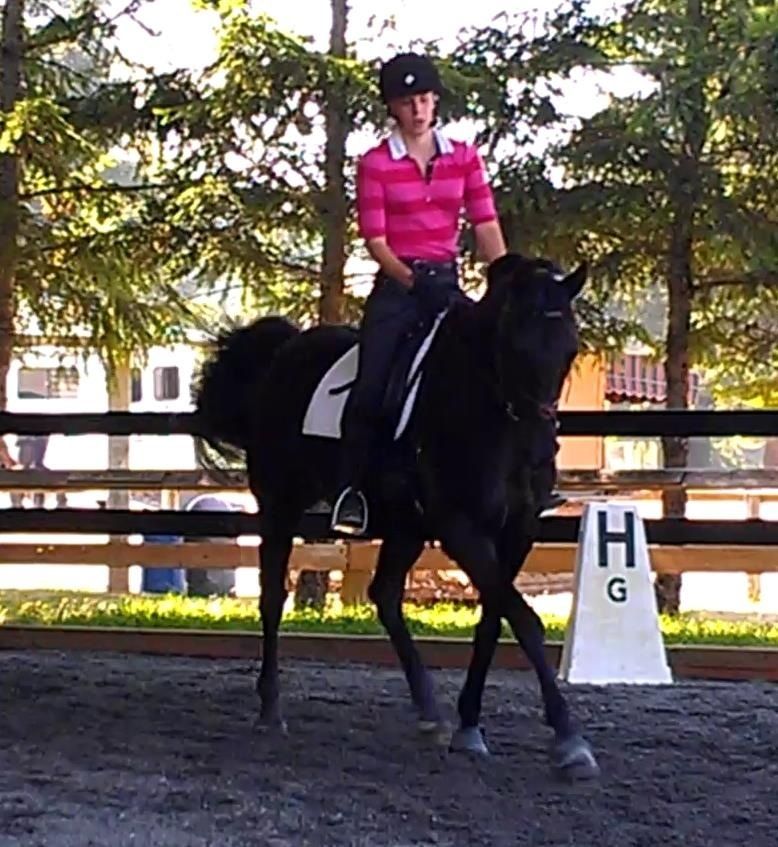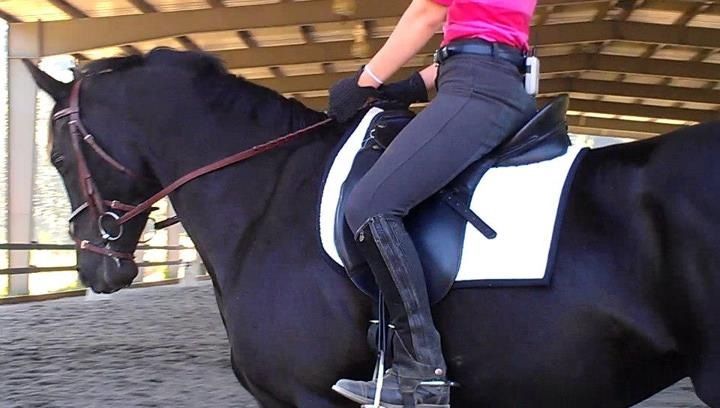 Her are a small set of pictures from back in early summer, I'd say may or June I think. Just wanted these for comparison and I will be getting video links up today too, but they are very fuzzy and ididnt see much that u can't answer myself from those.
Thanks!
Here are some pictures from back in early summer, June i think....just for comparison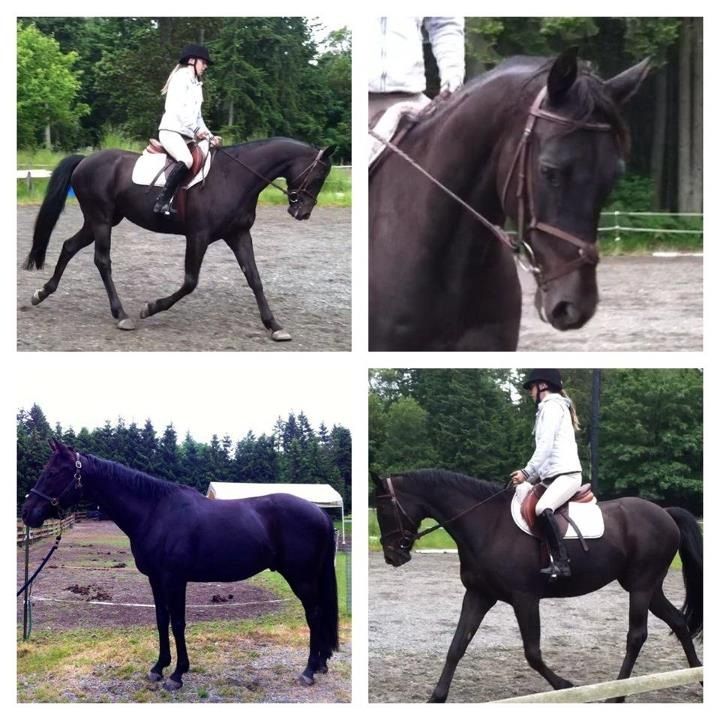 Very nice, and a big improvement in carriage. I like what your new saddle does for your position. Honestly, you look like a different - longer - rider. Your horse is more balanced and carrying himself. Great job!
---
Last edited by Weezilla; 09-15-2012 at

02:49 PM

.
Wow, he's much more through his back in the new pics. He's really stepping up nicely from behind. It's night and day in terms of improvement. I see you have a seasonal milk chocolate/ dark chocolate horse too!
---
You just have to see your distance...you don't have to like it.
Yes I do hehe I love his darker black color!
Been working so hard and was so pleased with what we got out of the clinic! Just so bummed about his trailer accident that happend while unloading him at home after the 2nd day :(
What trailer accident?
---
You just have to see your distance...you don't have to like it.
He had a complete freaking out moment and tried charging out backwards and hit the butt bar and got stuck under it and scraped up his whole right hind and his back is extremely swollen and sore. It was the scariest moment of my time with him cause we couldnt do anything but wait till he got out cause we would have gotten kicked. His withers are gonna really be sore cause he really got stuck up on that and our butt bars dont have padding on them so it was the round metal that full force got shoved all along his spine :(
Ouch! Well that sucks. Hope he doesn't have any lasting memories of that.
---
You just have to see your distance...you don't have to like it.
Sam ,

YOu look better than ever. Your position has improved hugely and your horse looks soft and fresh. Great job!

What kind of saddle is that?
Thanks Tiny!
It's a friends Keifer! They have a couple in my size for a good price at Olsens and so I'm hoping to try one when I get back from Europe, also have Ollie a couple back massages and have the thermal reader go over him a couple timestomake sure his back will be good after this wonderful trailer accident