Dressage Potential?
---
Hey there! Alright, this is Henry, he is a 16yr old registered Morgan gelding. He did saddleseat for many, many years, and then they tried to do a bit of western with him. I bought him about a month and a half ago. He had no topline whatsoever, his shoulder muscling was horrible and of course the bottom of his neck was like steel since he did saddleseat for many years (different discipline, different muscle usage, not bashing lol) I am planning on doing Dressage with him, I realize we have a loooooong way to go, but I am curious to see what people think of his movement. I can upload some riding videos later on, but we're still working on becoming a bit more consistent lol. This is already a ton better than he was when I started lunging him, he would just take off like a bat outta he** and zoom around...hence the "walk" reminders lol. I'm proud of the turnaround he's made in such a short period of time :)

NOW! I am *hoping* to get to a sold 2nd level with him down the road at least if his health stays optimal, etc. We will be starting with an actual trainer soon, I just wanted to start getting his mind re-wired a bit first.

What do you all think? Potential for solid 2nd? I know it's just free movement, but opinions? Advice? Please keep in mind I have only had him for 45 days lol, nothing happens overnight!

Thanks so much!!


And just because he's so cute and I had my camera today since I had to shoot a show lol.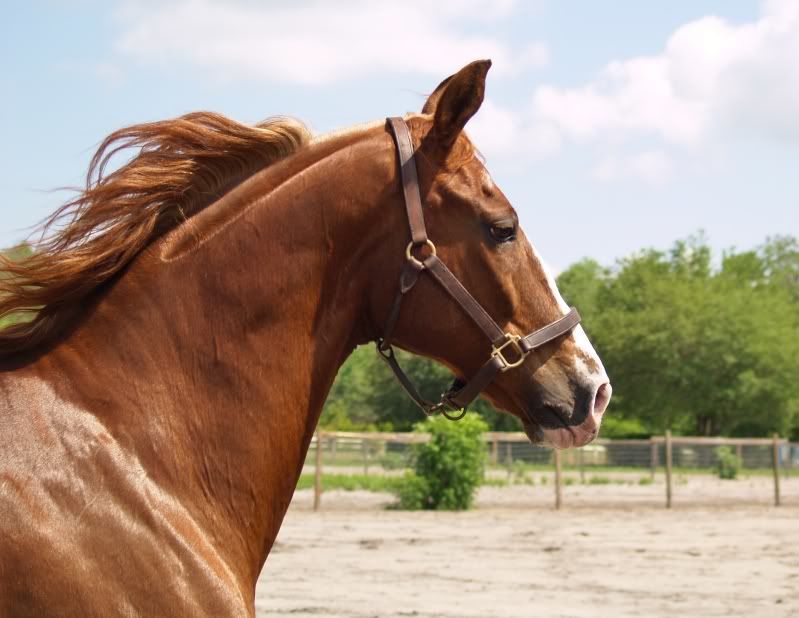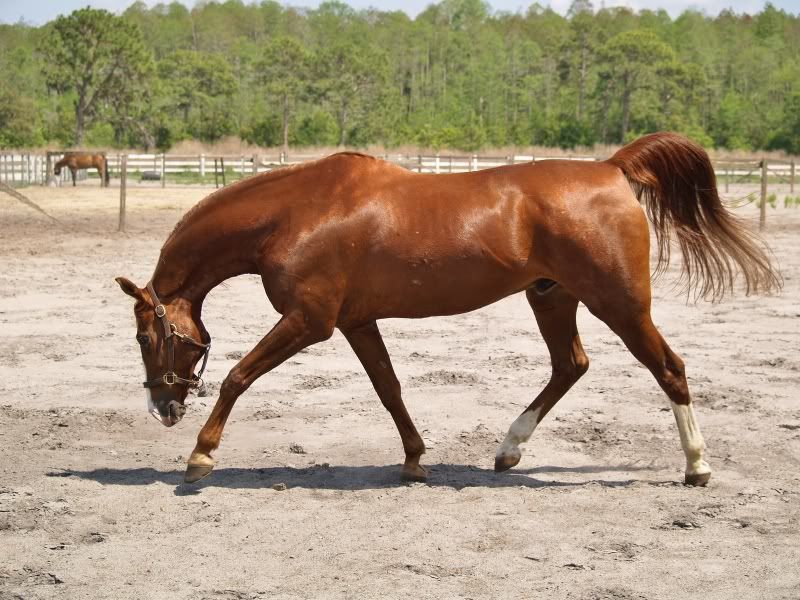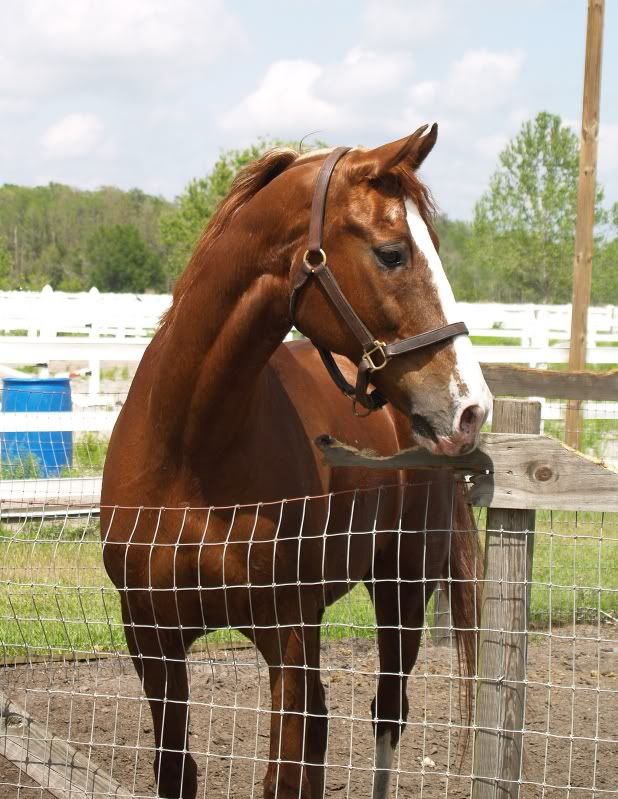 He's a gorgoeus boy, but I don't really see him as a dressage horse, personally. He doesn't have enough angle to his croup and hocks to be able to tuck his butt under and push from behind. The combination of saddleseat and western is also a hard retraining project, and seeing as he's 16 already, by the time you got him retrained, he probably would need to be retired before you got into any really cool stuff.
Showing
Join Date: Jun 2011
Location: Cariboo, British Columbia
Posts: 11,759
• Horses:
3
I don't know about dressage, but your horse looks perfect for show hack to me. Beauty!
Green Broke
Join Date: Oct 2010
Location: Some times Llanelian - North wales, sometimes Hull in East Yorkshire (UK)
Posts: 3,679
• Horses:
5
Have to say that in that video he looks lame to me!
---
RIDE your horse FORWARDS and keep him STRAIGHT


He's pretty, no doubt, but like Clementine said, he's going to have a hard time bringing his hocks underneath himself. In the video he was moving really short behind.

I see him as an enjoyable Training and First Level project -- I'm of the view that learning that stuff is good for any horse -- but he will have more difficulty with some of the Second Level movements, as that's where true collection starts coming into play.
thanks everyone! that's exactly what I was looking for :) I definitely understand that his age will limit him in his retraining and such, but he definitely doesn't act like he's 16 yet lol. the short movement you see in his behind is mostly due to the saddleseat training. he was taught head up, and butt underneath himself. short collected strides come from that, and those are the main things we are working on right now, getting him to understand its OK to reach ;)

faye, he isn't lame, I've had him thoroughly checked and that is mostly just him not understanding how to use his own body within reaching yet. I plan on having a chiropractor out soon too and doing some other things to help him out. he was never on any joint supplements or anything, which he has now been started on.

Training/First works for me. I wanted to know if I had crazy big hopes for being able to manage 2nd lol. he's a looooong term retraining project, but definitely a fun one :)

thank you all for your opinions! I really appreciate it! its always interesting to hear about the confirmation issues for dressage too, I am still learning to recognize most of those for certain disciplines. if we ever get in a dressage ring I'll be sure to share so you all get a kick out of him trying it LOL. he thinks quite highly of himself ;)
Not so much of a comment on his dressage potential, but he really seems to be willing to work for you, and that's more important than most other factors in my mind. I also love the way his head stretches down when he does stretch it down. =)
---
"There's no such thing as a problem horse. Just people that cause problems for horses." - Unknown
Well, he's pretty! But not a dressage prospect sorry. In dressage, we want a horse with a good strong back, preferably quite compact as the horse will then find it much easier to swing through the back and 'sit' in collection. We also like a low set tail, and very good bend in the stifle and hock - the horse should move like an accordion behind, with the hind legs contracting and expanding as though the horse is 'folding' behind.
Your horse has a very long, weak back with straight, camped out hind legs and an extremely high set tail - all of which lends itself to a horse that is going to really struggle to develop any kind of basic dressage work. He has zero carrying capacity in that hind end.
As I said, he's very pretty, and he looks great for his age, but I wouldn't pin your hopes on him being a dressage horse
He's beautiful! He really is! It's probably easier for you to look at him yourself than me through a screen. So look at this link-
Conformation
. That might give you an idea, based on his confo.