Dressage/Project critique
---
Thought I'd throw this one out there for you to take a look at.
This guy is a 16.1hh 8 year old ottb gelding. He retired from racing in October 2009 and has been spelled since. Apparently very quiet to handle, great ground manners and very quiet. Has been used to nanny the young tb's on the property.
I'm looking at him as a bit of a project. I've been out of a horse for a year now and going reasonably insane as a result! With uni, I need something to keep myself away from the books once in a while. I really enjoy working with green horses (as long as they're not absolute nutters, then I get no pleasure and it's just a chore haha!) and think this guy sounds quite nice for me to do this with.
He retired sound, he has bled once but I'm not too worried about bleeders if it's only for dressage/pleasure.
What do you think of him??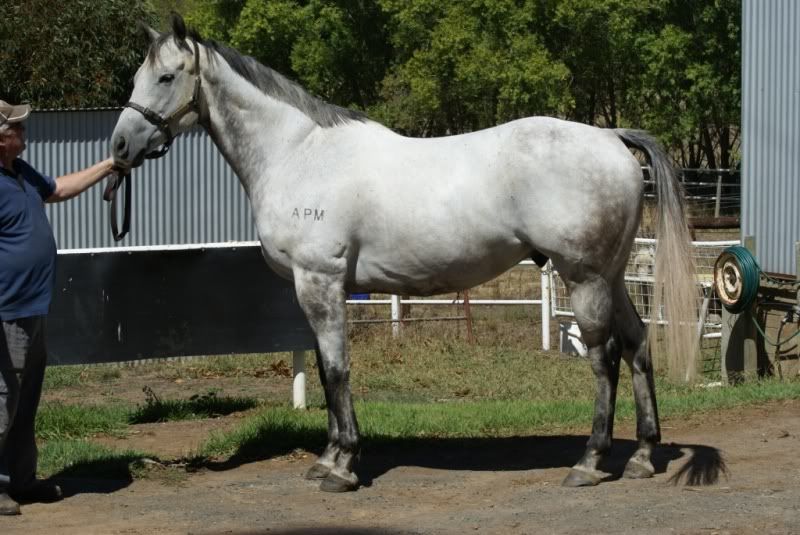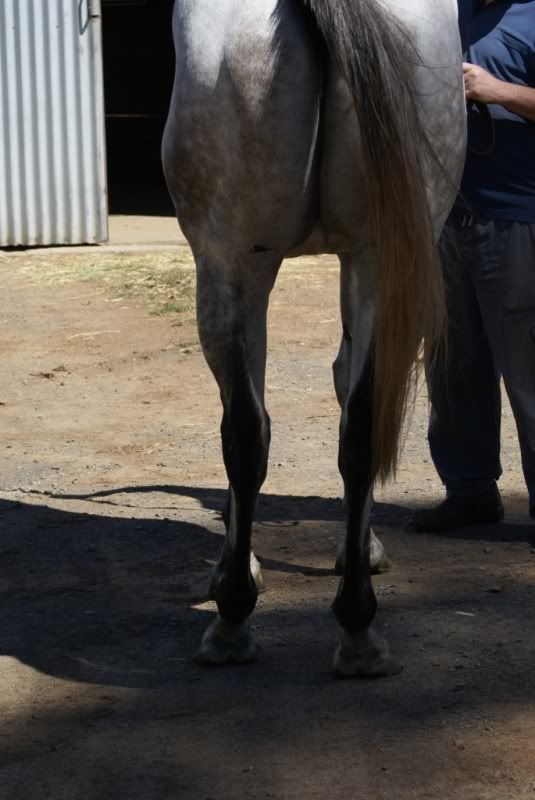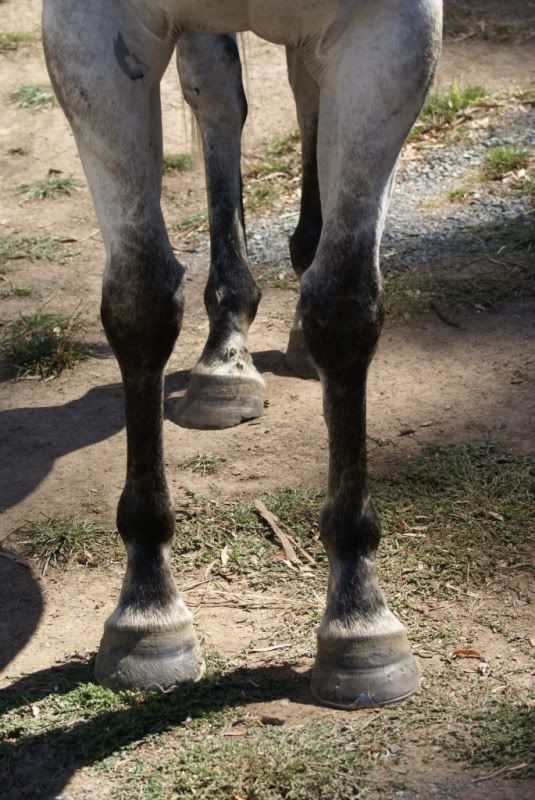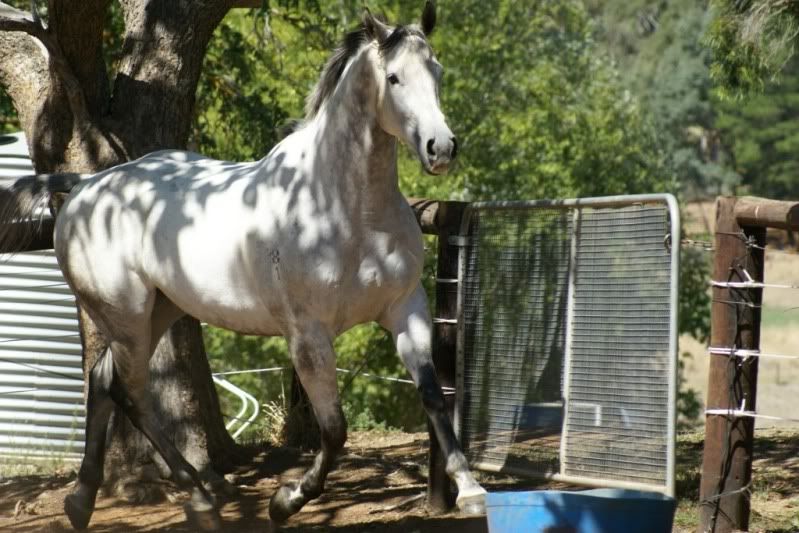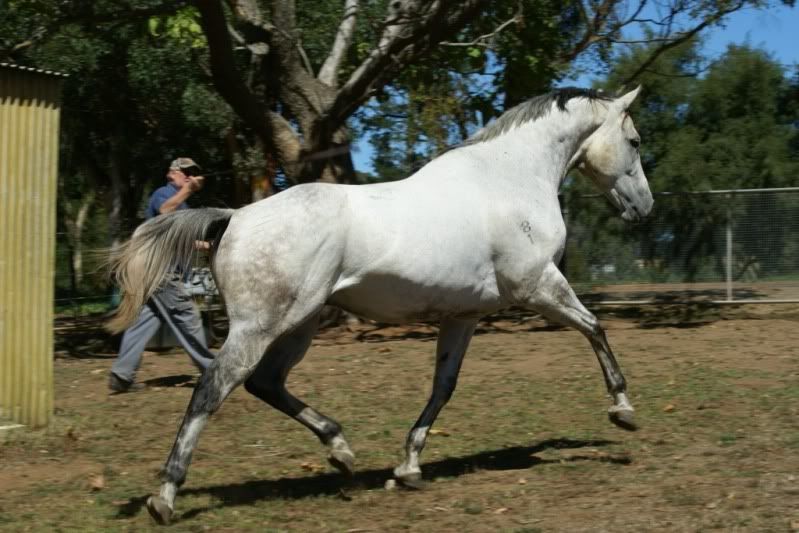 He's not conformationally perfect, but I really like his type and he seems to have that lovely big floating uphill movement. I'll probably go up to see him in the flesh this week, I want to see his walk and canter, and see if I can get him out of his comfort zone, push him around on the ground and run him out a bit, see how he reacts.
I think he is beautiful...dapple greys are my all time favorite! can't critique,though...i have little to none critique skill :)
---
Is all that we see or seem
But a dream within a dream?-Edgar Allen Poe
Thank you :) I think it's the solidness of him that I like, he's a very wb type tb. I'm not interested in the scrawny fine built tbs. I think that for what I want to do at the moment, he looks good. I do love my dressage and want to get back into being competitive again, don't have the time or money at the moment to spend on a real quality horse and the multitudes of coaching and entry fees that goes with it. I'm content to spend the next 3 years just playing around, improving my general skills and compete a bit here and there in local competitions. This guy seems to fit the bill pretty well.
I think he means that when he gets worked hard, his nose bleeds. We had a horse at Dixie who would bleed every time he came back from doing a show :(.

BUT hes absolutely stunning!!
I really really like him. And I love that last picture, what a trot!
:]
---
I give myself very good advice, But I very seldom follow it
He isn't really as uphill built as I like, but otherwise I can see nothing with his conformation that is screaming at me. You may have some issues with power - the muscling in his hind is lacking compared to that in front.

So the horse can trot, great. You can get a good trot out of any horse with enough training. I personally like horses with a naturally less floaty stride and more hock action. He is pushing off with straight hocks. Look for a very uphill canter with good hock action and power. He should cover ground and not race around. For the walk look for something that is clearly 4 beat and doesn't lob along. It should not have too much over track. When you ride him, shorten the walk to see if he gets lateral.

I am not a huge fan of TBs myself, but he is a nice picture. Post vids!
Nose bleeds are common in race horses, not a big deal unless it happens off the track. Being worked that hard ( racing) creates small capillary bleeds in the nasal passage and at times in the lungs, they heal quickly and normally cause no lasting damage. Nothing to be concerned with.

He is a very nicely built OTTB! Beautiful horse.
Other than he has bench knees and a splint on the left front (prpbably a result of the knees as that is what often happens) he should do basic dressage for sure.

The fault I mention may or may not be a problem but I would be probably more careful about that area.
Beau baby, a bleeder is generally a racehorse, that as has been mentioned above, gets a nosebleed with strenuous work. Obviously, racehorses are under huge amounts of pressure thus i am not worried especially since it has only happened once in his career.

Anebel, yep he's got a nice trot, but as I said in the original post, I'll be going out there and want to see him walk and canter. It is so hard to improve walk and canter so I'll really be looking at him there. I can't ride before I buy as he has not been ridden since being ott so will need a fair bit of work before hand. Unless the owner is ok about me getting him under saddle before he sells, but again, I don't want to put the work into a horse that isn't going to work for me.
Will get video when I go to see him. Didn't ask for it when I enquired as he's only about 30mins from me so I might as well see him in the flesh ;)

Spyder, I'll certainly be checking that splint out and making sure there's no soreness there, but obviously I'm not too concerned if he can't piaffe/passage etc. as I'm only looking for something to play with and dabble in some lower level stuff, maybe up to elementary if I feel like it, just to keep me sane and getting out there haha!

Will post video after I see him, unless I hate him!