Dun/Buckskin Mare... both color and conformation "criti
---
What do you think of her? This is a mare at the stables, and I fell in love with her color and personality.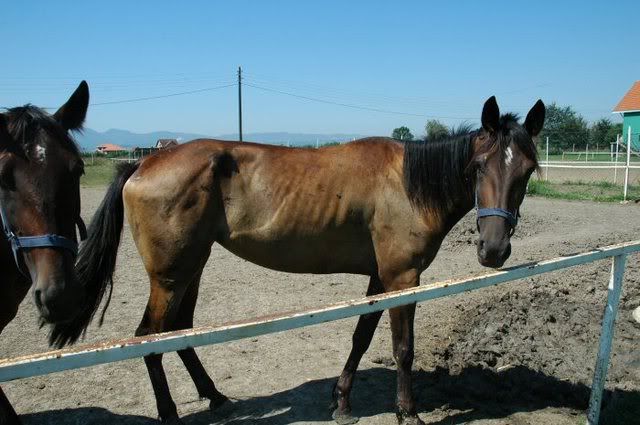 (sorry... I couldn't get a better picture... she kept moving... :P
Edit: it's not the best picture, and I know she looks kind of thin. she really isn't that thin, it's mainly the way the light hits her. But note... I said MAINLY. I'm just wanting basic conformation critique...
She's really skinny! Her coat looks nice from what i can see, but i think she may have some sort of skin problem ??? and im not very good at confo but she looks like she's sickle hocked, could be just the way she's standing though.
Yeah... but like I said... she really isn't as skinny as she looks in the picture... she was turning towards me when I took it, (she wanted to be pet), so it caught a lot of the "bad" conformation flaws...

I'll look through again and see if I can get a better picture...
She desperately needs weight on her! She's not standing square and she's turned towards the camera, which make it difficult to judge her legs and shoulder properly, but please try and make sure that the stables build up her weight! Look at her flank - that's not just a 'hard keeper' (which is no excuse; you have to take on the extra work to keep them up to a good weight if that's the case), that's a horse that's getting dangerously thin.

Putting weight on her would improve a lot of her confo, too - I'm mostly thinking of her bum and neck when I say that. But I'm no expert; that's just where it appears to me that fattening her up would make things look better even before you started putting muscle on her.
---
If you believe everything you read, better not read.
Japanese Proverb

I'm uploading some better pictures. She really isn't as thin as you guys are making her out to be. I know nothing of her history, and I know nothing else about her. I've got a couple of other pictures that truly show how "thin" she is. I'll admit, she needs some more fat on those bones, but she's not really THAT thin.
Here are the pics:
The face isn't her... but you can see how she is in the back (she's the horse in the back)
not a good pic... but here she is
kind of the same as the one above..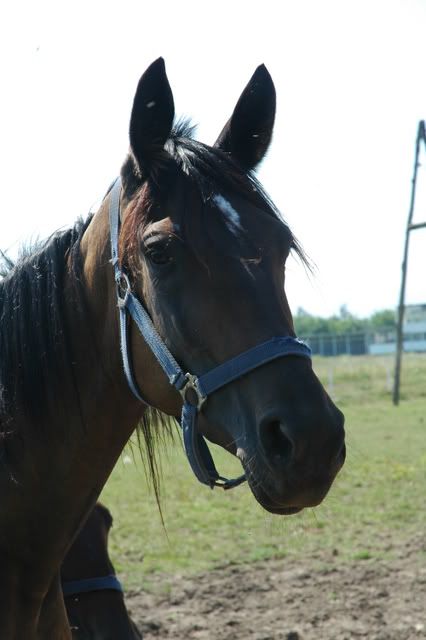 And I just felt like sharing this one... of her purty head...
I'm unsure as to her breed. There are a few options:
1. Standardbred or some other trotter
2. Thoroughbred
3. Akhal-Teke - There's another in the stable... so who knows?
WOAH, her hooves really need to be done. Look at her left front hoof in the very first picture. And she is also quite skinny. She really needs some looking after before she could seriously be ridden. Personally I would NOT ride a horse who's hooves were that bad...

As for conformation she's definitley got a long back. She's got a really thin neck and maybe high withers? It's really hard to tell because she needs so much weight put on and she's standing so awkwardly. Once she gains more weight I feel like her confo would improve a lot but as of right now I am thoroughly unimpressed with this mare. She does have a cute face but that's really all I can say about her right now.
---
I give myself very good advice, But I very seldom follow it
I'm not denying anything.

Like I said, I have no idea who she is, and where she came from. She wasn't here at the stables a couple of months ago, so it could be that she's a rescue (they do a lot of rescues from time to time).

It doesn't mean that the stable where I ride is abusing her. And I was wondering about her conformation... not of whether or not she was abused/neglected or not. Sheesh. Other people show pictures of thinner horses, and you still critique them.

I'm not saying that she doesn't need fattening up. (they do feed their horses a lot here), All I'm saying is could you please critique on her conformation... not on how "sickly" she looks?
Sorry for the double post, but I have something to add, about hoof care around here:

There is one farrier. Just one. And from what I've been told, he's been sick for the past couple of months (like... REALLY sick). So of course, he hasn't been able to get out here.

And in that first picture... that's not her hoof, it's the dirt... It was pretty muddy a while back, and some horses were outside, and so now there are a whole bunch of holes where the hoof prints were. Most of it's cleared up, but there are a few left here and there. And that's what that is... not her hoof.
I went back and pointed out what conformation stuff I could but like I said it's very hard to tell. I didn't say anything about neglect or abuse, just voicing my opinion about her weight.

And OH, that really did look like the hoof, ha ha. I was worried for a minute there. Well than as I said I'd really just like to see her with more weight and than I think she'd make a pretty decent little mare.
---
I give myself very good advice, But I very seldom follow it
haha... no... it's not the hoof. If you look in some of the other pictures you can see some of the uneven-ness in some parts of the field...

And one of the main reasons I was asking was I was wondering if she had decent enough conformation for long distance endurance. Because... if so... I wouldn't mind paying quite a bit to lease her. (once she puts on the weight). Sorry I didn't make that clear in the first post... all my thoughts were jumbled. I was so exited about showing her, that I forgot to point out a few questions here and there.