Finally photos for you all to see!
---
I will post the good and the bad, our goal, forward from the hind end to encourage stretching in all gaits have had a couple rides since this ride and if I could had pictures of today's ride I know I'd see a difference in the stretch and relaxtion in both of us!
Please tell me what you see!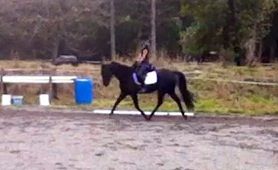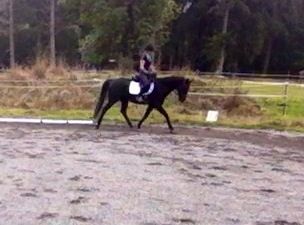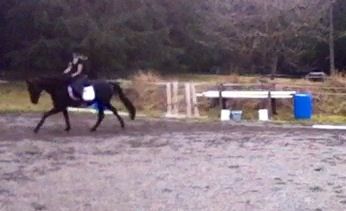 vs:
(tense! Ew!)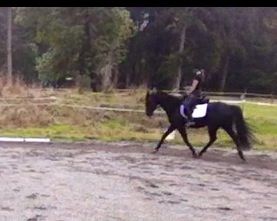 really like this one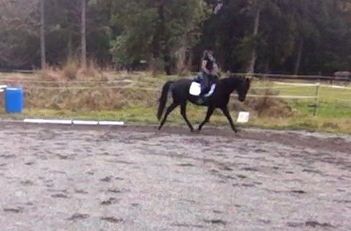 Looks really good to me! What is the story about you two?
Oliver is a 6 year old TBxDutch 15.1h and currently the fuzziest pony in the whole world!!

I got him in august of 2011 and he had just been started by a great trainer but sadly was sold to a older gal who was in over head and he started bucking due to the people riding him, he is a small guy and very sensitive to the aids! So he was given to me as a project!

The past eight months we have been working with my old trainer I used a few years back and we have just restarted him on the basics of dressage and jumping.
I was with a very young trainer who wasn't working out last fall and winter when I first got him si made a change if trainers, and love it! Our goal is to show training level come spring and do jump jumping at some shows :)
It's a little hard to see these pictures, but I'll try my best.

In some of the pictures, it looks like your heels have slid up.

Your hand, arm, and elbow positions look pretty consistent. In the last picture your elbows and arms look a little funky.

Over all, you seem to sit up nicely and your back looks fairly straight, except for your shoulders, which seem to curl forward now and then.

You seem to be looking down in a few pictures.

Your leg position is a little inconsistent. In some pictures I like it, in others it seems to have slid back.

Again, it's hard to tell with these pictures, so sorry if I'm way off base!
Yes those Are the little things iv always had to work on,
Ollie is learning how to be forward and relaxed, start to stretch down when using his body the right way!
Today I will try to get more pictures....yikes lol
Yesterday I out him over s a dew trot poles, really pushed him up and through his hind end in our diagonals in the trot.

I'm hoping to be riding training level tests in the spring (his first year showing) no huge expectations, just want to have fun and stay relaxed and forward!

So I guess what I'm looking for here is to see if any of you think he's going forward, starting stretch in some if these....I know for sure there are a few he is not! But that's why I said I was posting the bad with the good.
This is a confidence thing, getting a young horse to stetch...very hard!
Any other advise and critique would be wonderful!
1,4,5 and 6 are the pictures I like best! Just throwing that out there!
Bumping, hoping to get video of my jumping lesson today!
Again, been a few days! Bumping!
Thinknill start a a new thread since I only had one reply
I would love to critque them but I can't see them since their small :(
---
~A Cowboy's Chance~
1977-2011
Rest in Peace
Yayyyy I love seeing picture of Oliver!
You guys have defiantly improved! The pictures are kinda hard for me to critique considering they are pretty small.
First you need to look up, and sit back. Relax into your seat bones.
Your arm position looks good for the most part.
Try to relax around your horse. Thinking about this has helped me SO much. I just think relax my legs down and wrap around my horse.
That seems to be what sticks out to me the most, just keep working the hind and you guys will look great!
---
"The hand should be a filter, not a plug or an open faucet."
N.Oliveira