First lesson critique
---
These pictures are from my first lesson which was about 9 months ago.
Please keep in mind this was my first time ever being on a horse and ive changed alot of things since then (;
Thanks!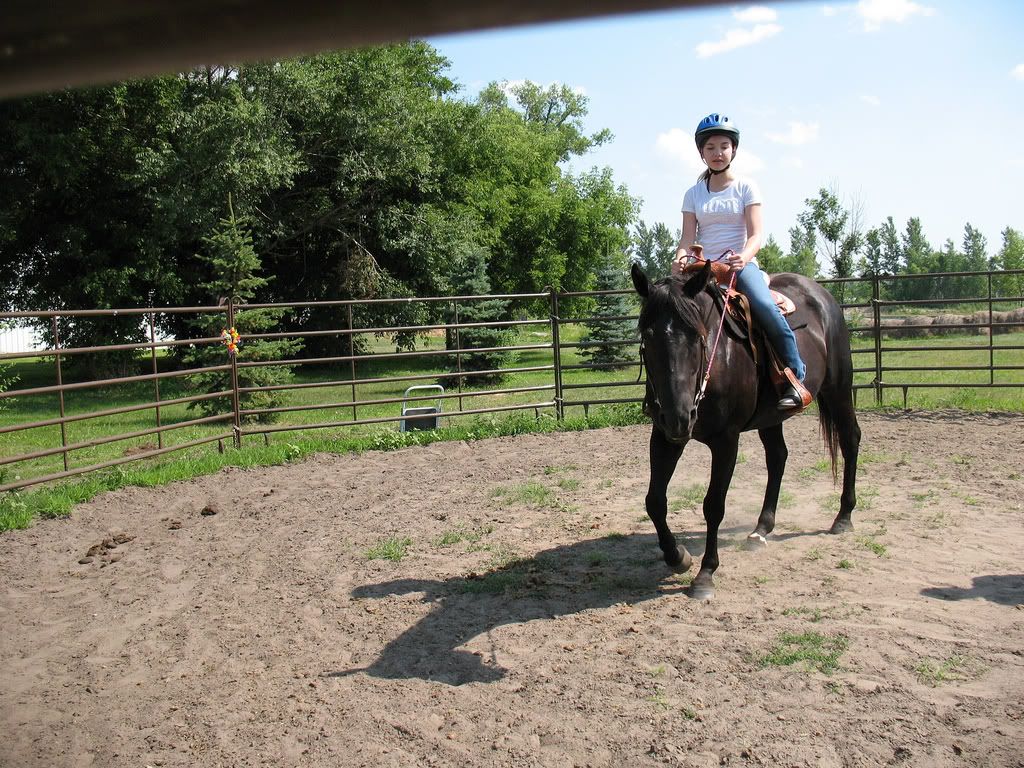 ---
Take Me Captive
9 y.o. QH Mare


Green Broke
Join Date: Mar 2009
Location: Kansas in the summer, Kentucky most of the time
Posts: 3,028
• Horses:
3
the only thing i see is that you need to put your pinky BEHIND the rein. not in front. good job!
---
Look like a SUPERSTAR, Ride like a FOUR STAR, Win like a ROCKSTAR
Eventers: Making BAD Dressage look GOOD!
Banned
Join Date: Dec 2008
Location: At my house, or stable, duh!(Michigan)
Posts: 2,479
• Horses:
3
Keep your toes up and heels down.

You sould be riding with both reins in one hand since you are western.
You're fine direct reining until you learn how to neck rein. If you are going to direct rein though, you want to put your pinky behind the rein like the other poster said. Eyes up, heels down and bend your wrists out a bit so your thumb is facing the sky
you could probably put ur sturrips a bit lower...
You'll have to get a more recent picture.
Stirrups are very short for the western. So you look like you are pushed back because of that (lots of space between you and the horn, and no between you and back of the saddle). Although it's certainly instructor's fault, not yours. Other than that (and keeping heels little too high, which is normal for the beginners (and not only, actually lol!)) you look really good: relaxed and straight.
Welcome to the wonderful world of riding and horses.
When teaching young or new riders, I like them to have their sturipps a little shorter to give them more support when they are riding.
I also would not expect someone who is on a horse for the first time, to have the skill to ride with one hand, that comes later when you have more balance.
But you look wonderful for your first time. I am sure you have improved a lot. Keep up the good work.

J.
YAY!!

Look at how happy you are during your first lesson! CONGRATS AND I THINK YOU LOOK FABULOUS!!!!

I am so proud of you for wearing a helmet! And I think your coach did a great job keeping you safe, I like that you are in a round pen.

I do not know anything about western, but I just want to say - Look Up :) :) :) :)


Enjoy! Have fun!