First ride at home... Critique. :]
---
So, Zeus is finally home!
Yesterday he settled in so well that we decided he'd be up for a ride.
He was quite excitable and VERY forward, even more so than usual which is saying something, but otherwise perfect. I on the other hand was less than perfect. I'm very out of riding shape and there are some things that I really need to work on. These probably aren't the best to critique since this is only my third ride on him and he was so full of himself that day but whatever, ha ha.
Things I see:
My stirrups are too short for flat work. They need to come down some.
I'm siting too far back in my saddle. It fits fine, it's me. Maybe because of my stirrups?
My leg is not underneath me.
Zeus is powerhousing around. I need to sit up on my butt and bring him back to me.
That's the thing with this horse. All the buttons are there to push, I just need to get to a certain point myself and he'll instantly improve. I'm discovering that he is an exact mirror of his rider. If I get excited he gets excited. If I relax he relaxes. So when I lean forward, he goes faster. When I sit correctly he comes back to me and uses himself more effectively.
Anyway.
Have a go at us please.
:]
Trotting...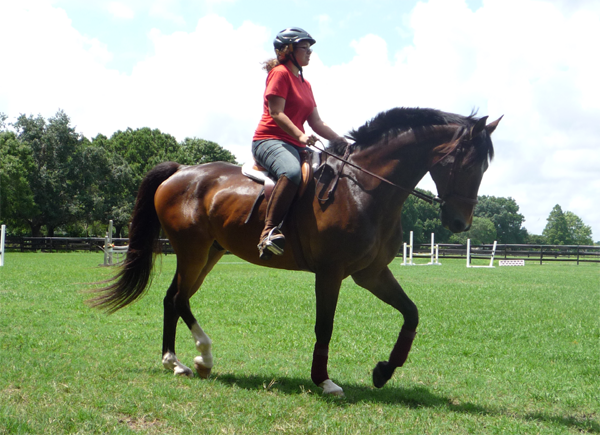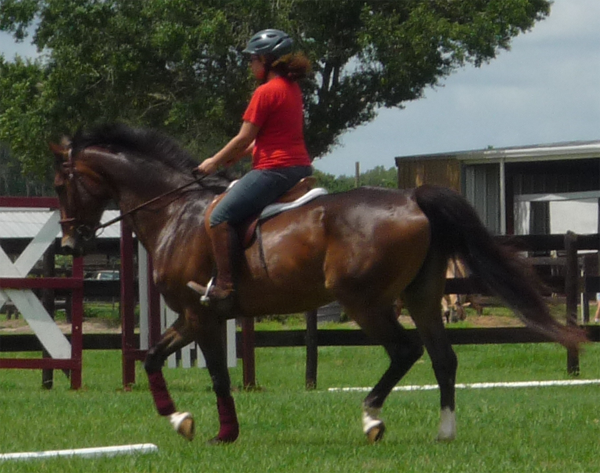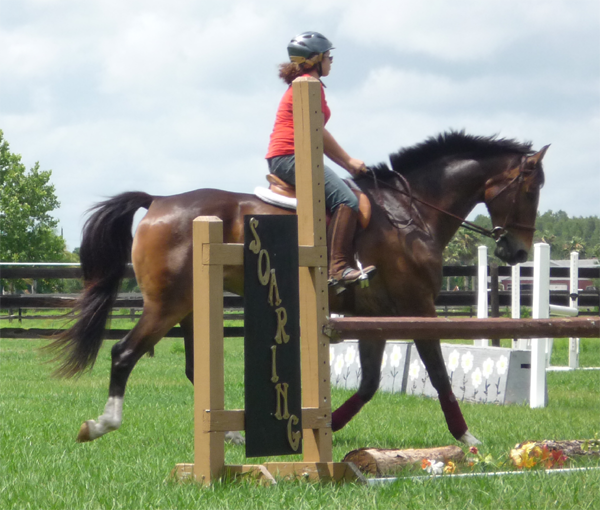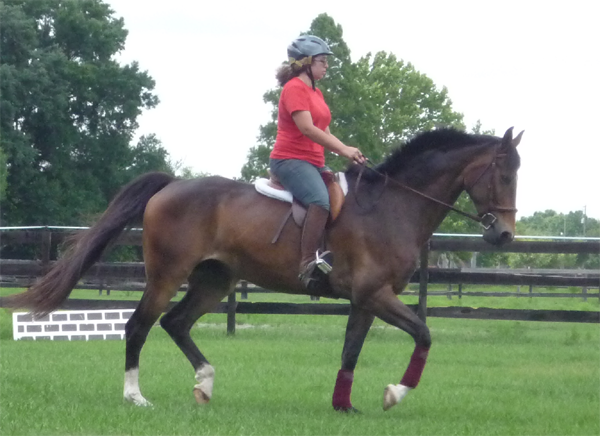 And one canter at a ridiculous angle.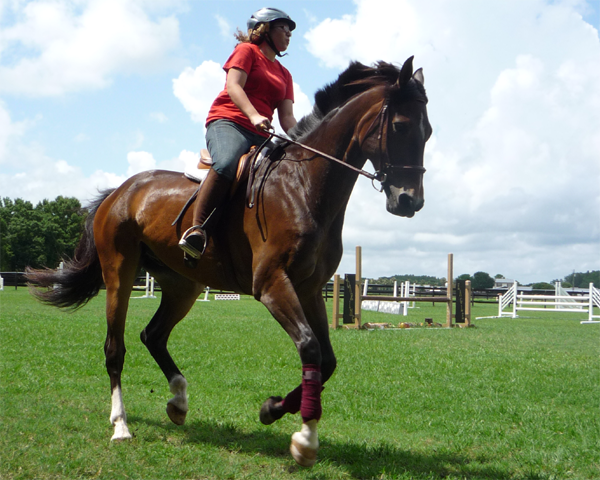 Thanks in advance!
I'll be updating pretty frequently so we'll see how much I improve once I find a trainer, which should be soon!
---
I give myself very good advice, But I very seldom follow it
You pretty much nailed it as to what you need to work on a little bit. You guys look really good! your horse is so beautiful!

and im sure he was just full of himself because he was excited to be home!

And that angled picture at the canter is actually a really good shot. I took some photography classes, and people look for weird angles like that. because it makes the picture stand out more.

Very very nice! looks like you have/board at a very nice facility as well!!!
---
When God Made Horses, He Painted The Good Ones.
"All I pay my psychiatrist is the cost of feed and hay, and he'll listen to me any day."

You were pretty spot on. Sit on your butt, not your crotch, and I think once you are sitting like you should, everything else will fall into place. You look very natural. =] I found that by getting up in a two-point and then sitting back down without moving my legs puts them where they should be.

And, I'm sure you already know this, but your horse is beautiful. I'm jealous. o_O
---
"Great spirits have always encountered violent opposition from mediocre minds."

Green Broke
Join Date: Apr 2009
Location: Queensland, Australia.
Posts: 4,488
• Horses:
1
It may just be me, but I think you need to sit a little straighter and taller. You look great though and amazing horse.
---
Sir Success. Eventer.
2000 - 2013,

Thanks you guys!
Any one else?
:]
---
I give myself very good advice, But I very seldom follow it
Started
Join Date: Mar 2009
Location: Middle-of-Nowhere, Illinois
Posts: 2,225
• Horses:
1
Firstly, I just have to say that Zeus is stunning! Truly a beautiful horse. =D

You look really good, but your legs slip forward into the chair position. (I have that problem too. lol). And you had piano hands a little bit, but otherwise you look great. I'd love to see videos you the two of you. It looks like he has an amazing trot.
---
"A musician must make music, an artist must paint, a poet must write, if he is ultimately to be at peace with himself.
What a man can be, he must be." Abraham Maslow, 1968

You two make a beautiful pair! You also have very nice leg position. The only things I would suggest is to relax your hands more. You seem a bit heavy on the reins. Loosening up doesn't have to mean lengthening. Just soften your hands and give to him a bit more. Sit straight and tall, and allow your balance to come from your seat.
---
"'For I know the plans I have for you,' declares the Lord. 'Plans to prosper you and not to harm you, plans to give you a hope and a future'" ~ Jeremiah 29:11
Thank you! I put my stirrps down a hole yesterday and they seemed better. I'm going to try to get videos soon.

We're working out some issues right now though, ha ha. He's been overly excitable under saddle and not halting well at all. So the next time I ride (tomorrow) I'm not going to canter him. Just walk and trot with LOTS of halts. Yesterday he decided we'd go for a little gallop when I asked him to canter. He didn't take off per say, but he definitely ignored me asking him to come back to a nice canter, and eventually ignored me asking him to stop. He threw in a few god bucks for good measure, but since I have a velcro butt we were fine. He slowed down with the bucks and I was able to pull him up. But boy is he strong! I'm quite sore. We ended on a good note by trotting around nice and calm, and did one more canter. This time controlled and slower. It WAS only his second day at the new barn and he was riding with new horses so I'm going to attribute his behavior to that. He was also being quite the tourist and was very distracted. It took a fair amount of serpentine and circle work with bending to get him attentive again. Tommorrow we have some schooling to do. :]
---
I give myself very good advice, But I very seldom follow it
Ah, didn't notice your post Jubilee, we must have posted at the same time. :]
I know that it looks like I have really heavy hands, but I don't. I do have a fair amount of contact, but my hands are always soft. In a few of these pictures he was being a little speed demon so yes, I did apply some pressure to bring him back, but as soon as he responds I do give again. Thanks!
---
I give myself very good advice, But I very seldom follow it
How much ground work do you do preceeding a ride? Sometimes a bit of round pen, or longe line work can help a horse relax and focus, especially if you do lots of transitions, halts, reverses, etc, and move around the arena, so he can get his 'looks' in before you get on.
I hardly ever get on a horse without doing SOME form of ground work to ensure that he's relaxed and focused on me; if he's not focused on you on the ground, he certainly won't be in the saddle.
I think you already nailed everything else; you two look like you'll be an amazing pair once you get used to one another