Flatwork & Jumping - Critique Please!
---
Please critique: I want everything; don't hold back. Seriously, I want to hear everything you have to say...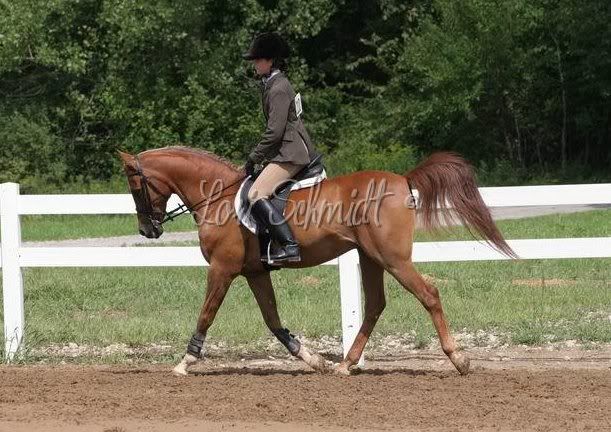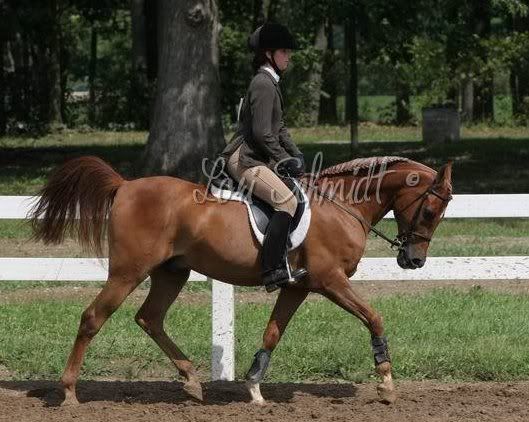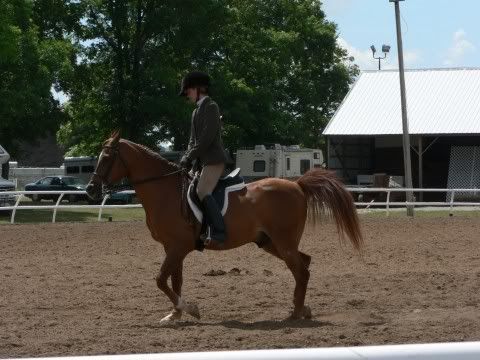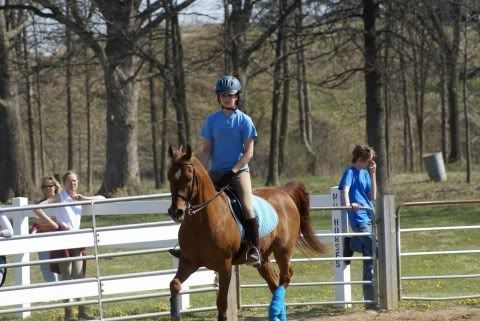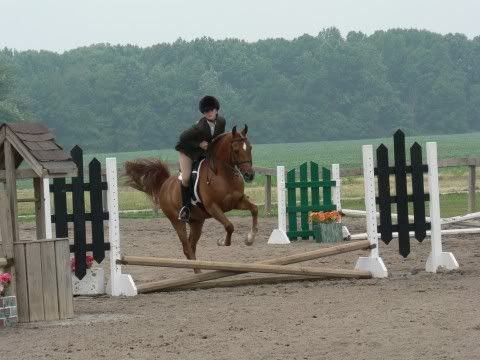 I am no expert and I'm not very good at the critiquing but...
You do have a tendency to lean forward....as do I.
And you do seem a little ahead of your horse. Other than that I don't seem much wrong. :)
---
WHATS REALITY?
Ok here it goes...
Pic 1:
Your hands are in your lap. You need to shorten your reins and get your hands out. Also because you have your reins in your lap it causes you to have to bend your wrists like you are playing a piano.
Pic 2:
Same thing with the hands. But here it looks like your leg got ahead of you. You want your hip and heel to be aligned.
Pic 3:
Your jumping about a second ahead of your horse. You just need to wait for your horse to thrust you up. other than that you have nice equitation.
Pic 4:
It looks like you are checking for your diagonal. A good trick for in the ring is to just look down with your eyes so it is not as noticable.
Pic 5:
Once again yor hands are in your lap, but your leg position is AMAZING in this pic!!!
Pic 6:
Hands again
Pic 7:
can't see anything wrong from this angle
Pic 8:
You are over jumping. It looks like you tried to jump for your horse. Just wait for your horses thrust to push you out of the saddle.
Pic 9:
This pic is perfect for what I have been saying about waiting. In this pic you are in the center of the saddle and the horse is folding your body! This is what you need to look like every time!!
Overall you just need to get your hands out of your lap.
I love your horse he/she looks very spunky and energetic/willing.
Good luck and hope to see more pics!!!
---
It is not just a horse,
It is the one thing that keeps me from being just a girl
just my opinion you look alittle big for that horse.
Your horse is very pretty and looks like fun to ride!

The two big no-no's that I noticed were your hands and the photo where you're checking your diagonal.

Hands - you just gotta concentrate on this one. Keep those thumbs up and elbows in.

Checking diagonal - We caught you! The photographer caught you! The judge probably caught you too! It's a bad habit to get into, but of course, you don't want to ride around on the wrong diagonal either! So, either do as britt suggested and look down slightly with your eyes only (if the judge is standing/sitting in the ring, they can see this too though) or try this: While schooling, go from a walk to a sitting trot. Sit and just feel the motion. Picture your horse's legs (footfall) and/or feel for your horse's movement. Keep those eyes up and don't dare glance down! Pick your diagonal and start posting. Then, look down to see if you're on the correct diagonal. Do this millions of times until you know which diagonal to be on just by feel.
Brit6x6 and Equina both had some good advice, I thought I'd just add to it:

- Keep your wrists in a straight line with your arm, don't break the line between your elbow and the horse's mouth. Thumbs up!
- When you're jumping, don't drop a shoulder over the fence, that does effect the horse's balance and might encourage an undesired lead change. If you're not asking for a lead change, keep both shoulders up and on the same level, don't interfere with the horse's shoulders. When asking for a change, make sure you're not interfering with the horse's shoulders, and make your cues as invisable as possible. (commenting on pic #8)
- In pic #2, your heels aren't in line with your hips, make sure you keep the nice line that you have in pic #1.
- Keep the nice flexion you have in pic 1, the horse is behind the vertical in pic#2.
- Think of there being a star on your chest that you want to show off - keep your chin up and shoulders back and show off that star. Eyes up and looking where you're going, not down at the horse!


All in all, you're doing well, there are just little things to work on to polish your image and overall effectiveness :)

You have a nice hip angle for HUS. (Blu, this is where you thought she was leaning too far forwards, she's not .. that is, for HUS - you want about a 30 degree angle, almost a half-two point.)
---
The lovely images above provided by CVLC Photography cvlphotography.com
You look pretty good. The main thing I noticed is that you ride with your hand in your lap and your upper body looks really stiff. You also get ahead of your horse while over fences and you have chicken wings.
You obviously have some very good basics, you just need to polish things up. Don't feel bad, every rider has things to work on.One of the fun things about riding, always things to work on.
you need to get your shoulders back more, and when you rise trot you need to let your hips to go foward, and sit up taller. when you jump you need to give with your hands a lot more.