found an old picture of me on Jasmine..too big?
---
Hey! This is my old horse Jasmine!..I only had her for a short while as at the time she was too much. Please ignore my posture. I was new and didn't know crap. Anyways I was wondering if I looked too big on her.She was 13.3-14 hands...obviously an arab....saddle was too small for me.
I ask this because of Stormy. She will be taller as she stand 13 hands already but should be built like her or a bit bigger.
check it.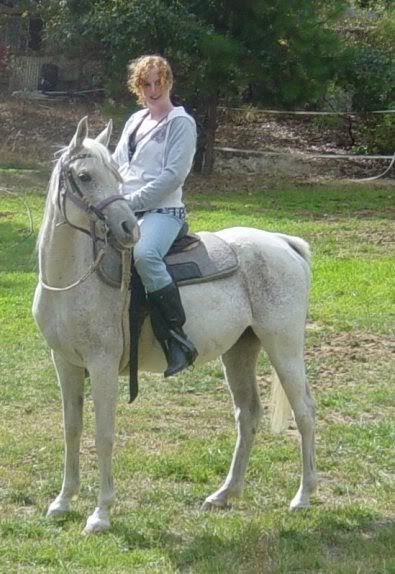 I think you look fine!
Posted via Mobile Device
Showing
Join Date: Jun 2011
Location: Cariboo, British Columbia
Posts: 11,777
• Horses:
3
You didn't look too big for her at all. She's a leggy girl, so are you, both well suited.
Yay!

I'm so glad. I always worry if I am too big due to most I ride are considered ponies.
Stormy should grow up to be built like her. Stormy is very leggy.She has had long legs from the start so hopefully they stay that way :P I'm soooo very excited to see what the finished product of her will be,haha. I day dream about it all the time.
Jasmine was adorable!
Lacey is maybe a little chunkier than Jasmine (she's 14.1 though!) but relatively sizes, I'm about the same on Lacey and Lacey's completely fine with me.
Here's a picture for reference:
---
Fabio - 13 year old Arabian/Lipizzan gelding

~
Rest peacefully, Lacey.