Free horse critique--Is she worth it?
---
So I'm still on the hunt for my project horse. I've tried a few here and there. Most have been good but way overpriced (greenbroke horses with meh breeding that people want $3000+ for!) and some have not been sound/sane. I was browsing and I came across this girl.
She's an 8 year old mare, no vices, 15HH and they don't state her breed but I think TB. She hasn't been ridden in a year, so would need to be started back. She's FREE to a good home with references. Her height is a little smaller then I like. She'd be a jumper (maybe hunter depending on how she looks) and I'd like to try a little dressage or eventing. The chain on her nose also makes me think she's probably lacking some ground manners or is a little pushy. What do you guys think?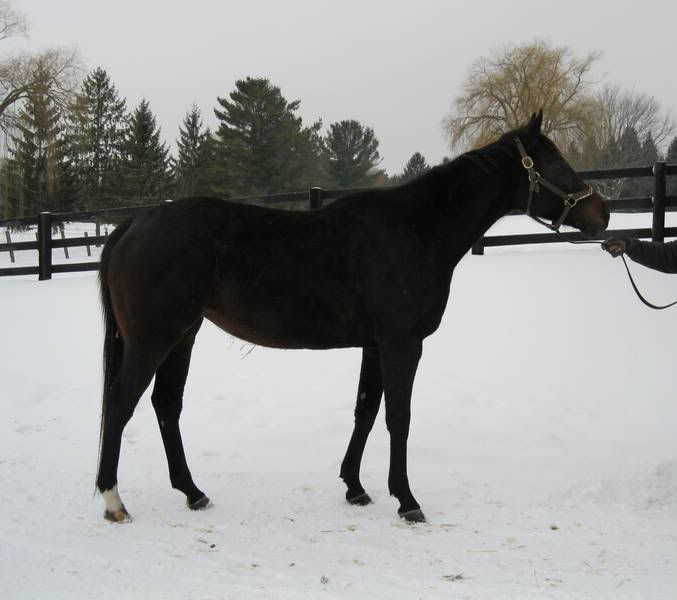 Not bad. Her withers carry nicely into her back. Her knees are flat. She looks a bit short in the neck and her hind leg is a bit over straight. She is not brilliant but not bad. Standing her in the snow is not so good as it has her uneven.

Some farms put a chain over the nose of every horse so until you actually handle her, don't assume on ground manners.

I would check her feet for adequate hoof wall (a jumping horse needs good feet!) and it that was good give her a try. Wish she was a little younger.. 5 instead of 8.. but would not whine due to the 'price.'
---
There is something about the outside of a horse that is good for the inside of a man.
~Winston Churchill
(or woman!!!!
) Dinosaur Horse Trainer
Banned
Join Date: Jul 2009
Location: In a land far far away, or so I wish.
Posts: 12,825
• Horses: 0
Quote:
Some farms put a chain over the nose of every horse so until you actually handle her, don't assume on ground manners.
She looks like she is worth checking out.
Since you are shopping for a project horse I assume you will do a full PPE. Hopefully if she has any soundness issues that will hurt your ability to resell they will show up then.
Someone more experienced than I correct me if I'm wrong...But she appears to have a not so ideal forearm to cannon ratio- that is that they are almost the same length. For a free horse, however, she is lovely.
---
"The wise man thinks he knows nothing.
The fool thinks he knows everything."
Green Broke
Join Date: Oct 2010
Location: Some times Llanelian - North wales, sometimes Hull in East Yorkshire (UK)
Posts: 3,679
• Horses:
5
I think she is very nice for a free horse.

She looks slightly back at the knee and straight through the hocks, but otherwise she is lovely.I think she has a lovely shoulder and head on her. Her neck needs work as it is rather upsidedown but this looks like a training(or lack there of) issue as opposed to a skeletal problem.
---
RIDE your horse FORWARDS and keep him STRAIGHT


Beautiful horse! for free, I would definitely check her out! I am sure she will be great at something. I love her face. :)
---
A ride a day keeps the worries away!
I agree with Faye's assessment for the most part. I do not htink her neck is short, look at it in relation to her back, Both are short, and this is just fine.
I like her. Being short is good. I bet she'll turn out to be the handiest little Thbd around.
If she's free then you won't lose anything by going to have a look at her! She reminds me of a TB mare I had - exactly the same colour and build but with only a white star.
TBs are sometimes mis-understood, but if you can get her going nicely then I'm sure she'll make you very happy!
She has a lovely, kind face. Do update on how you get on!
She has a "kind" look in her eye which could be due to a good personality
Really cute, i wouldn't mind having this girl, wheres she located? haha