Gentle critique, please.
---
This is my new horse. Well...I got him 7 weeks ago, lol. He's very underweight. A family friend gave him to me. (Along with another horse.) I know his daughter showed him 4-H, and did pretty well with him. And they started training him western pleasure. He's got another ~150lbs to go to get him back to where he was at. He's out of Ima Jetcat and a McCue mare. I feel that he's got a weak croup area, but I think its lack of muscle. I feel that he's knock-kneed in the back, but I wonder if it is due to his hooves. He's got paddle hooves, and my farrier will start working on him next week to get that fixed. I'd like to see him a little lower in his withers, but again wonder if it is muscle related? Thanks in advance, just be gentle, please, because he is my baby, and there really isn't any plans to do anything with him other than trails, and maybe a halter show or two at an open county show.
---
~*~Never approach a bull from the front, a horse from the rear or a fool from any direction. - Cowboy saying~*~
Sorry , but I cannot really see all that well. The pictures are just too small. I do see the knockkneed you mentioned. He doesn't look all that underweight to me.
Here I made them bigger. Sorry, I use another forum as well, and I just upload to the same size. Unfortunately, they are grainy now :-/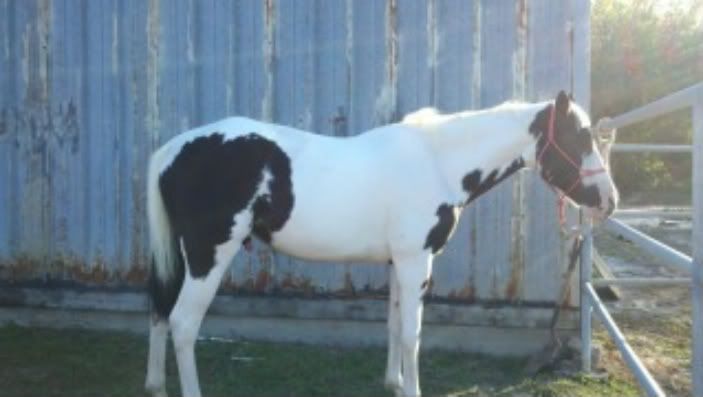 ---
~*~Never approach a bull from the front, a horse from the rear or a fool from any direction. - Cowboy saying~*~
He really does not look that underweight to me, another 150lbs would just make him fat from the looks of it. But hey, a thicker horse is better than one with ribs stickin out if you ask me.

Anyways he is a good lookin boy, about how tall/old is he? From the looks of it, if he is getting back into shape his croup and withers should get better with more muscling once he starts working again.

We can't really see his hooves/feet in any of the pictures except the last, and it is too hard to really critique his "paddle feet" etc. His back legs do look slightly knock kneed, I don't think that would be so prominent just from some simple hoof problems unless he has been in that condition for a long time?

My APHA mare is a bit cow hocked in her back feet/legs (her "toes" turn outward, the inside and front edge of the hoof is trimmed a bit lower to slowly correct it and bring the hooves back in) and her knees have not shown any signs on knocking like that. Perhaps it is something to have checked out? It doesn't look abnormal, but it could be cause for future arthritis and early retirement from riding etc. Just precautionary.

Otherwise, he has wonderful markings and is a good lookin guy, great prospect :)
---
" Life is a rodeo, take it as you get it "
Southern Colorado Natural Horsemanship


Just a note, I misread your plans with him. As far as the early retirement etc that I was speaking of, I was under the impression you were competing with him. For trails, light riding, Halter etc he would be perfect. In Halter classes though, you will be docked for his conformational flaws (knock kneed, paddle footed, weak croup and high withers, whatever it may be) so I would definatly suggest getting him in shape and trimmed up before you do it, but every experience counts towards a better next time, so the experiences are always good! I always learn from what the judges dock on, so that I can improve it for next time :) Gives you a little insight on what they are looking for. Good luck with him! And keep us updated
---
" Life is a rodeo, take it as you get it "
Southern Colorado Natural Horsemanship


Thank you very much, APHA. The pictures hide his weight, alot :( But considering he looked like this when I got him, he's come along way. Maybe 150lbs is over kill, but I know he needs atleast another 100lbs. He's still very ribby!
This was about 6 weeks ago.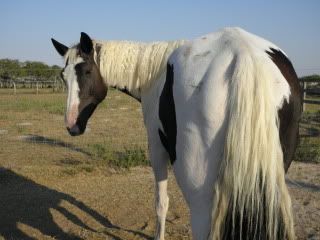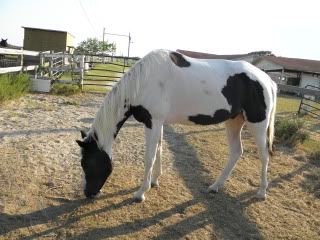 Vet looked at his legs, and didn't see an immediate problem, but I agree with the arthritis. Could be a problem down the road.
Thank you for the critique! I'm happy with him no matter what, but I haven't ever done horse shows/horse judging before, so I dont know the ins-and-outs. Now...give me a show steer or heifer, and I'm gold.
---
~*~Never approach a bull from the front, a horse from the rear or a fool from any direction. - Cowboy saying~*~
Bit back at the knee as well. Just something to watch. You don't want to do anything high-impact with him, he has a much greater risk of tendon injury than a horse that is correct through the front legs.
Wow, looking at the pictures from 6 weeks ago he has come a long way :) And in a short period of time! Kudos to you for taking him on and providing a good home for him, he definatly looks and I can only imagine feels better.

I agree with the vet, like he/she said it is definatly nothing immediate, but joint soreness and or arthritis could slowly creep up on him, so I would always keep an eye on it. It never hurts to add a joint supplement to his diet early on, just help strengthen his bones a bit and it will also aid later on when and if he does start showing symptoms. Anyways, congrats on this sweet boy, I think you will give him a wonderful home and the horses know it, so he will make you a wonderful companion :) Keep us updated! I would love to see him under saddle once you reach that point :) PM me if you have any questions, or just want to chat! I have a weak spot for black and white Paints xD
---
" Life is a rodeo, take it as you get it "
Southern Colorado Natural Horsemanship


Teen Forum Moderator
Join Date: Dec 2010
Location: South East Texas
Posts: 7,157
• Horses:
2
just a note that he still appears to be a fine weight to me...I think what he really needs now is muscle. I like to keep my horses a little bit ribby (I can easily feel their ribs but not see them unless they're stretched out) and bulk them up with conditioning.

I wouldn't put more than 30-50 pounds on him, if that.
---
Everyone in your life is meant to
be in your journey, but not all of
them are meant to stay till the end.
I have to agree with everyone else. If you put another 150 lbs. on him he is going to be borderline overweight. He just needs to add some muscle tone and then he would be fine. He doesn't appear to have any major conformation flaws from what I can see right now. He is a bit cow-hocked, but that's nothing too major. A lot of horses have that, so it's not at all uncommon. But, he is a pretty boy and I'd like to have him.