Is getting a young horse a bad idea?
---
Come this July I'll be horse shopping..I'm an intermediate rider, getting closer to advanced.
I'll be taking lessons all Summer, so I'll only be getting better.
Would getting a younger horse be a bad idea?
I'll have about $1,000...
What I'm thinking is getting a younger horse cheaper, - you could find a good one here for 200.00 or 300.00 - and having a trainer work with us.
Good idea, or not?
This is an adorable baby I saw..
I'm not ready yet, but she's soo cute I just had to share:
Weanling filly born January 1st.
Dam a QH/Welsh cross. Sire unknown.
Should Mature about 14.0hh.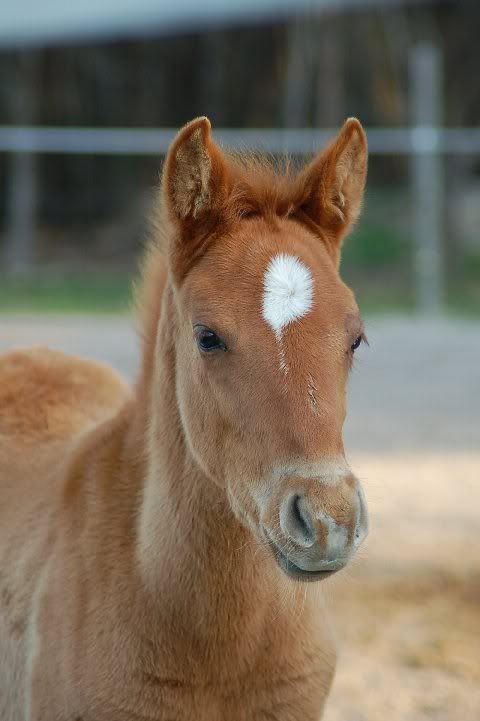 ---
Proud ownser of..
Valiant Leader, 9 yr old 16.0hh OTTB gelding..
Yoki, 5 month old 27 " miniature stud..
I can't say it's a bad idea or a good idea. If you are able to train a young horse and capable of handling him/her...then I say go for it. If you aren't sure you can, I'd step away from a young horse that isn't trained yet and maybe just stick with a young horse that is broke...but just green.

Also the filly is really cute, but I don't like her neck at all
Depends - if you have a reliable trainer that will work with you through everything, then go for it. If this is the first horse you're training, and you're going at it on your own, I'd say it is a bad idea.

If you're looking for a horse to work with right away, I would get a 3 year old... with a weanling to 2 year old, you're only going to be doing minimal work, and letting them grow the rest of the time.

The filly you posted is alright, I really don't like her neck - she has what Fugly calls a "nest" - where her neck just kind of melds together with the chest. Not pretty, and it's probably a fault that will stick with her, even when she grows up.

Keep in mind that younger horses are cheaper for a reason - it costs a lot of money to feed them through their growing years, and you have little potential for profit during these years. You can't do much training with them until they're 2, and even then I wouldn't suggest doing anything major until they're 3.
---
The lovely images above provided by CVLC Photography cvlphotography.com
I say go for it, if you are prepared to not be riding for a while. If you are looking for a cheaper horse and have a trainer, try finding and off the track thoroughbred. They are great horses, have a ton of talent, and are cheap.
It really depends how comfortable you are with handling and training youngsters. They can be VERY handful sometime and wa-a-a-y different from (even green) broke horses.

P.S. I don't like the neck too - very thick and the first thing, which catch the eyes, although she's cute.
I agree with everyone else. If you have the money and time to keep and train a weanling then go for it. I think your money would be better spent on getting a green broke horse of 3-4 years old that you don't have to wait so long to ride. Babys are cute but they can be a handful and your paying all the expenses for them that you would on an adult horse but its more all work and no fun.
Oh, I'm not thinking of getting a baby - I just thought she was cute..
I'm thinking I want a 3 or 4 year old.. =)
---
Proud ownser of..
Valiant Leader, 9 yr old 16.0hh OTTB gelding..
Yoki, 5 month old 27 " miniature stud..
oh my gosh! BEAUTIFUL foal!!
---
_______________

I <3 you Magic!

He knows when you're happy
He knows when you're comfortable
He knows when you're confident
And he always knows when you have carrots.
~Author Unknown
I think as long as you do get the 3-4 year old horse and have a great trainer and are not in a huge rush to go show, or to ride all the time, then i think you'll be fine
Well if you are thinking of a 3 or 4 year old I say go for it! It sounds like you are planning it well and you will have the help of a trainer. Good job1