Give me your opinion?
---
This is a horse at my barn that I am allowed to ride. I think he's absolutely adorable. (but I'm a sucker for grays and tbs :) )
I just wanted your opinions on him. (He's not mine by the way.)
Also, I'm aware that he is undermuscle and underweight, but I cannot do anything about this as I don't know his owner well.
Whole body:
Front legs:
Back legs:
Us (I don't exactly look very together. Haha):
Rolling
:
Sorry for doubleposting, but I just realized he doesn't really look underweight in that first pic.
I think he's cute! Don't have much for a crititue though :)
---
kickshaw
Justin (qh/tb)
Boo (asb)
Thanks, I'm emailing his owner today to see about riding him more often, cause as it is I'm only riding him about once or twice a week. Oh yeah, I forgot to mention, hes around 8 y/o, and an ottb. I'm not sure of his height, but I'm guessing between 16-17hh. I keep forgetting to take a measuring tape up to the barn with me.
He is such a cute horse, and looks a LOT like my horse, except my horse is whitening up as he gets older. And my guy is a FresianXArab.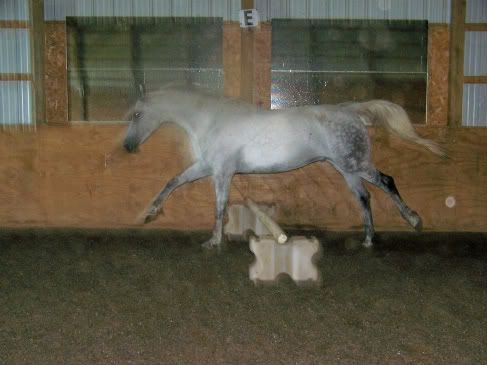 ---
I dreamed about him, being something untouchable to me, untamable, and wild.
:.Imperious.:
1998 Friesian Sport Horse

You're right! They do look a lot alike!
He's a cute horse :) To me he doesn't look underweight, as a matter of fact he's actually on the chuby side. He could use more muscle tone tho but if he isn't worked with often it makes sense. Do you own your own horse as well? :)
Looks like he toes out in the back. Can't really see much on the side because it's not a very good picture (he's not set up well). Like his coloring. Looks like a solid horse, not underweight. Needs muscle tone though.
---
Unless it weighs a ton... it's just a horse.
Draft horse motto.
He's pretty. :) I couldn't tell much from the first pic. From the behind pic, he is definitely cow-hocked.
---
"'For I know the plans I have for you,' declares the Lord. 'Plans to prosper you and not to harm you, plans to give you a hope and a future'" ~ Jeremiah 29:11
Nice looking horse and he is at a good weight. Maybe some toning up could be done, but that is about it. Hard to say anything conformational about him as those aren't good critique photos.
---
All I pay my psychiatrist is cost of feed and hay, and he'll listen to me any day!