Go ahead tell me the worst.
---
This is a very old pic of me, but my goal for my young horse would be jumping with a small amount of dressage. As he is still a project, there is little point in posting a pic of him - so here is an old pic of me. As he is still learning a lot, I may as well work on myself, or at least understand what I need to work on.
Thanks in advance, and I promise I won't get upset or argue with you!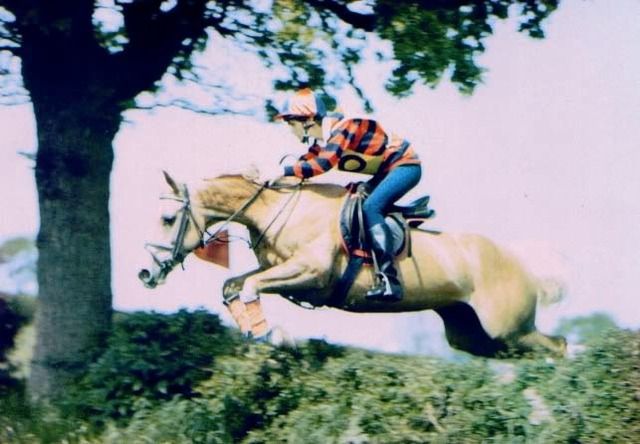 it looks ok, your keeping the right contact with your legs, just the only thing i can suggest is a bit more bend in the elbows and maybe releasing a bit more with your arms (up the neck a bit more) and you seem to be leaning back a little bit so this may help, take off like your pushing your horse over the jump. get what i mean? pretty horse BTW :P
---
Cross Country- The act of hurling yourself and your equine partner at a stationary object with poise and grace while attempting to survive...

Thanks, this pic was from many moons ago, as I have ridden for a long time but ride alone most of the time and so have no pics. But I still have problems with keeping a bend in my elbow now, even with flat work. So thanks.






And while I said I can take anything, no comments on how much of a strong bean I am :) Talk to my father, it is his fault. :)
You seem to be arching your back over a little. Try to keep it flat. Are you steeplechasing in that shot?
---
Mods, grant me the serenity to see the opinions I cannot change, courage to change the ones that should change, and the wisdom to spot the trolls.
Alexs... you're aging yourself with that helmet that has an actual chin strap that your chin goes in. ;)
LOL I am older than dirt! And I still have that helmet! :)
If you still jump like that, I am seriously jealous. I want to steal your leg - it's like...perfect! I think your release looks fine - any further up the neck, and you'd be leaning forward.

I love your horse too. What breed?
I think you look good, except your heals can go down more, and you kind of have chicken wing elbows. But I think that is a really neat picture it reminds me of pictures I see in old books my mom has (I'm not trying to call you old) And I had a helmet with a chin strap like too.
Banned
Join Date: Jul 2009
Location: In a land far far away, or so I wish.
Posts: 12,825
• Horses: 0
You look great! Jealous glare.
Similar Threads
Thread
Thread Starter
Forum
Replies
Last Post
Jumping Ahead!

dreamrideredc

English Riding

8

08-14-2010

09:55 PM

Jumping ahead >.<

NordicJuniper

Jumping

7

09-03-2009

05:50 PM

Planning ahead

newhorsemom

Horse Health

5

03-03-2009

09:42 PM

go ahead

KANSAS_TWISTER

Horse Riding Critique

7

05-04-2007

02:39 PM