Headset... *lotsa pictures*
---
How much of a horses headset is training and how much of it is conformation?
For instance Lacey always has her head downish (below level) at the walk but at the trot and canter it progressively comes up. When she's just chilling she generally has her head above level...
Here are some pictures (the standing, walking, and the canter picture are from last fall/spring so she looks a little depressed):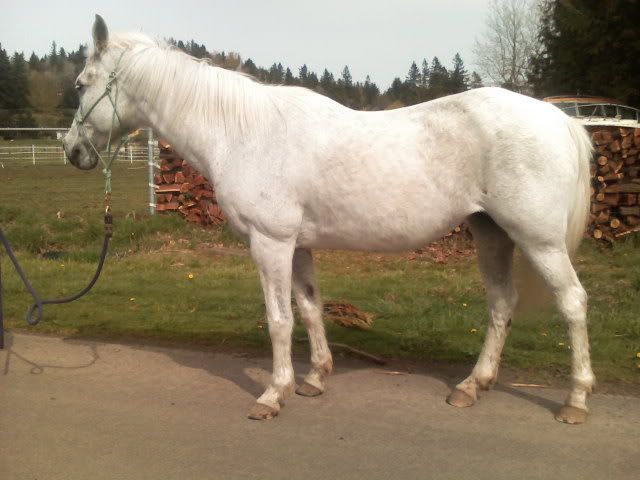 Is it just her conformation to have her head way up like that? That's pretty much what her head is like undersaddle too and I'm just kinda wondering if that's about what I can expect from her because of her confo. =) Undersaddle she has her head closer to the vertical obviously but it's up...
Thanks!
I have a video I can link to from this summer that shows her headset undersaddle if someone REALLY want to see my ugly riding and her cute summer-y-ness. haha
---
Fabio - 13 year old Arabian/Lipizzan gelding

~
Rest peacefully, Lacey.

Some horse's conformation inhibits them from being able to collect easily and hold it there. Arabians, though, usually have no issue doing it because of their conformation. In this instance, it would be a training issue. To get the right headset and collection, your horse first has to learn to be soft in his face. By that, I mean he should flex at his poll and give his mouth to you when you apply pressure on the reins. To add collection to the picture, when you pick up on the reins apply leg pressure as well to tell him to be soft in his face and not to speed up, but to lift up his back and engage from behind.
---
Amber.
Opportunity is missed by most people because it is dressed in overalls and looks like work. ~Thomas Edison
Yes, a lot of it depends on conformation. Though a particular headset can be trained into almost any horse, for some of them it is uncomfortable and sometimes damaging. If a horse is built like a WP-QH, it would be difficult to get them to pick up and collect like a dressage horse because they are not built to have their head high. At the same time, many arabians would be incredibly uncomfortable trying to carry their head really low on a straight neck.
---
Always remember that feeling of looking at a big, open country over the ears of a good horse, seeing a new trail unwind ahead of you, and that ever-spectacular view from the top of the ridge!!! Follow my training blog:
http://robertsontraining.blogspot.com/
Big-time trainers will tell you it's conformational.

BT trainers also like to break and train their babies quickly--the one's that 'get it' are good. The ones that take too much time are 'crap'.

If you have a QH that has a level neck naturally, that horse is going to 'get' headset very quickly. It's also going to be on the forehand.

If you have a QH that has a higher neck, you can ALWAYS train them to come down. It just takes longer, and you have to be careful not to stress them too quickly, or they'll hate their jobs.

You can't, though, always teach them to come 'up' to a high dressage frame, depending on their conformation.
---
Dressage in Jeans
- My blog with dressage tips for happy, relaxed horses, specifically for those who ride dressage in western saddles, no saddles, cowboy boots, or jeans. ;) Also now with cute pygmy goat pictures! :P