Hero--Horse Critique
---
Sorry that I have been posting a lot of these guys! I am just trying to find the perfect horse (for me) and I like having a lot of opinions.
This is Hero; he is a local trainers horse. She really wants him to go to a show home with a younger teenager. I am 14 years old and I going to be doing 4H with whatever horse I get. Next spring/summer im going to start showing rated shows. I have been showing at a lot of local schooling shows and will keep that up all fall/winter. Hero is 17.2 hands and is about 6-8 (dont remember) years old. He is rated at a temperament 1 and lets little kids (during the bareback lessons) climb up on him and ride him around. He was lightly raced, but doesnt act it. He acts more like a big QH then anything (he is full TB from what I understand). He did a 3'6 (he was deemed sound for that) course the other day and didnt knock one pole and didnt rush even one jump. He loves to please and is a big puppy dog.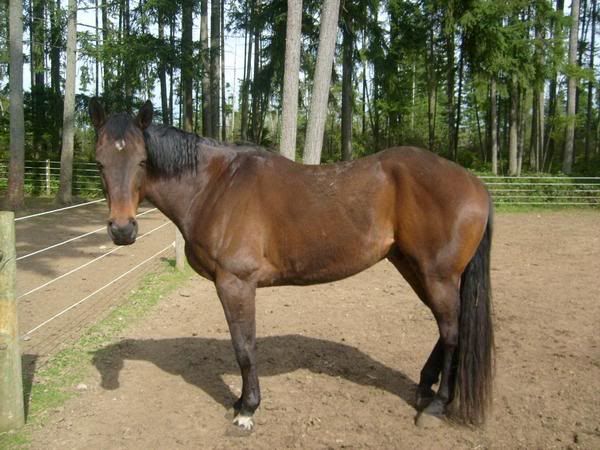 *blink*
I would say about 4', give or take a few inches.
2'ish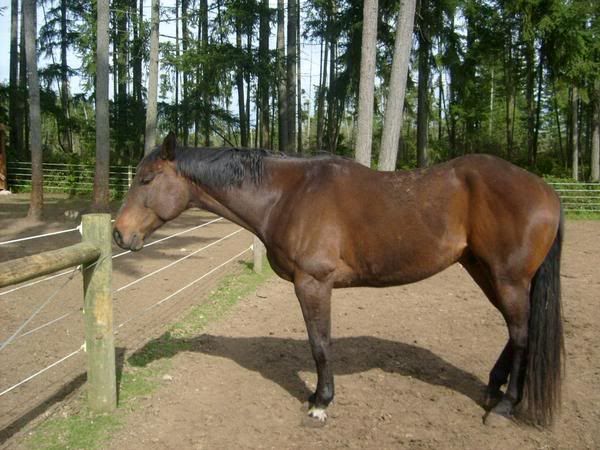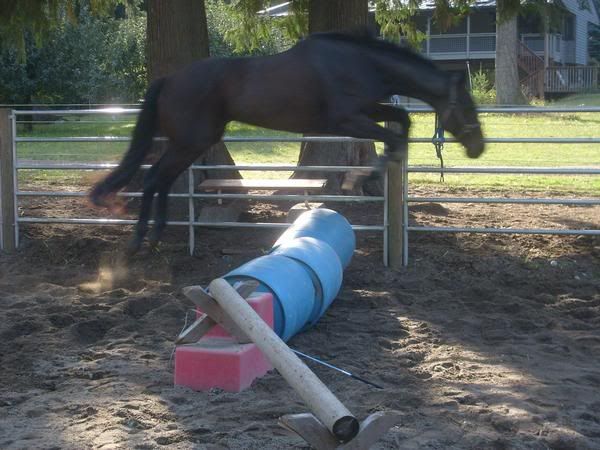 Over jumping just a little? xD
Wierd looking.
I know you cant to that good of a confo critique, but do your best please? And please critique his jumping form please.
I will be getting riding pictures/videos soon, so when I do ill edit the ad and get them to you!
Green Broke
Join Date: Aug 2009
Location: New South Wales, Australia
Posts: 4,847
• Horses:
1
I would say he's too big. I mean he may great and calm and such but horses have their moments, and if a horse his size decides he wants to run of and do something, it going to be hard for most people, especially a 14 year old to stop him.

Its not even that. I don't really know what 4H is. But lets say you just want to do basic show jumping, I believe they build all courses for a horse of 16.2hh, I think, so the strides are going to be hard on a horse that much bigger and the corners could get nasty.

Rugs will probably cost more and there could be difficulty fitting him in a standard stable, yard or float, which at a show could be extremely annoying. I had a clydie cross that wasn't even 17hh and it was difficult, i've ridden horses over 17 hands and I just think its too much everything.

My advice to everyone about getting a horse is don't get a Thoroughbred. But I am just a bit anti TB, they never quite get over racing I think, I guess an unraced one could be interesting, but there is always soundness problems and they are a bit air heady. Its a personal thing though, I know a few decent ones.

Your horse in particular looks alright, I'm pretty dodgy about confo. his whithers may be a little high? He doesn't really have a sharp, alert look about him, even when jumping, which would bother me a little.

I'd say no on size.
I'm 13 and I have a 17.1hh TB gelding that raced till he was 8 and just came off the track this Jan and he is calm as can be, I can handle him just fine. I jump him and gallop him and he never puts a foot wrong. I think it's rather unfair the way people stereotype ex-racehorses. It's the individual horse you should be judging, not the horses ex-career.

Eventerwannabe, I think he looks like a nice horse. Im not confo expert but he looks to have a fairly steep shoulder and upright pasterns but again I'm no expert when it comes to confo. His knees look to be rather un even in most of the pictures of him jumping but that can be fixed with a bit of work. Overall I think he's worth a look.
---
"If you can't see a thoroughbred has talent, you're probably too dumb to ride one anyway."

He doesn't look that big in the photos lol! I am sure in person it is different.
He is a cutie. I would agree that he has a steep shoulder, reminds me of Junior's shoulder because they both have about the same incline to them. His legs are so weird, I was picturing him as being all legs like Maddie, but he is all body haha! Hooves are huge by the looks of them, have fun cleaning those!
His withers really aren't that high, compared to other TBs, they are actually rather low [but I am biased cause of how high June's are.] His rump looks funny but I am betting it is because he isn't standing square.
Overall he is really cute, looks super calm which we both need. I say he is worth a try, it wouldn't hurt to go look at him and ride him. Might be beneficial to us both :P
Not a bad looking horse. Yes his shoulder is steep and that may cause him to ride a bit rough. It looks like his croup may be steep as well but it is hard to tell since he has the off side foot cocked in the pix. His pasterns are a good length but his fronts look upright because he is standing under himself a little bit. The only thing that I really don't like about him is his back. It looks like he is pretty badly swaybacked (though it may be how he is standing, I don't know). That could have been cause by either a disease called Lordosis or from improper head carriage. I strongly suggest a PPE and if the vet gives the okay, then go for it. He does look like a sweetie and though I know absolutely nothing about jumping form, he doesn't look bad. He hangs a knee every now and then but that is all I see there.
ETA: He has a tail to absolutely DIE for. LOL.
Oh yeah and about the OTTB thing. I am right there with you Aztec. I have ridden three OTTB's in my life and all three of them were the best horses I have ever ridden and I have ridden a lot. I rode a 13, 14 and I am currently riding a 20 year old OTTB. The 24 year old Morab and 20 year old Arabian that I used to ride were much harder to handle than any of the OTTBs.

I think they just get a bad rap. Personally I might be a little biased because I love Thoroughbreds, they are my favorite breed.

But I don't see anything wrong with getting an OTTB, especially if he is as calm as he looks in those pics.

Any horse can be hard to handle and have bad manners, just depends on how they were trained. If Hero was trained well when he came off the track there will be nothing to worry about.
Oh my, lots of replies! So I will reply to all of you one by one xD

Saskia:
I agree that he is large, but im 5'8 and a half already and still growing. My doctor thinks I will be close to 6' when im done growing. I am looking for a horse to grow up on and be able to take me far. If im going to be 6', then im going to need a tall horse.
As for him being hard to handle, the trainer/owner says that he is the calmest horse she has worked with. My last lease horse was a 16.2 mare and was a NUT! I think it doesnt really matter on the height, its about the personality. I do thank you for contributing to this thread and giving your imput!
PS: 4H is for any horse/pony with any rider pretty much. Its the poor kids pony club, I guess.

Aztecbaby:
Its good to hear that someone else my age has a good experience with tall horses that are ex-racers. :]

smrobs:
I mainly ride TBs, so im pretty used to the steep shoulder and choppy gaits. xD
He doesnt have the best confo, but im glad that is isnt horrid.
And I cant wait to play with his tail, im super excited for it!

NordicJuniper:
I agree that he doesnt look that tall. I think its because he keeps his head so low.
I also agree on TBs being easier to ride then the other horses ive ridden. There have only been a select few horses that have topped them.


I was looking for Paints and Quater Horses, but I cant find any that suite what im looking for. I have always ran back to TBs, its wierd. I am not deciding on anything until I have tried many horses and then have the one I really like vetted.

Thank you!!!
MORE HORSES:
Here are a few other horses im looking into. Both sound nice. The mare (who im not that apealed to) had jumped up to 2'9, but has super bad confo (I got a confo shot a while back, but dont have it anymore). Im not really a mare person, so im not sure. Plus she isnt for sale "/
DreamHorse.com Horse ID: 1434220 - Bear
-- I really like this guy. Im going to call on him tomorrow.
13 y/o Appendix for Lease
-- The mare I was talking about.
I will ad more to the list as I find more. :]
Thanks again everyone!!!
He's got a nice, horizantal neck. It's got a nice placement for hunters, and he'd definatley be flexibal, it's well-balanced on both the underside and topside.

He does have an incredibly steep shoulder, and that will make for a more jarring gait and also put more concussion on his joints. It could possibly cause some lameness issues, but he could be perfectly fine. Just riding him might not be too comfy =/

He's pigeon-breasted. His front legs come too far back under his body, making his chest appear to jut out and look bulky. This will decrease the swing of his shoulder, making it easier for him to become tired. Good for making tight turns, however.

My main concern is how sway-backed he is. It puts the rider behind the center of gravity, as well as makes it difficult for the horse to properly collect and round up, and use it's hind end. It may also make it difficult to fit a saddle.

He's also got a steep croup.

His legs look clean, and he looks to have a very calm, mellow and sweet demeanor which is awesome especially for a rider of your age.

I'm not trying to bash on him, I actually think he's a lovely horse with beautiful jumping form and scope (despite the hanging leg here and there, which can be corrected), and I would definatley take a look at him. I'm just throwing some things out there to consider.

Good luck.
---
~Kait & Mark~