Honey, Plz Critique Confo.
---
I dont ahve honey anymore (not my choice of course) but i bought her at a slaughter auction (my family has alwasy been up for a rescue so we scan the auctions every few months), when i found out that she was a registered qh with doc bar lines i just couldnt let such a valuable animal go to the slaughterers. I got her for $750 back when horse prices were up. She was a mess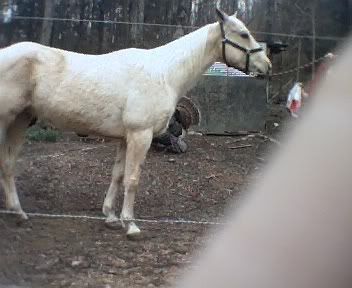 as time went on she began to look better and better the summer i had to sell her she looked great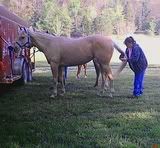 ---
Ω Horses are a projection of peoples dreams Ω
sorry that came out so ig im having a hard time resizing it.... GRRR...
---
Ω Horses are a projection of peoples dreams Ω
You did a great job getting her healthy. She looks great in the last pic.
The last pic looks great! As for before, her neck was very skinny and had a weird connection to her withers. Her withers were very high.

The after shot, she is built a little downhill.
yeah she had a lot of butt, more than anything, (before and after)
---
Ω Horses are a projection of peoples dreams Ω