Horse and rider jumping critique
---
So Mitch has been awesome and we have started back slow because of my surgery. I am rusty and I know it. My surgery was Dec. 2 but I got the okay to start riding and jumping again. Please tell me what you think of him and I. Be honest and helpful but please don't bash.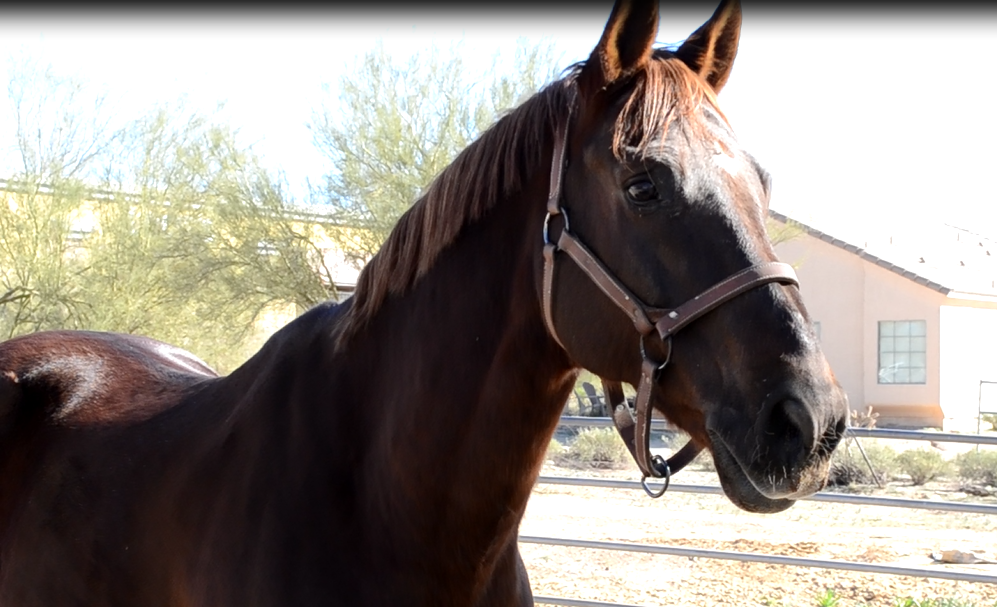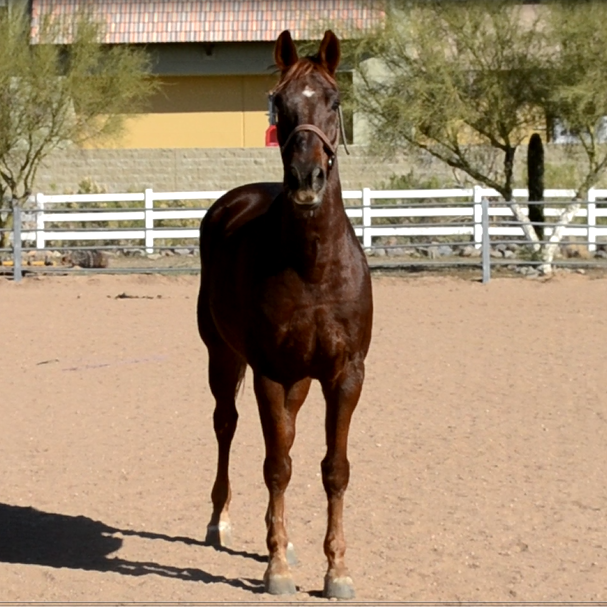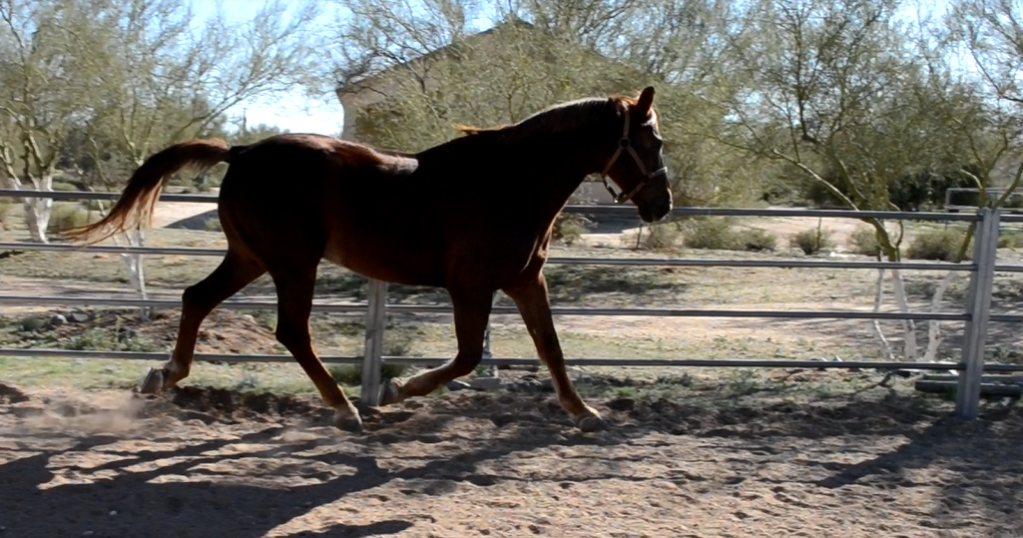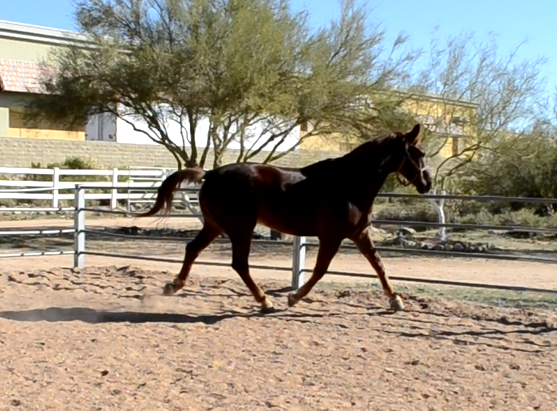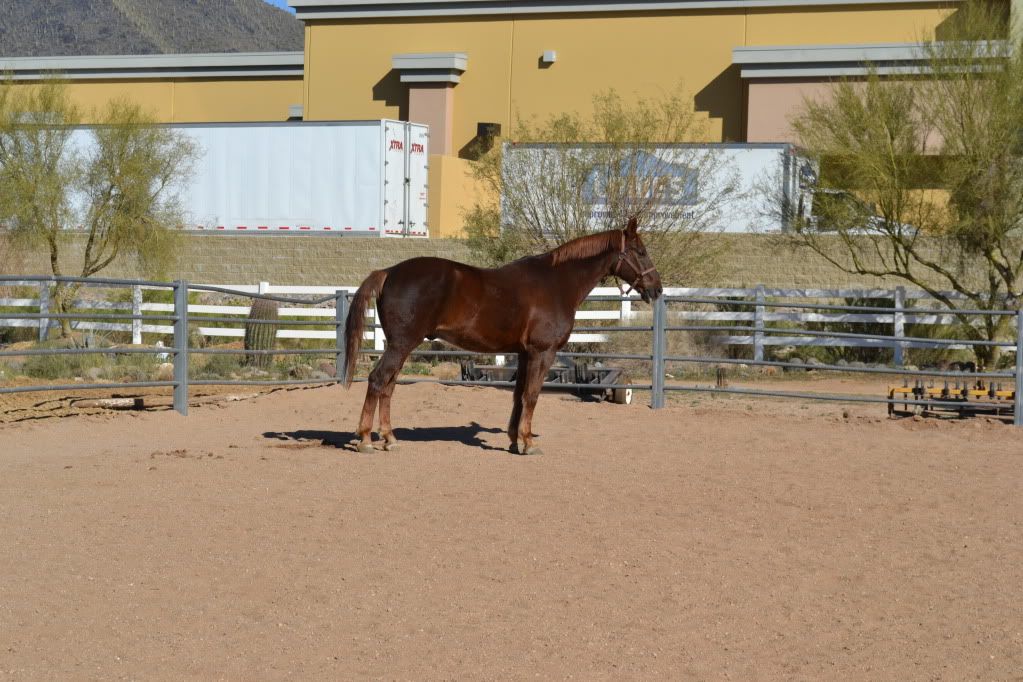 Jumping pictures.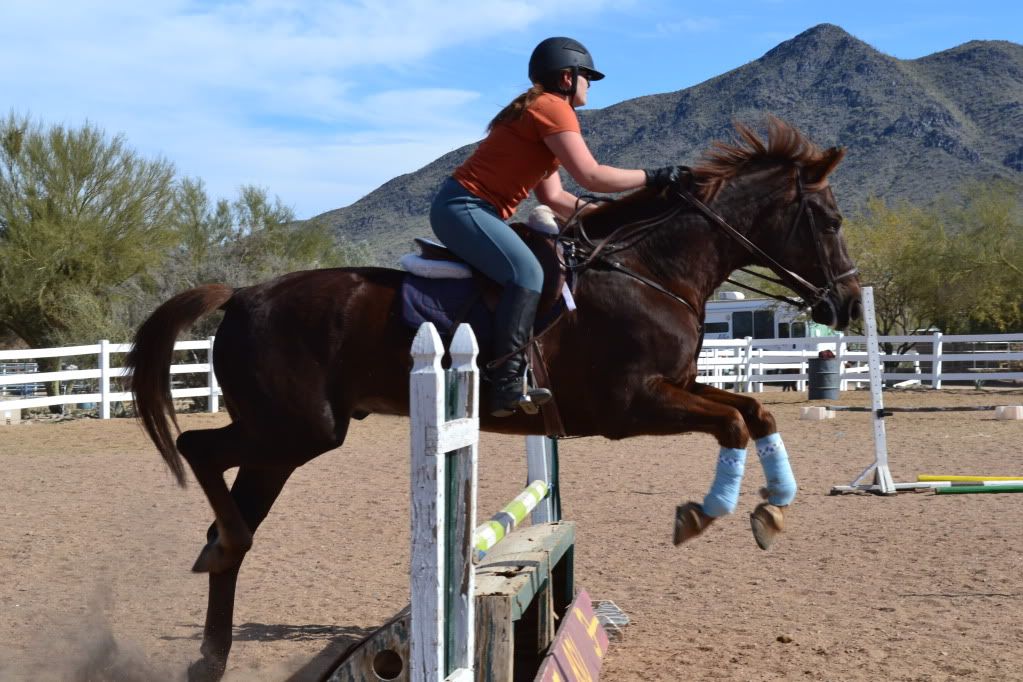 (awkward but I tried to stay with him, grab mane and stay quiet)
First time doing the bank since surgery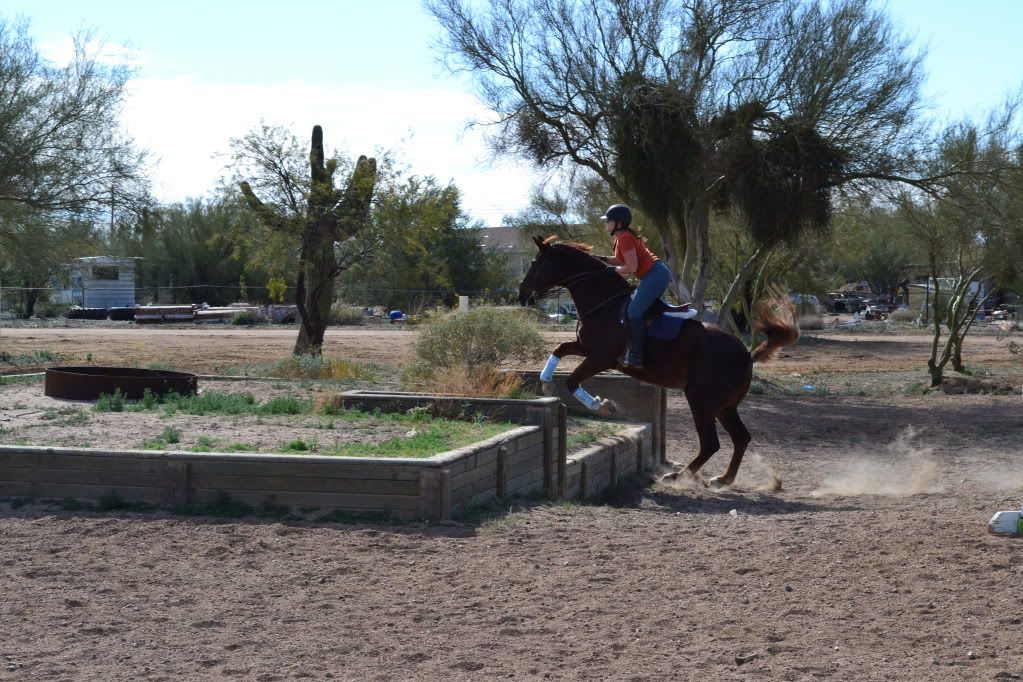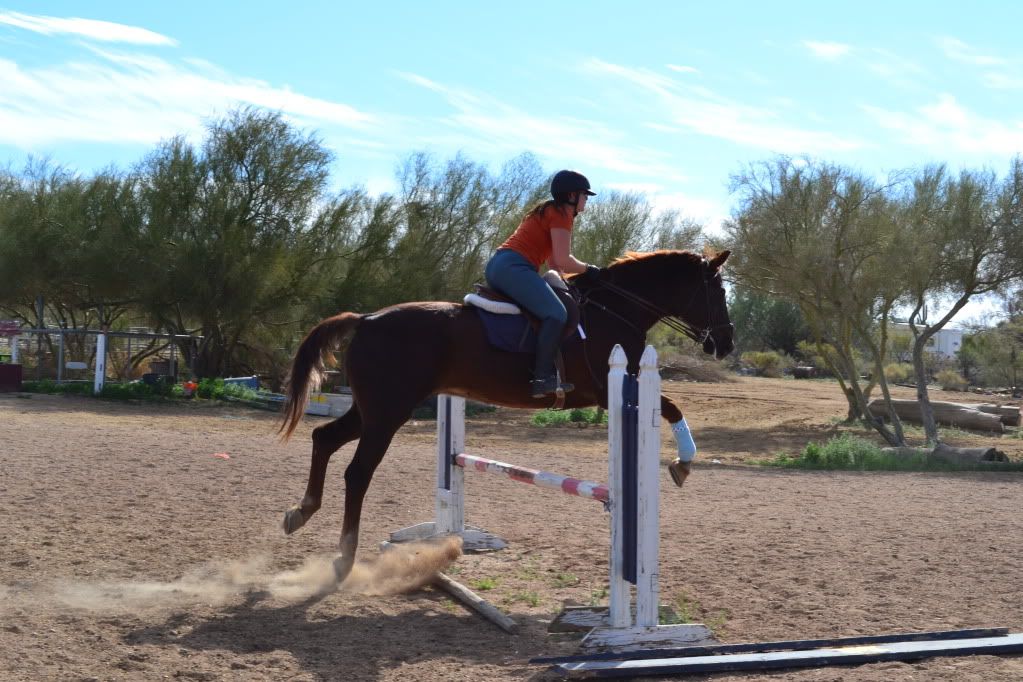 I got left behind.
Thank you guys!
I dont have the experience to critique but I wouldnt have guess you guys had that time off you look great! Mitch is as handsome as ever
<3
You look great, especially since it's not been too long since the surgery :) Just remember to keep your arms steady and quiet. I personally think you could be a bit more out of the saddle (not too much more forward, just raise your hips a bit). Also, remember to give a little more release, just move your hands a tiny bit forward on his neck. You both look awesome :)
Thank you sporthorse, I will keep those things in mind. : )
Wow he is such an amazingly gorgeous colour!!
I think your jumping position is lovely :)
---
To ride or not to ride? ... What a stupid question!!
Thanks so much Elaine. Anything I can fix?
I think some time off has done you well! Your position looks great! And of course Mitch is a handsome man as usual. ;)

What I see for you: LOVE your upper body in most of the pics (not particularly the one where you got left behind haha, would like to see a bit more fold at the hips). You look really balanced and centered in the saddle! I really like how your not laying on his neck but still have a great release over the fence (too many jumpers feel the need to fling themselves at the horse's neck..), and that you're looking up with a nice flat back. This allows Mitch to jump up to you and you'll find keeping out of his way to be very helpful when the jumps get bigger: you can still follow the motion without getting in his way.
I like your overall position in the saddle as you're very centered, however the only thing that needs work is your heel. It looks like your foot is too far in the stirrup and you can't really stretch down through your leg and around his side. Maybe try and move it/angle it so the outer corner of the stirrup is closer to your little toe and the inside corner is more at the ball of your foot...if that makes any sense haha. I angle my stirrups like this and my heel stays down wonderfully, plus my toe can't poke out which I see yours has a tad. I would also suggest shortening your stirrups by one hole or so, just to give you that extra room to reach down without grabbing for your irons.
Great job staying with him through that awkward jump! I would have never noticed it was awkward until I saw his one lazy leg haha. You can really tell you stayed quiet and following even though it was probably such a weird jump. :)

For Mitch: He's jumping quite nicely, even knees and a lovely expression, however he seems somewhat bored with what he's doing! I would love to see him tuck a bit more in front, but I'm sure that will come when the jumps go up. maybe try adding some filler or "jump accessories" to keep him focused and attentive on the jump. :) He seems to have that seasoned show horse look to him "Oh phssst. I've done this a million times soooo I don't really need to try that hard." Maybe try some new exercises with him to get him thinking and "hunting" the fence, you want him to be asking "where am I going next? what am I jumping next? Mom, you've got my full attention and I'm ready!" I suggest tons of cavalettis, poles, serpentines with jumps throughout, circles with jumps at the top and bottom of the circle, stuff like that to keep him thinking. :) And make sure to change up the courses so that you may not take the easiest or expected next jump, chances are he probably knows where he's going if you follow a typical course. ;)
---
:: rachel && robbie ::
::
http://www.youtube.com/user/blushedx3
::
You look great! Just a few things to fix.
You should shift your weight in your heels so they can come down more. Also, slide your hands up a little further up his neck. :)
---
I'm a cowgirl. I break horses, I wear jeans and boots and I play in the mud. (:
Quote:
I think some time off has done you well! Your position looks great! And of course Mitch is a handsome man as usual. ;)

What I see for you: LOVE your upper body in most of the pics (not particularly the one where you got left behind haha, would like to see a bit more fold at the hips). You look really balanced and centered in the saddle! I really like how your not laying on his neck but still have a great release over the fence (too many jumpers feel the need to fling themselves at the horse's neck..), and that you're looking up with a nice flat back. This allows Mitch to jump up to you and you'll find keeping out of his way to be very helpful when the jumps get bigger: you can still follow the motion without getting in his way.
I like your overall position in the saddle as you're very centered, however the only thing that needs work is your heel. It looks like your foot is too far in the stirrup and you can't really stretch down through your leg and around his side. Maybe try and move it/angle it so the outer corner of the stirrup is closer to your little toe and the inside corner is more at the ball of your foot...if that makes any sense haha. I angle my stirrups like this and my heel stays down wonderfully, plus my toe can't poke out which I see yours has a tad. I would also suggest shortening your stirrups by one hole or so, just to give you that extra room to reach down without grabbing for your irons.
Great job staying with him through that awkward jump! I would have never noticed it was awkward until I saw his one lazy leg haha. You can really tell you stayed quiet and following even though it was probably such a weird jump. :)

For Mitch: He's jumping quite nicely, even knees and a lovely expression, however he seems somewhat bored with what he's doing! I would love to see him tuck a bit more in front, but I'm sure that will come when the jumps go up. maybe try adding some filler or "jump accessories" to keep him focused and attentive on the jump. :) He seems to have that seasoned show horse look to him "Oh phssst. I've done this a million times soooo I don't really need to try that hard." Maybe try some new exercises with him to get him thinking and "hunting" the fence, you want him to be asking "where am I going next? what am I jumping next? Mom, you've got my full attention and I'm ready!" I suggest tons of cavalettis, poles, serpentines with jumps throughout, circles with jumps at the top and bottom of the circle, stuff like that to keep him thinking. :) And make sure to change up the courses so that you may not take the easiest or expected next jump, chances are he probably knows where he's going if you follow a typical course. ;)
Thank you so much I really think the surgery I had really helped me with my body and position, and you're right I think he is just kind bored we are going to be re painting all the jumps with lots of interesting things on them hahaha We practiced a jump off and he woke up and was like "Okay mom where are we going next" I just didn't get any pictures. : )