How does this look?
---
I think it looks good, but I've been wrong before.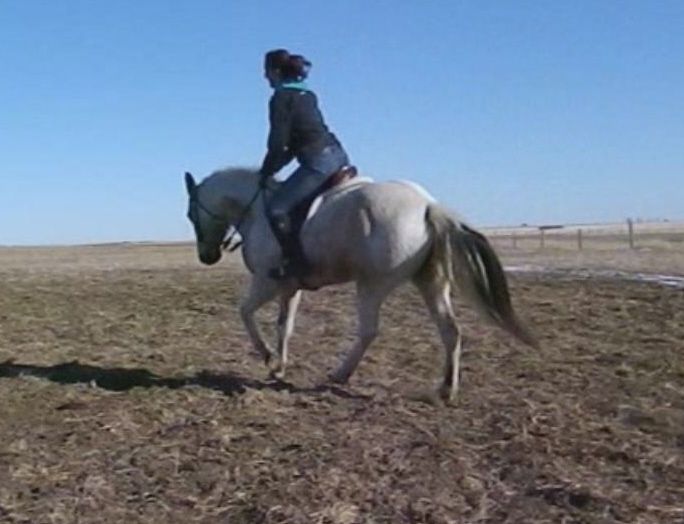 ---
Not really the best shot for critique .. No offense :)

From what I can see, I would definatly get those heels down lots more. You may be hollowing your back just a little, so think of really stretching your spine like a cord. You do look great :)
---
~ When I Die, Remember Me By My Horses ~
* Because They Are Responsible *
.: For Letting Me Live :. (c) xJumperx
We can't tell you anything from a photo like that.
Hind leg looks ok, but I'd say the horse is on the forehand. Can't tell without either the video, or seeing some shots from the side.
That's what I figured... :/
---
Horse looks lovely - hind leg well engaged, reaching into the bridle, nice and straight. You are leaning forward, tipped and twisted to the left and your hands are very uneven. And you forgot to wear your helmet.
Nice looking horse.
He looks like he's got a nice collected canter, his feet are in sync.
Your left shoulder is turned in. This is going to be a part of him falling on his forehand.
Also your pelvis is turned in.
I recommend riding in circles, sitting trot, and working on keeping your shoulders straight and back. Also, when you're turning, keep your hands steady, open your pelvic bone and allow the horse to carry you around. This will help you sit back in your seat.Your leg is at the girth, just make sure you keep your weight in your heels and don let your toe get to out in space :p

Very fluid looking mover :) Keep posting!
---
Heels down, toes slightly more in, and sit back into the saddle more.
Oh, tiny! That isn't Squiggy! That's Lizzy, my other mutt, after I got her to understand a snaffle bit.

I am, however, going to buy an HDR saddle that should fit Squiggy, and I'll start riding her English :)
---
Not the best angle, but I think you're leaning too far forward, and your weight could crop into your heel more.
Although I think your raised heel is due to your upper body tipping forward
---
To ride or not to ride? ... What a stupid question!!