How is Her Back? Arab Broodmare. . .
---
Okay, my husband were up in the barn tonight and got to talking about our Desperado V grand-daughter, KD Lady Ann, and how sometimes her back looks rather swayed.
She has fantastic bloodlines, some of the best, and she is gorgeous.
We had a lot of advice when buying her and feel great about her purchased (in June this year), but sometimes I do think her back it a little swayed. . .sometimes it looks quite level.
I wonder if it is just that she was stall kept and had little exercise with her owner and breeder in Lexington for 8 years.
Also, if she was truly swayed backed, would it not always appear so?
She is currently in foal to a Magnum Psyche son, and we are excited about that, and then we get to talking about her back and I wonder if it is something she is going to pass on, etc.
What do you all think?
Here are photos of her when it looks, to me, quite fine
[img]
http://lucasfarmwv.com/images/ladyA.jpg
[/img]
these might just be position, of course
Looking maybe a little either high withered or swayed back
she had lost a bit a weight here, but has since gained the condition back - so the rump is more rounded.
[img]
[/img]
[img]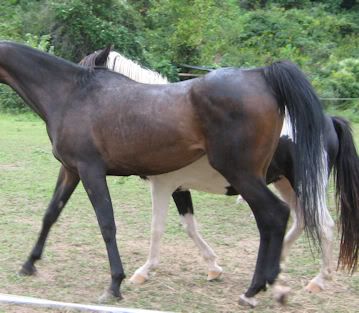 [/img]
I admit I rely on advice for conformation until I know more about what to look for. . .
So what do you guys think?
Here is the SE Arab filly we have, and she has the straighter back of the two, though finely bred, not nearly so well as Lady Ann, I do seem to prefer her back, but she has been outdoors all over her two years and more tone all over, I think.
---
Last edited by deineria; 10-12-2009 at

09:45 PM

. Reason: added pics
I don't think she's swaybacked, but undermuscled. Also, she's got quite a long back for an arab, as they are supposed to have a short strong back. But I don't think I need to tell you that, as you seem experienced with arabs =]

I do think she could put on a little weight and muscle though...
---
~Kait & Mark~
I agree with Money, she just appears to be a bit long in the back. There really isn't anything you can do for that, but muscleing her up could help make it look a bit more uniform.
---
Proud owner of ~Mana: 6yo Arabian gelding~Pearl 13yo Arabian~Danzer 14yo Arabian mare~ Tiny mini filly
I agree, the back seems long, but in the picture that is not the clearest and she is out in paddock (somewhere above in the middle of the bunch), it does not seem long, to me, and she is a lot heavier in that photo.

She needs more muscle, but she gets so stressed outside that she runs the fence, and then the above results - the weight loss. . . so I am not certain what I can do to muscle her up, and I wonder if, with muscle, the back - either being swayed'ish or seeming long, would not improve in appearance.
I think my problem in confo. of Lady Ann is I wonder if somethings - like the above - are not a lack of condition - in both weight and muscle.
I think with weight and muscle, the space on her croup where it bumps out will fill in, and appear more even with her back. This is what I'm talking about: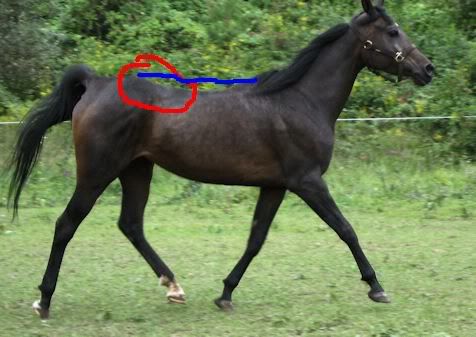 In the picture, she is carrying herself with a hollow back. When a horse learns to properly carry themselves and develope a topline, that appearance generally disappears, and her back will look fuller and stronger. I would definatley work on improving her muscle tone for the next foal if you breed her again, because with the stress of a baby weight down on her back, the problem will only continue to get worse.
---
~Kait & Mark~
I agree she isn't swayback, but she is undermuscled. My Carolina is similar. But the more muscle she gets the better her back is.
She isn't swayed at all, rather has an unnaturally high croup, which seems to 'give' the appearance of the swaying. However, if you look behind her withers, she is strong and straight there; it's where her topline meets the croup, which is higher, that gives her the 'odd' appearance. I'm not sure how much gaining weight and muscle would improve her appearance; yes, it would round things out more, but the high croup would still be there. She's a bit downhill built too, so that adds to her odd appearance. However, I still personally love her...partial to Arabs here!Lol! Arabs and QHs are probably my faves.
---
"The ideal horseman has the courage of a lion, the patience of a saint, and the hands of a woman..."
---
Last edited by mom2pride; 10-13-2009 at

12:55 AM

.
I don't see any swayback on her. You probably think she is swaybacked because she has a very short, high flat croup and is end-high, which makes her naturally strung-out and hollow, therefore hollowing out the back giving a swayback appearance. Her back is pretty long, she has a high tail set, and she has a hunter's bump. A lot of the "finer bred" arabians of today have these common faults, especially with their croups.
Thanks for the input so far. Just bumping incase anyone else might have an opinion ;)
Here are photos of her from yesterday - a little heavier, but still needing weight. . . .
---
Last edited by deineria; 10-26-2009 at

08:15 PM

.