As has already been said, you are gripping too much with your knees. When you do this, it makes it almost impossible to wrap your leg around the barrel of the horse so that you can put the inside of your calf (not the back of your calf) on the horse.
When your lower leg comes off the horse, it will swing back. When this happens, there is no way to balance the weight of your upper body and it will want to topple forward. Then, instead of keeping a soft contact with the horse's mouth, you HAVE to do a crest release to prop up your upper body.
It all starts at being able to relax your knees. Then your leg can softly wrap around the gorse and you can keep contact with your lower leg AND keep it forward, at the girth, where it belongs.
When your lower leg can stay forward, it can act like a counterbalance for your upper body and you will be balanced enough not to have to prop yourself up with your hands. You can also relax your ankle and sink down into your stirrups.
So, it STARTS by fixing your knees and keeping your lower legs forward at the girth. Everything else is dependent on that.
A great exercise is to trot for MILES in your two point without using your hands. Have them out like an airplane (have someone lunge you?). This will force you to bring your lower leg up, where it belongs, or you will fall forward. You will have to push your lower leg forward until the back of your leg burns!
I'll use some of MY bad riding examples to explain....(Hey, we can't be perfect all of the time....
My avatar photo shows me in a fairly decent, though not perfect, position. My knees are soft and my lower leg is on, my toes are pointed mostly forward (keeping the inside of my leg on and my spurs off). While it looks like my leg has slipped away from the girth, the ideal is to have the leg counterbalance the upper body, which it is here. If I were in this position, on the ground, I would not fall forward. If my leg was further forward, I would probably fall behind the motion of the horse and my weight would fall back.
On this photo I am a little too far ahead of the saddle. My knee is stiff and I am gripping a bit too much. As a result, my lower leg has slipped back more than ideal. I am still in decent balance, though, and my crest release isn't being used to prop myself up.
Now come a really ugly position I am not proud of. I don't often have my ankles really down, as I have broken both my legs and they just are not too flexible. But the REAL problem is that I have a death grip with my knees, and my leg has gone WAY too far back. As a result, my upper body has toppled forward and I am propping myself with my crest release. In all honesty, my stirrups were too long and this was one of the causative factors.....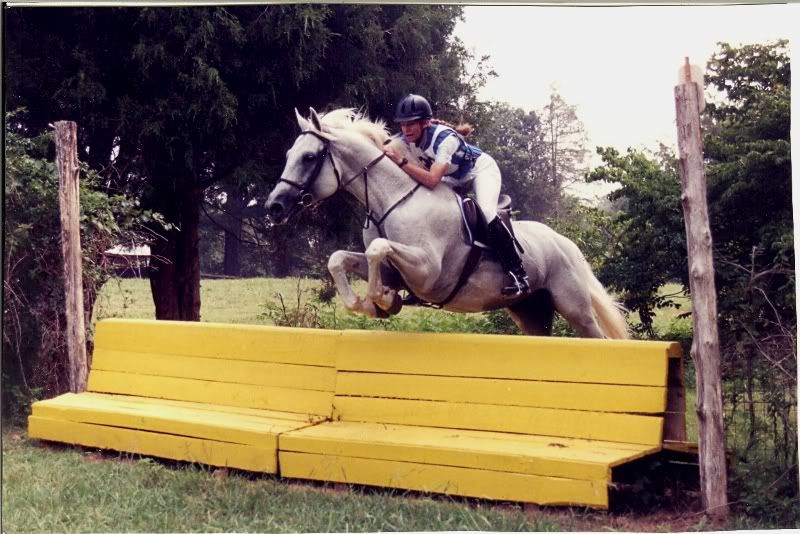 Anyway, try the no hands work a LOT and get to where keeping your knee soft and lower leg forward feels natural. Try to work toward the first photo and grow away from the last one!!