Here is a picture of me without stirrups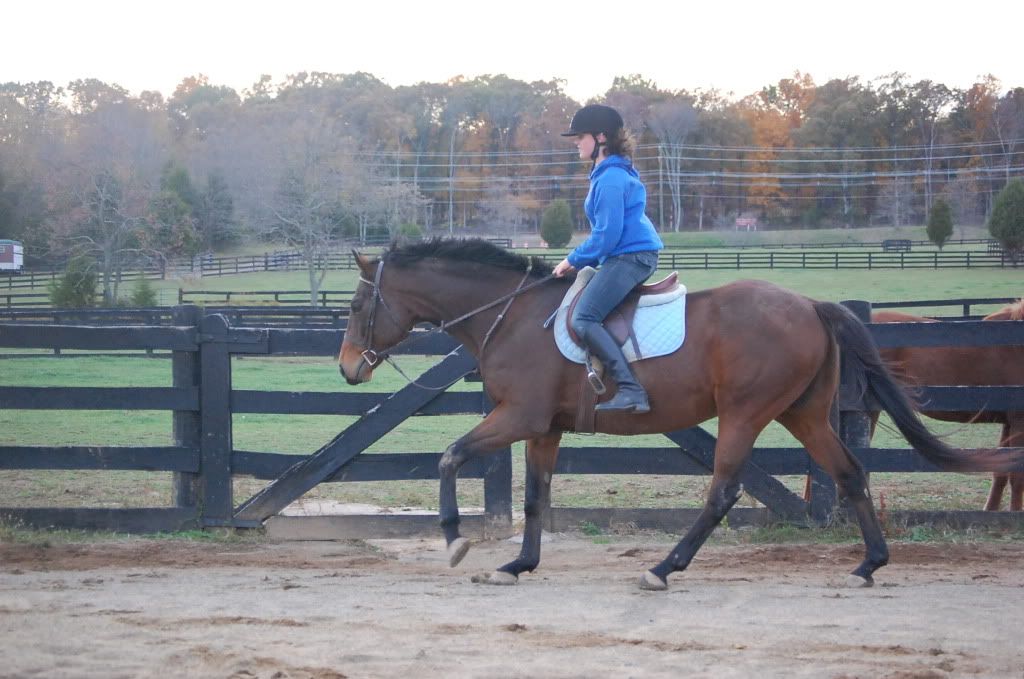 ---
Don't Dream it. Be it.
My suggestions would be to lift your hands up and thumbs up. No piano hands, I am haing issus keeping my hands up lately. I keep on burying them in my crotch
. Then move your leg under you more it's too far back in that pic, which could be beacause you are leaning forward. Sit back and get the girls out, this should bring your leg forward in a better position and don't be afrad to push those heels down (another pain of mine when riding without irons). Oie I could go on and on about my flaws LOL.
---
*+*Know Jumps Know Glory, No Jumps No Glory*+*
Thumbs up, sit back, shoulders back, and relax. Love your heels and good for you for lookin up!!
---
"Have fun - Stay on top."
"There's nothing like sixteen hands between your legs"
Actually, if that's where your leg is without stirrups, I would recommend the exercise of tying the inside branch of the stirrup to the girth.

Looks like your no stirrup work is just confirming the wrong position and that you need to learn what it feels like to have your leg truly under you.
When you're work with stirrups (not tied) glance down at your stirrup leather - it should be hanging straight down, perpendicular to the ground. If it's hanging at an angle, push your leg forward until the stirrup leather is perpendicular.

Also agree with the thumbs up comment.
dont point your toes out and put your thumbs up
---
I was a dreamer
Before you went and let me down.