Improvement?
---
I posted a critique a few weeks ago for my tb gelding and a few people pointed out that he was underweight. Well i've been working on it for about 3 weeks now and was wondering if there was any improvement. Since i see him every couple of days or so i don't notice it as much, however today he seemed to me to look like he has put a bit on, what do you think?
3 weeks ago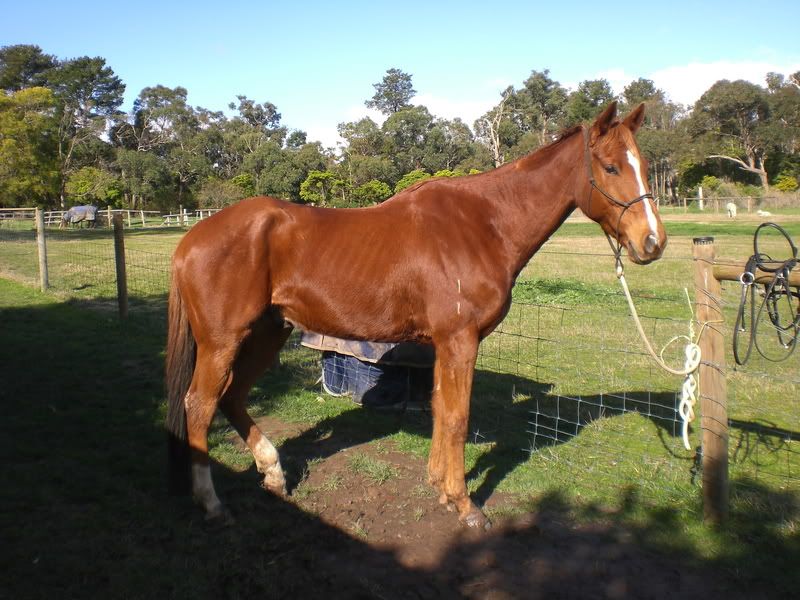 today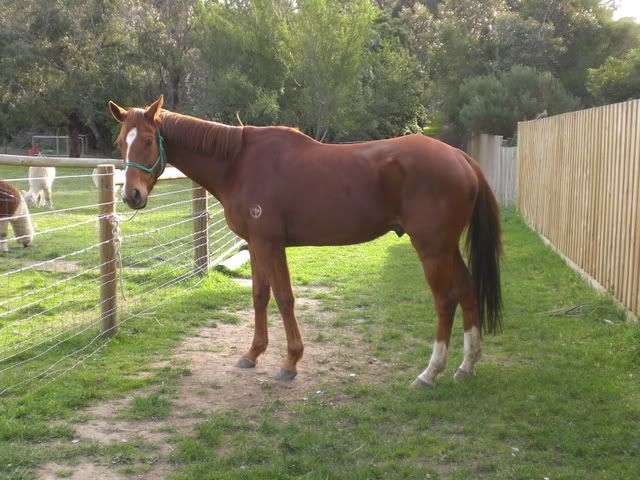 I noticed it mainly in his neck, but that could just simply be a bit of increase in muscle. i've been riding him in a loose rein to avoid him leaning on the bit and building the under-muscles in his neck. he's quite heavy on the forehand and very weak in his hindend, which is something we're working on ( do you think that's a tb trait or simply due to their racetrack training?)
anyways, he's had a round bale in his paddock for the past 3 weeks and between him and my mare they've eaten the whole 500kg lot. iv got another roundy for them to munch their way through so i'l post another update after they've finished that one.
he also gets hard feed once a day.
he looks alot better, but could stand to gain a little more weight I think.
For muscles, he definately needs it in the neck and hind-quarters. Some in the topline, and possibly just some everywhere.
I'm not sure if the weak hind-quarters is a racing thing or a breed thing cause I don't own a TB, but I'm sure another TB owner will be able to answer that!

Good job with him!
Yeah I agree with SonnyWimps he does look better but still needs a lil more he's cute though..
The hindquarters have nothing to do with race track training or TB's. Most TB racers have a strong hindquarter bc that is what gives them the speed and not all TB's have non musclesd hindends as a trait. it all depends on the horse, and it's been ridden and how it's learned to carry it self. working on collected halts and trotting will def help build the muscle in that area.
---
"The horse you get off is not the same as the horse you got on; it is your job as a rider to ensure that as often as possible the change is for the better."
I would actually say that it is quite common in tb, especially ones that have been raced to have weaker hind ends and to be heavier on the forehand.
He certainly looks much better!
Quote:
Originally Posted by Supermane
I would actually say that it is quite common in tb, especially ones that have been raced to have weaker hind ends and to be heavier on the forehand.
Actually it is the other way around. The driving force for any animal is in the back end. The length of their stride may come from the front but the speed is all from the back so those muscles will be better developed.
---
I'm not arguing with you, I'm just explaining why I'm right.

Nothing sucks more than that moment during an argument when you realize you're wrong.

It's not always what you say but what they hear.

Yearling
Join Date: Jan 2008
Location: British Columbia, Canada
Posts: 1,284
• Horses:
4
Good progress, good job so far. Still needs another 100 pounds. Trotting poles and hills will help build up the hind end.
big difference - even in his coat - its looking healthier, what feeds do you have him on to fatten him up??
HUGE difference. Just keep it up. Don't stop! He needs to pack on some more pounds... but he's doing a LOT better.