Improvement? Young green gelding at training level
---
I posted a thread about a week ago hoping to get some thoughts on how Ollie and I are working together these days.
I'm feeling really postive in our work, each ride he tries so hard, he comes back from the last ride a little sharper and more consistent, I'm able to see the flaws in my piston, fix them and feel the difference and catch them again if Im going back to old habits.
I finally feel like we are making huge head way and can tell Oliver is thoroughly enjoying our rides as well.
We have been working on keeping him straight, getting him forwardly engaged from his hind end (not faster, bigger steps) and when he is both straight and engaged in the hind end he starts to stretch down and I encourage him by adding more leg, fallowing with my arms but keeping my contact in my outside rein. He's really taking to this and we are establishing a good working trot for our warm up. Counting out loud seems to really help me keep a steady rhythm.
The thing I have really been focusing on is keeping my Hands still, my arms relaxed (I have a bad habit from my last horse of teeming up and pulling down without even relizing it,
) I feeling like I'm improving but like everything in riding, nothing can be fixed over night.
I would like to hear from you guys, what am I doing currectly, what am I doing wrong, what are some things that can help us?
We are doing keg yields (not the best or really fluid, a couple steps over at a time so far) trot pole work (keeping him straight and forward) transition work to keep him rocked back on his hind end and going my leg/seat aids the first time I ask.
So I will post some pictures iv gotten over the last few months and then the most recent.
Really crossing my fingers I get some helpful replies!!
If you need anymore information to help give me advice just ask and I'll tell you anything about him and I you need!
Pictures:
April 2012
May 2012
June 2012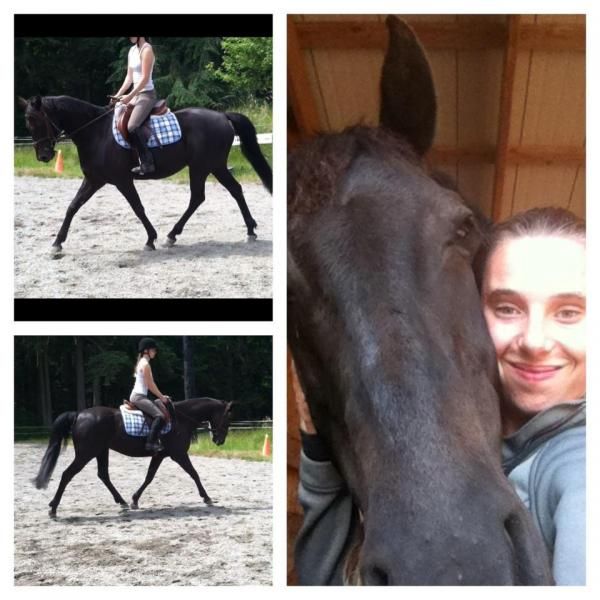 currently, November 2012 sorry for the fuzzy quality!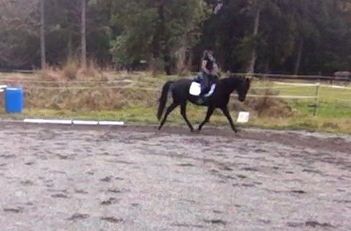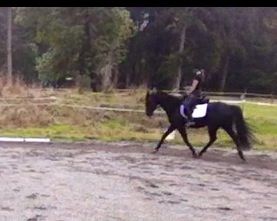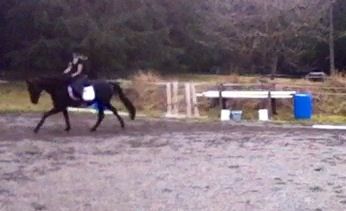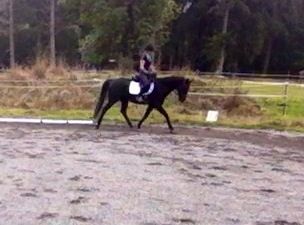 Thank you!!
I very much enjoy the pictures you posted. What you said does reflect what is shown. It's really great that you know in depth about engaging the horses to move forward on the bit. Clearly you work with that, (in the pics with his nice frame and relaxed headset) your horse looks naturally balanced, he really understands the bend (keep up with the supple inside rein!), his steps are nice and large- and his body is collected enough that he isn't speedy.
Beautiful canter picture near the end, NICE long collected gait! Gorgeous horse!

So here are my recommendations:
Warm-up: 10-15 minutes getting him stretched out. Extend the trot, nice rhythm at the post to keep a forward comfortable balanced trot. It's better to not do sit trot at the very beginning, so the horses back muscles get to stretch out. Really enforce for your horse to be able to make mistakes. Keep quiet hands. Give him the bit and keep a steady rhythm. Incorporate large circles, serpentine's, and trot-walk transitions.
15 mins: Throw down some cavaletti's and trotting/ground poles. I always recommend using poles to get the horse understanding where his feet are. (I will post a video for reference & more detail, that I found.)
While working with ground poles, *exhale* remember to relax, when you approach a set of poles, allow your horse to fullfill a nice bend at a forward trot, keep that rhythm to and Over each pole. SO! Don't change anything once the horse starts over the poles. Yes, keep him forward, but if he's moving naturally and comfortably, soon as you create different patterns to get him really figuring out where his feat are, his head and neck will follow, and soon his body will be close to completely in sync with a nice frame.

*The reason I recommend this is because it will get you relaxing your arms and hands while allowing the horse to carry you. Great work!*

You and your horse look really good in these pictures. If you want any other suggestions or advice just ask!
---
Hey, here's a video to help with caveletti's!


---
Thank you so so so much!
That really helps!
Iv been trying to get someone to watch me and video tape me!
The newest photos are from ,y setting my iPhone on the fence post on video and just going from there! That's why the photos are not the best!

I did do some three loop serpentines two rides ago at the trot both ways, I don't have a large arena but it worked pretty well, he was supple and engaged in the change of bend! So I will keep up on that! Do you think throwing in walk or halt tea toons from the trot will help him stay engaged and off my leg too?
I have to always swtch things up with him or gphe falls behind my leg and I get naggy!
Thanks again!!
Great! Sounds like your horse is responsive even in a confined area. Maybe try stepping it up and depending on your level, incorporate leg yeilds, sidepass, turn on forehand, turn on haunches. If your horse is responsive keep up the good work! :)
---
Your skill has outstripped my level of advice. it's not that I am ignoring you, but anything I could say, you would already know. Can I just say to trust yourself and you'll KNOW when you are making progress. It's very clearly so.
Tiny, thank you that makes me feel very postive in my riding. Maybe next time just say just that.
Been thinning about my riding and one thing I really do need help on is getting my legs to wrap around him but stay relaxed! I can only do this for a few strides, maybe a two 20 meter circles lol hardest for me in the rising trot, I think ESP to the right