Joey
---
This is Joey. He is about 16 months in the pictures. He is a warmblood/tb cross. I plan on using him for dressage. I would just like some basic critiques of his conformation. I already know he has long pasterns, and he does toe out a little on his right front. I basically want evaluations on his shoulders, neck, hip and such, as I'm not that great at evaluating those areas. He was about 61 inches in the photo, but is now close to 16 hands. He is a slow growing guy, and at times looks funny, but these are the best pictures I have, sorry he is not squared up!! I love him though, he has the best personality and is the easiest baby to work with I have ever been around. He is currently turned out almost 24/7, unless the weather is awful. He is a little fatter now than he was in the pictures, as he went through a growth spurt right before I took these. Please let me know what you think.
Here is my baby Joey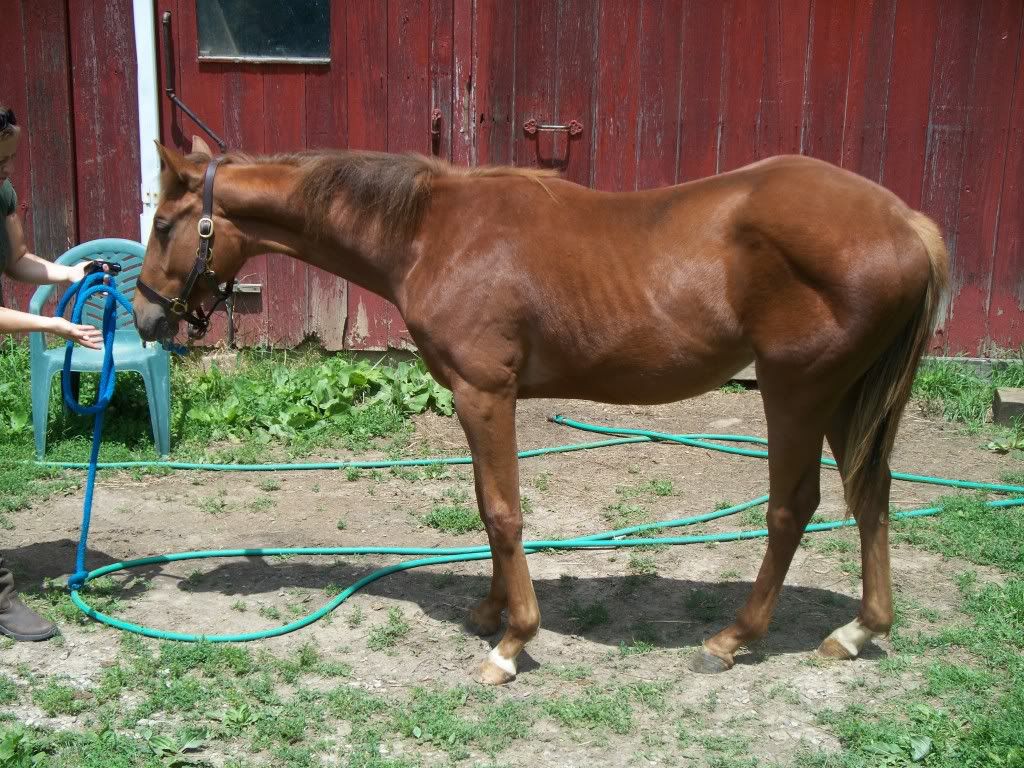 The pictures are so wide it's hard for me to view them on my screen, but I'm extremely concerned, not about the length, but about the angle of his pasterns. He seriously looks as though he has DSLD or something. Have you had a vet or farrier evaluate him? I don't mean to be an alarmist, but I'd be really worried about riding a horse like that at all. They're combined with the very straight hocks, too, which is a bad sign.....
I have had my vet look at him, and he didn't say anything about that, he was concerned about the length and them possibly being weak, and suggested turning him out to help strengthen them. Joey is very sound, and a very pretty, lofty mover. My farrier trims him every 8 weeks and has never said anything. Joey's pasterns are actually getting better and stronger, compared to when he was younger, I will post new pics this weekend of him now, it's been about 3.5 months since these photos were taken. My vet is one of the best in Ohio for lameness, and my farrier is very knowledgable, but I will specifically ask them when they are out next.
So I just looked up DSLD, and pictures, and I'm going to have to disagree. He does have long pasterns, and when he's not standing nicely, he looks goofy, but he does not look like those horses. From what I was seeing too, it isn't really seen in warmbloods and tb's, plus he's not lame. Please remember he is a warmblood and they grow super slow and strange. I do appreciate your opinion though!!
What is DSLD? I do, also , notice that his hocks are super straight. At first I thought that there was a kind of odd bump on the front of them but I think it's just that the leg has hardly any bend in it at all where the hock is.

He has a nice shoulder and neck to back ratio is good. I hope that his pasturns will strengthen . I am not so good at evaluating horses that are not yet full grown.
All I can say is that I sincerely, with all my heart, hope that Joey is not that. Sounds really bad. Have you, Bubba, encountered this before? It must be pretty rare, 'cause I've never heard of it.
I haven't, or at least not diagnosed as such, and my knowledge of specifics is also very limited. One of the "Paso" breeds--I'm thinking Finos? But could be Peruvians?--is really prone to it. But I also believe that the more they discover about it, the more they diagnose it....may have just been flying under the radar before, and thought to be something else.
So after worrying about it, I have called my vet and farrier, and they said he does not have DSLD. His sire has straight hocks as well, and is getting ready to start showing 3rd level dressage, has been approved by the BWP, OLD/ISR, and the RPSI as a stallion, so idk, maybe it's acceptable in the sport horse breeds to have straighter hocks? I also think it's individualized, as some horses may have problems with it, as some may not. Here is a link to his sire's webpage, if anyone is interested
Gran Casso - Split Mesquite Farm
. Thank you for the opinions!!
Thanks Tinyliny for the evaluation of his neck, shoulder back. I do believe his pasterns will strengthen and they will be fine, they have already improved tremendously from a lot of turnout. I've also heard longer pastern horses can be more comfortable to ride!!