Boots? when you jump i would make sure your horse has some type of boot on for support. (:
---
12 days until Twiztid ( i get to see my Jamie) then two months until graduation.
I hope you don't mind but I edited the pic a little to see where your reins are at...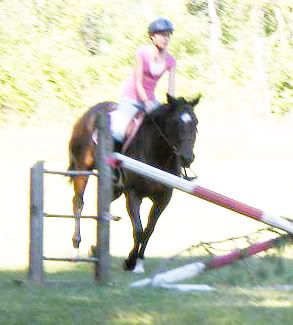 I think you have approached this jump very well. You still have a nice contact with the horses mouth and as long as your hands followed this as you went over, perfect!
I don't think you look in two point yet, I think it is where you are at in the canter stride, you are slightly forward, which means your body is following the movement, your shoulders look a little rounded but the relaxed look of your elbows means that you are perfectly compensating with the rocking motion of the canter stride. But as far as I can tell you appear to be seated still.
Your eyes are up, I can't see your leg cause of the standard but they look forward judging by the toe I can see on the left. So as long as your weight stayed in your feet you would be in a good position over the jump.
The only thing I would say to correct would be to straighten yourself a little in the saddle, your hips look a little uneven, you are popping the right one out and dropping the left shoulder, maybe from a turn into the jump?
I would say you have a great approach to the jump, if you could get some videos or photos from straight on the side we can probably give a better critique as such.
thank you all very much .. i am trying to work on all of it ;]

and pinto pony i don't mind that you edited it at all :]
---
---
its seems that others are reffering to "two point" as the position of your upper body on the approach. you shouldnt be "leaning forward". you should be in two point, your butt out of the saddle, with your hip angle opened and leg secure with a deep heel. your anticipating the distance. count the strides to the fence in your head as you approach, and try not to duck over the fence. let the horse do the work-its tons easier!!!
good luck and have fun!!!!!!!!!!
It looks like hes goin jump sideways did you feel that?
My instructor gave me a great visual to work on the rounded shoulders. It also helps you sit more upright and gets your horse off his forehand before the jump since it serves as a small half halt. The description is "open you cabinet". Picture your arms/shoulders as cabinet doors. It's a subtle movement. Nothing else is involved other than realigning your shoulders. You don't want to do something big and throw your horse off balance. A few strides before the fence, open your cabinet. I couldn't believe how much difference it made. It's good to practice while your just cantering around in a light seat.