jump critique
---
melody and i used to compete in hunters. we are schooling to start competing again in august. be as harsh as you want, i haven't taken anything but dressage lessons in ages. and the ones where i am looking at the camera...lol i was looking at my roll backs, not the camera. xD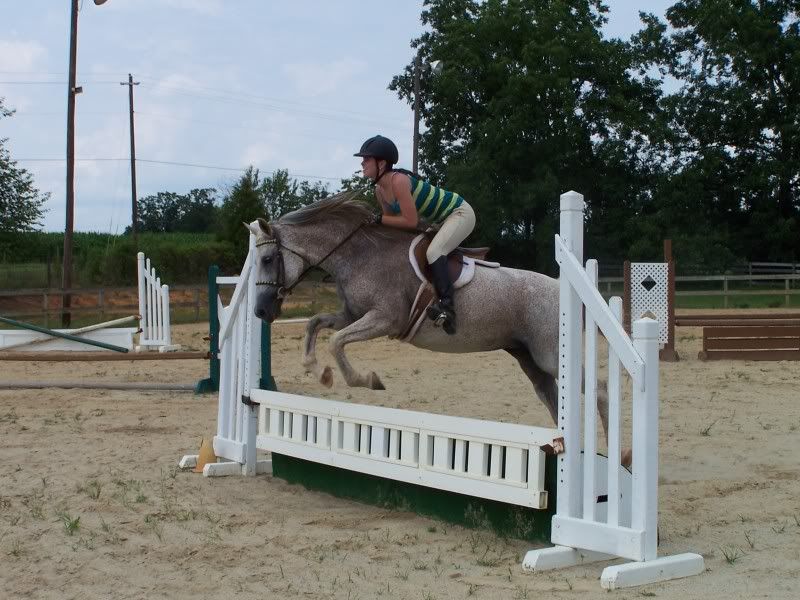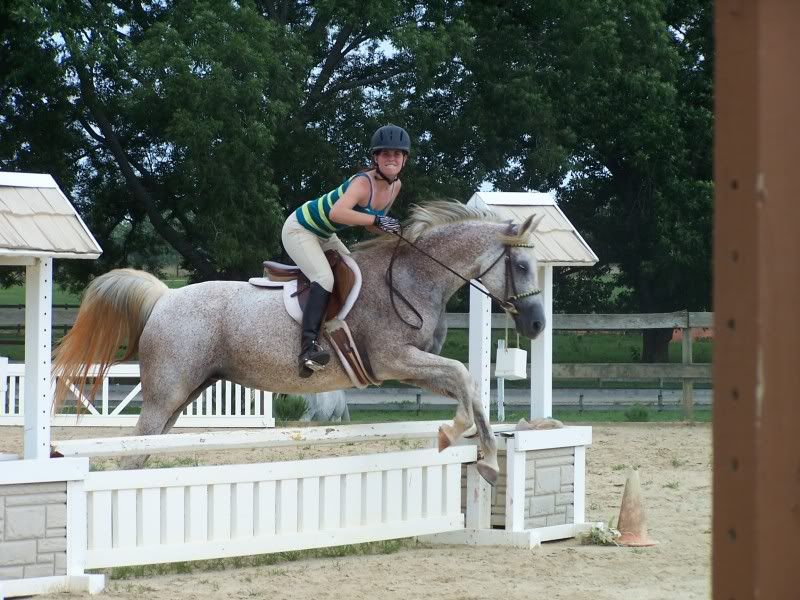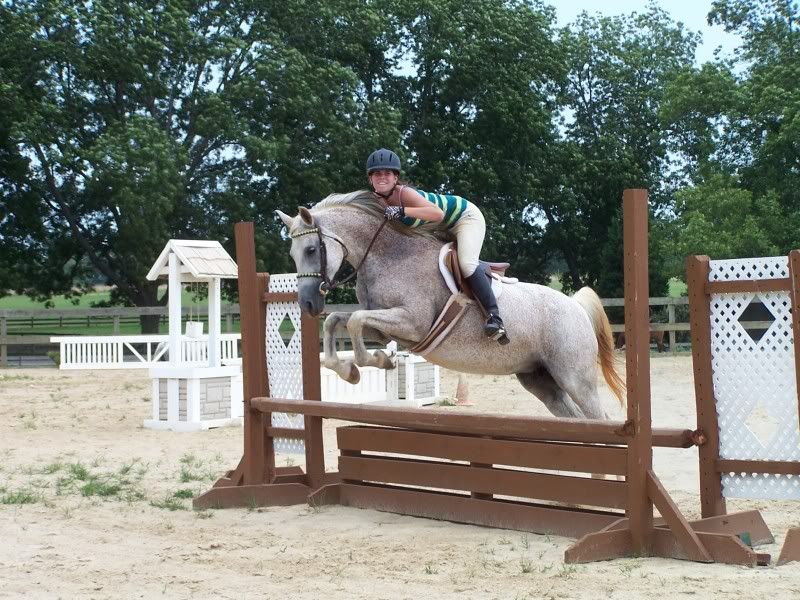 You guys look really good the only thing i would work on is try to keep you leg in the same place over all fences, it slid back a bit in the third pic and some times that can upset a horse. Good luck showing :) no lessons wow!!!
Banned
Join Date: Dec 2008
Location: At my house, or stable, duh!(Michigan)
Posts: 2,479
• Horses:
3
It looks like you may be trying to jump the jump for him- since the jumps arent too big you dont have to lean forward as much
i LOVE your gloves!

ok back on topic... you look great- really you do. your position in the first pictures is best (in my opinion)... i know that you said you were looking for your roll back but in hunters they are SO picky about looking perfect and in the second and third picture your left elbow is out like a chicken wing. you may be leaning a little too far forward and your toe might be a little pointed out and your leg might have slipped back a little but those are minor things that can be corrected- but like i said over all you look like a rock star!
---
:: Karley ::
Tucker WB/TB- 11 yr
Speedy QH/TB- 22 yr
Overall you have very good position. Back flat, eyes up, legs solid underneath you.
However, in the two last pictures it appears that you've got the 'chicken wings'. Try to keep your elbows in at your sides at all times, even when going to a rollback. You don't need to open your rein that much over a fence to get him to there, just stay solid on the landing and turn where you need to go.
I also noticed that it appears your jumping slightly ahead of your mount, as you are just about above the front of the saddle. Try to wait more, and let the horse's natural jump bring you out of the tack. With jumps of this size, you don't need to make such a big effort as it seems your making.

Your toe is slightly pointed out, its not too huge of an issue, but may cost you a placing in Hunters if they're really picky. Just try to roll your whole leg around so that your inner thigh and side of your calf are on the horse, which will bring your toe facing forwards. It will also keep your heel from accidentally hitting the horses side as it is probably doing in the position it is in those pictures.

That is all I see, you have quite a solid position! Just a little fine-tuning, thats all.
---
...he's so kissable, huggable, loveable, unbelievable...
Thanks guys(: I think the reason my elbow was out so much was because I was having a difficult time with her leads. She kept wanting to land on the wrong one so I was giving her a huge cue. But thanks again for all the critiques! I haven't worried about my jumping position on a long time because I wasn't doing too much of it and definitely not for competing.
You both make a nice picture. The elbow to bit line is somewhat off. I do agree with others that you are leaning to much into the jump. Let the movement dictate your position. Easier said than done. Find your own balance.
you guys look really good. the only thing i would say is loosen up your reins a little. and you have a beautiful horse!
I think you two look fabulous for having quite a bit of time off of the discipline.
---
"The ideal horseman has the courage of a lion, the patience of a saint, and the hands of a woman..."