jumping :)
---
So i wont be able to jump for a long time, as some of you may know.
If you didn't know... I'm selling my close contact because it doesn't fit as well as I want it to and I bought a dressage saddle. I'm hoping to have a close contact sometime in the fall... but until then, we're perfecting the flat :).
Here is Chloe and me jumping a few baby jumps. I want a critique just because I'm curious :).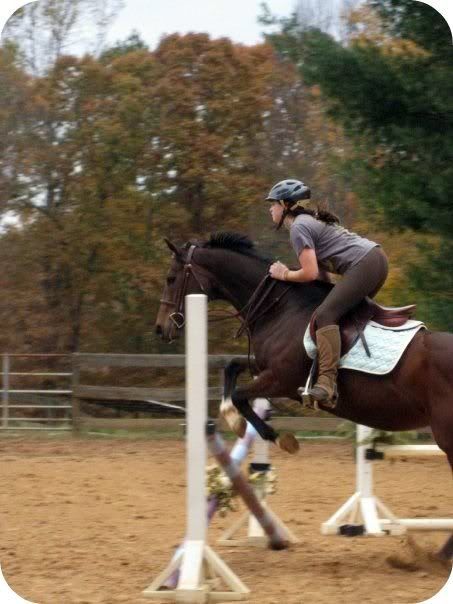 What I see: My seat could scoot back quite a bit. We are no longer using the martingale, by the way :).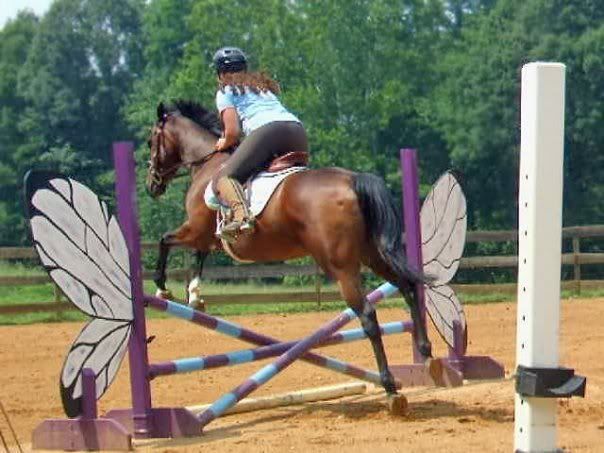 What I see: I don't think I'm pinching my knee.. but my leg has swung back quite a bit.
and one flat just for fun....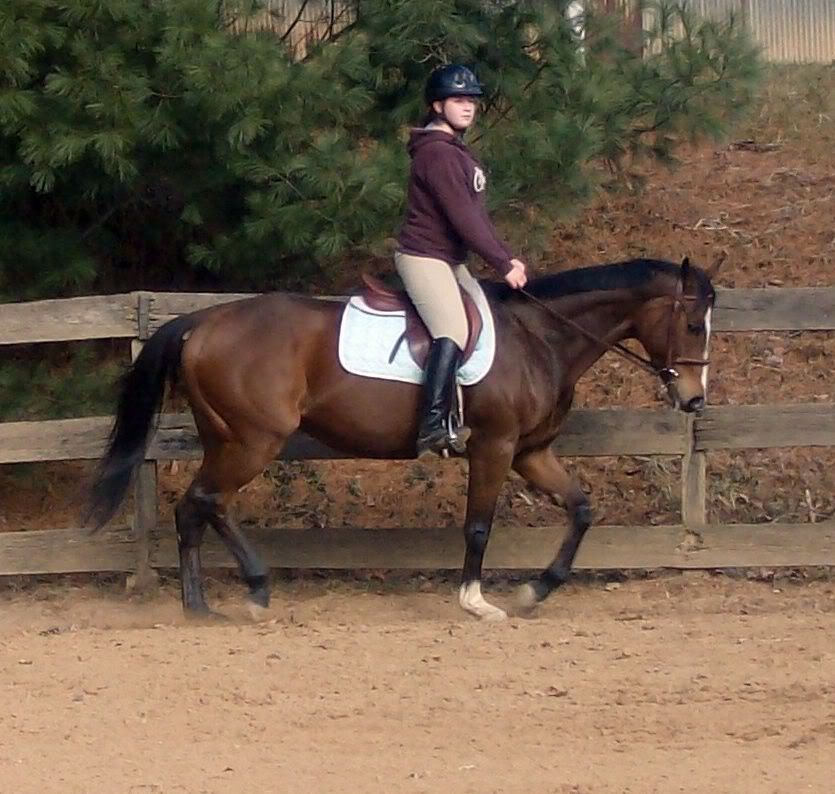 What I see: My arms really bug me. They've gotten better, but they need to soften. I need to bend my elbow and close my fingers. This is fairly old, and so I'm still posting quite a bit with my knee/stirrup. It's gotten loads better with my dressage saddle.
I really need current pictures of us, but the weather hasn't been permitting. I can't get pictures of us in the indoor arena because they come out blurry.
You have great posture. The only thing that I see that needs improvement is your hands. They need to be a little bit closer to your saddle. In the second picture your foot is a little too far back, but that may have just been a bad picture or bad moment to take the picture because your legs look good in the other pictures. When you jump, you may not want to lean forward quite as much. You look sort of hunched over, so you might want to sit up just a little bit straighter when you jump.
In this picture - you are jumping ahead, allot.
Lets break it down......
You are riding the fence, and not your horse. See how much space is between your seat and your saddle - that implies a rider who is jumping the fence for their horse, instead of allowing their horse to do their job.
So lets ask why you are juming ahead -
Lower leg security. Although your leg is at the girth, which is great :) You are riding on the back of your calf and you are gripping for a base of security.
Work on rolling your toes forward, and allowing your inner calf to make contact with the girth. Open your knees up, and allow your bodies weight to flow down into your heels.
Now - you are anticipating the fence. You rode the fence, not your horse. What does that mean?
You are staring at the fence on approach, instead of picking a focal point beyond the fence. You raced to the fence, instead of allowing it to come to you, and you forgot the most important factor...your horse, who is under you.
You know the fence is there, your horse definately knows that fence is there...so why are you staring at it? Look up, look beyond.
Learn to ride your horses rhythm. Focus on his pace, whether it be a trot or a canter. Focus on his rhythm. Remember to get your legs to the girth, opened knees, weight distriubuted where it should be. Sit, sit, sit, sit and allow your horse to do her job.
Your job is to get her to the base in a safe, quiet, rhytmical flow. Her job, is to take off and land.
Allow your horse to lift you out of your tack. Not you lurching out and forward - but sitting and waiting. Remain over your horses center of gravity, and stay out of her way. Close your knees, push your toosh back and push those ta-ta's out. There should be only just a bit of space between your seat and your tack, and your seat should be over the center of your saddle. Close your knees - sink into your heels.
Your back is nice and strait, and I like that you are looking up. I like that you are not interfearing with your horses mouth either.
By you lurching yourself ahead like that - you've now tossed all your bodies weight onto your horses forehand. You have then, made her job, that much harder.
You want to aid your horse, support your horse, bring out the best in your horse. :) :) :)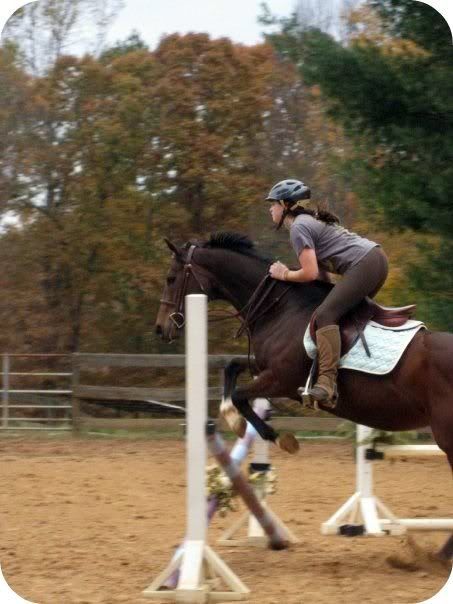 This fence - It appears you got left behind. I'd wrather see a rider left behind than lurching ahead.
I don't see knee pinching either - but hard to tell at this angle. I do see a weak lower leg though, and I do see a rider who is not allowing her heels to do her job - which is anchoring her into her tack.
Really work on riding with your legs locked at that girth. You are not ontop of your horse, but you want to be wrapped around your horse.
Allow your leg muscles to be trained as to where they need to be - the reason why we want our legs at the girth and wrapped around - is to aid and support our horses to, over, and after the fence.
If I, for a moment, take my legs off that girth on approach....my horse stops dead in his tracks. He says "Where did you go?"
He needs that support, and I learn the hard way *jump cup embedded in arm* and quickly taught myself to keep those legs at the girth and wrap them around.
Knee's opened, inner calf at girth, heels deep taking all my bodies weight.
Your seat is lower and centered - but I think you got left behind your horses motion.
I love your hip angle and that you allowed your horse to come up to you. Remember, it is our horses to lift us out of our tack, and it is our horses who close the angle. I like that you did not collapse your upper body onto your horses neck - where instead you allowed her to come up to you.
I like that you are looking up, and I love that your arms are to your side *I have chicken arms*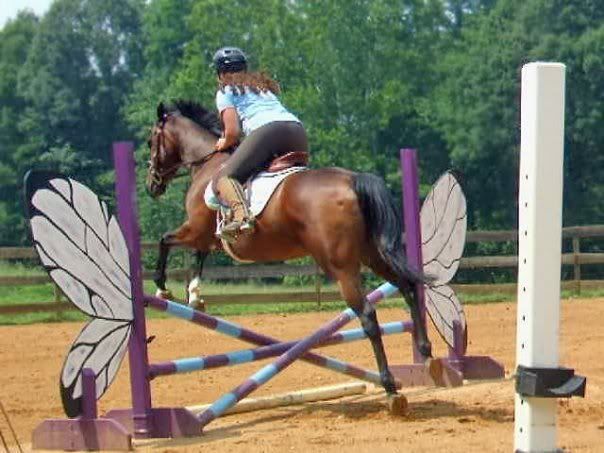 In the first picture you are too far forward.
Sink back into the seat, point those toes forward, and sink your weight into your heals.
Your flirting with chicken wings, but your upper body is not bad.

Second picture is quite the opposite. lol
Your leg has swung wayyy back causing you to be unbalanced and your just kinda squatting on your horse over the fence. I cannot tell by the angle if you are pinching or not.
Get your leg up under you, get those heals down and just feel your horse.


In the flat picture:
Bend your elbows and thumbs up.
You have good posture, but roll your shoulders back a tad.

You can do a lot with flat work.
I might suggest a lot of no stirrup work to really strengthen your lower leg so when you do go back to jumping it'll be stable and your position would really come together nicely.
---
I used to be such a burning example,
I used to be so original.
I used to care, I was being cared for.
I do agree with everybody :)
I feel like dressage will help me more with my balance. And it will help Chloe so much, probably more than me.
I haven't really had too formal of training when it comes to jumping.
I feel like I've improved a lot. This next picture was me many years ago.
Although I truly feel it was just a bad jump... its not pretty at all....... I'm so embarrassed by this... hahhahaha! it's awful. :(
In the first picture your stirrups are 2 holes too long, and you are really reaching for your stirrup. Once your stirrup length is better, you will be able to keep your leg on the horse and your rear closer to the tack.
In the second picture, you are gripping with your knee in comparison with how much inner calf you have on the horse (which is none). I again suspect that your stirrups are too long and that you will be able to get your leg on properly once they are shortened up.
In the flat picture I see that you are rising too high. Allow your horse so lift you 2-3 inches out of the tack, straight up, and not over the pommel. And your leg needs to be on. For your arms, three things: Think about putting your elbows on your hips (it is physically possible), close your fingers on your reins, and think long arms, short reins. This should really help your entire upper body position.
Good luck in your dressage career! The things I said about your arms, the posting and keeping your leg on apply a lot in dressage so still keep those in mind. I wouldn't change your stirrup length to go shorter on the flat though.
Similar Threads
Thread
Thread Starter
Forum
Replies
Last Post
Please do a jumping critique of Eddie jumping 3'9".

fortheloveofhorse

Horse Riding Critique

18

09-18-2009

01:56 AM

Jumping

Flyinghigh12

Horse Riding Critique

20

02-28-2009

02:22 PM

Jumping

kchfuller

Horse Training

1

09-23-2008

11:19 AM

jumping

begin of a dream

Horse Riding Critique

20

02-04-2008

05:32 PM

Jumping

ox-tuff_rider-xo

Horse Training

4

09-27-2007

12:26 PM