Jumping Critique =]
---
Hello. Ive been riding this horse (whom I own) for a little while. Im really trying to get our jumping perfecttt before the circut starts =] Critiques are veryyy appreciated.
He was kinda spooky towards this jump. I need him to get more comfortable jumping scary things before we go XC =/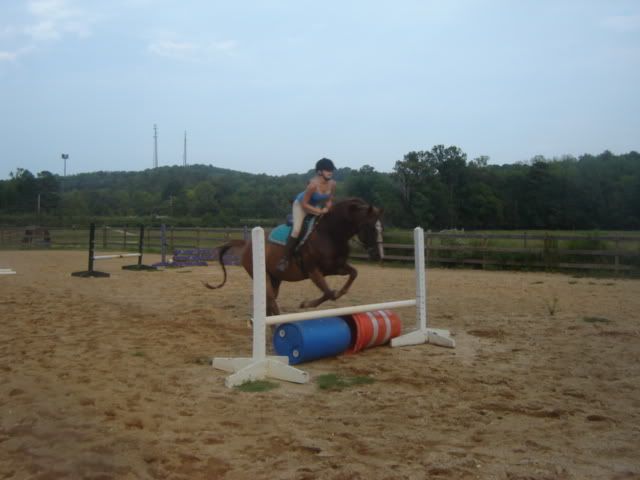 This is him jumping his favorite jump our brush box =] this is at about 2'3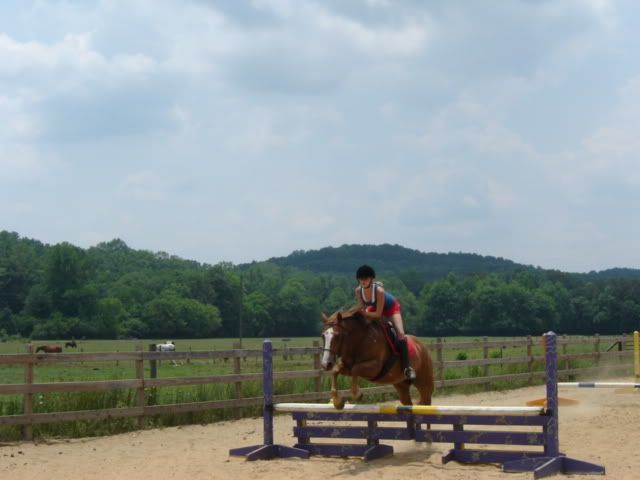 Again the brushbox at around 2'9 3' he really loves this one =]
Thanks for looking. If you have anything to critique pleaseee do. I love getting help =] and giving it.
Thanksss.
WCTC
You're getting a bit too far out of the saddle. I have that problem too, but it just looks like, especially in the last photo, that you're jumping slightly ahead. It also looks as though you could get your heels down more, and not turn your toes out so much?
But you're looking up in all the photos, and seem to be giving a nice release in them all too, except the 1st one though it's not really a problem as your horse is only just taking off.
Very nice.=)
Thanks =] I deffantly have a problem with my toes and heels. My trainer is always getting onto me for it. In a lesson there perfect cause I am always hearing my trainer bark at me to fix them =]
you can tell your horse was more relaxed jumping the brush box than the other jump. I agree with rambo. Try to do your best to get those heels down and toes in. I have that problem too. Other than that you two look great
First Pic

Jumping ahead (its a hard habbt to break, I had it), legs look like they slid behind your body, nice heels, and you have a long rein so the release is good too. It looks like you were nervous so you tried jumping it for him, instead of letting him bring you out of the saddle. jumping with your eyes closed, and without stirrups work wonders, but make sure you are on a lung line so that he doesn't take off (bad experiences with a horse landing and bolting and I still had my eyes closed...ha ha ha)

Second Pic

Heel came up, leg slid back and toes are out. It looks like you need some more work with your lower legs, so like I said above, working without stirrups is the best thing to do. Perfect release, and I love your back in this pic.

Third Pic

Much better lower leg. It looks as if your squeezing with your leg, so it's not moving, but your toes are out. Again it looks like you are trying to jump for him, because your in front of the pommel of the saddle and it looks like you were pulling up (not positive on that one).


Overall you just have to work on letting the horse bring you out of the saddle. I know it is so hard to break that habbit as I had it myself. But the best thing to do is work on the flat without stirrups and then when you are comfortable jump.

Hope this helps!

O and by the way your horse is sooooooo CUTE!!! I love chestnuts, because I have one myself!