Jumping Critique
---
I know that my stirrups are too long, so it's causing my leg to slip back & heel to come back in some pictures, but other than that?
Please don't critique the horse, he is not mine, and I'm not riding him anymore, so I can't change anything with him.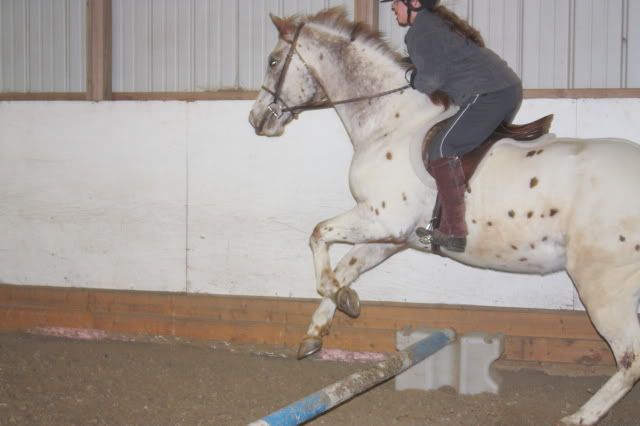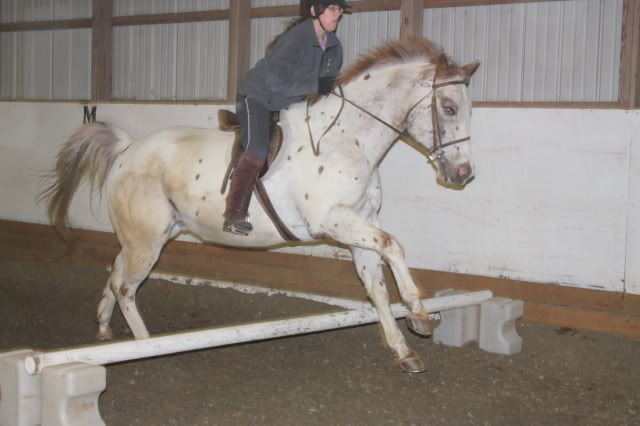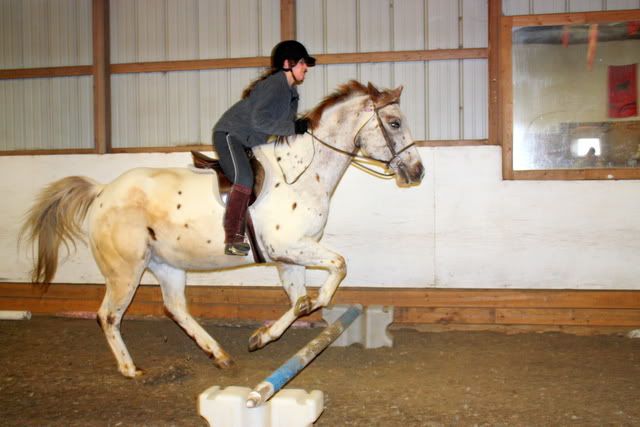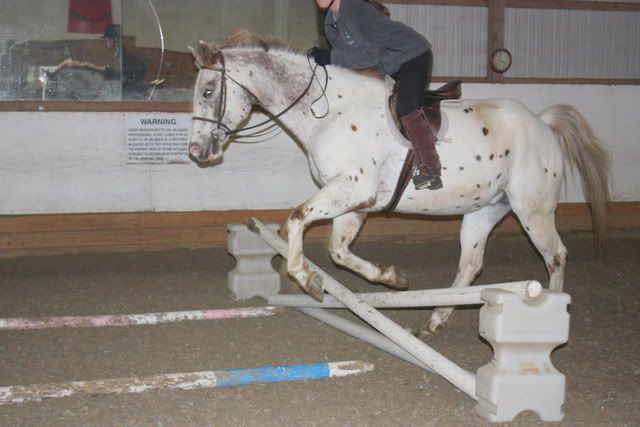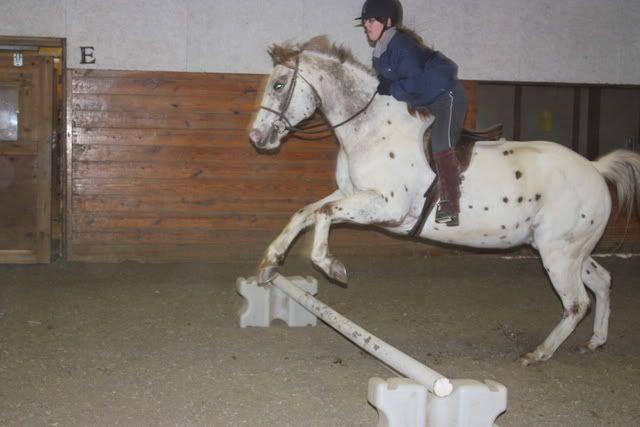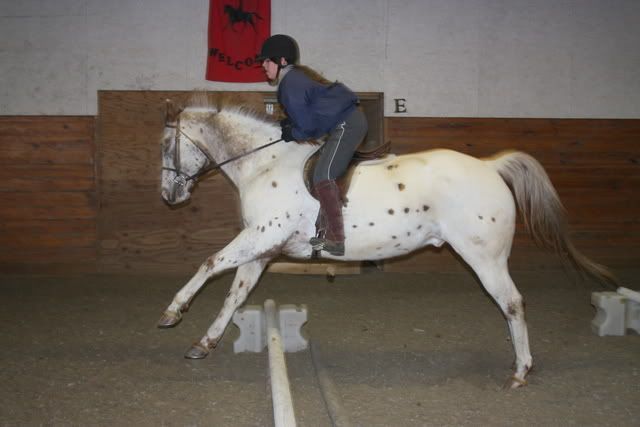 The horse you are riding - IS ABSOLUTELY FREAKING ADORABLE!!!!! LOVE IT!

I have to say - your legs are pretty darn tootin' good, considering the length.

So, yes - your leathers are too long - but you have a good base of support. I would like to see your leathers a tad shorter, as you already know - but not just for the 1 reason you mentioned.

There is allot more to correct leather length..

1) Gives you base of support
2) Secures your seat
3) Allows heels to do their job, which is anchor you
4) Solidify's your lower leg
5) Supports horse to, over, after a fence

Ok - So, after we correct your leather length...lets focus on your heels. You need to allow your heels to do their job - which is anchor you into your tack.

You must allow the weight from your upper body, to flow down through your seat, down through your lower legs and into your heels.

Then, your heels can do their job.

Once you've solidifed your heels, then you can work on your lower leg, staying at the girth.

Why do we want our lower leg at the girth? To decipher where your tooshy goes, to support your horse, to encourage your horse and to solidify your position.

Really focus on locking those legs at the girth. Envision yourself not only ontop of your horse, but wrapped around your horses girth. Imagine your legs getting long, heels deelp, and ride as though you are wrapped around your horse.

Now, you are supporting your horse to the fence, supporting your horse over the fence and after. Keeping their backs lifted, encouraging their movement, and solidifying your posture.

Leather length, heels anchoring you, supportive leg at the girth.

Now, once you have that - open up those knees. Don't pinch, don't grip. Open them up - the moment you pinch or grip, you've blocked that flow of weight needed, to enter your heels.

You grip, you've now blocked that flow and create a domino effect of negative posture. Upper body flings forward, lower leg flings back - and you're now jumping ahead.

We don't want that right? Of course not.

Also, when you've secured your lower leg at that girth - your seat stays back where it belongs.

~~~

So now that we've worked on your lower part - lets focus on waiting for your horse instead of trying to do his job for him.

His job is to get over the fence, not yours. He is much bigger than you - by you jumping ahead of him like that...you are doing a multitude of things.

- telling him "I don't trust you...let me do the job for you"
- You have tossed all your bodies weight onto your horses forehand, instead of keeping it over their center.
- You've made their job that much harder to do, because you are on their front, not back.

Learn to sit and wait for your horse to lift you out of your tack. There should only be a smidge of gap between your seat and the saddle. All your weight is distributed in your heels and you've free'd their backs enough to do their job.

By learning to wait for your horse to lift you out of your tack, you've stayed over their center of balance as well - aiding them over the fence, instead of impeding them. or interfearing.

What helps me, is to count my horses stride to the fence. 5,4,3,2,1 jump.

Sit, Sit, Sit, Sit, Sit.

Sit, tall upper body, leg at girth, heels deep, wrapped around your horses girth - and allow him to do his job.

Your horse is supposed to close the angle, you are not supposed to do that buy lurching your upper body so forward and collapsed on the horses neck.

Allow him to lift you out of your tack, allow him to close the angle.

Hope that helps some :)
Thanks. And yeah, I love him. =] I was actually supposed to buy him, but he ended up pretty lame, and it's not something that's going away, or is going to be cheap to pay for, so I had to pass him up. The first two or three pictures are actually from this past Saturday, which was my last ride on him. =/
He taught me so much though, he's the only horse I really trust over fences right now, so I'm really going to miss having him as a teacher.
i think your form looks really good, your legs are just a smidge too far back. also try squeezing your legs really hard like your scooping him up so he really "lifts" over the jump. and that horse is real cute! best of luck! =]
wait, i changed my mind your legs a perfect!
You two look really good! Just back your body up a bit. In some of the pictures you need to shorten up your reins a bit to keep contact. Other than that, keep up the good work!
---
Every ride, good or bad, teaches you something new.

Since those jumps arent big, you dont need to lean forward as much.

You apeer to be in front of the pommel, just lean forward, but keep your butt in the saddle.
---
Waterbrooke Farms home to, Saddlebreds, Morgans, Friesains, Hanerovians, and, Standardbreds.
because your stirrups are sooooooooo long, your leg has no bend and your pratically siting on his back over the fence. i like how your waiting in you upper body, but you need to close your hip angle more, wich would come from shortening your stirrups. also, let your crest release press more into the sides of his neck, still close together but not perched so stiffly on top. finally, roll your shoulders back (pretend your trying to touch your shoulder blades together), and relax your upper arm. otherwise, you look like you know what your doing and should be out in the show ring. keep up the good work.
Shove your ankle foward arch your back and sit a little in the saddle your jumping ahead a bit. But alot of things are good in this pic.